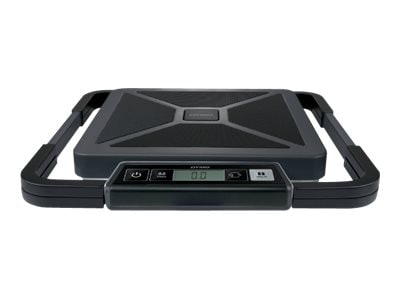 Quick tech specs
Postal scales
graduation: 100 g / 0.2 lbs
wired display
capacity: 45 kg / 100 lbs
30 cm x 30 cm
View All
Know your gear
The DYMO S100 shipping scale offers the ability to easily weigh parcels up to 100 kg. This high-capacity USB scale matches all your shipping needs and gets all weighing jobs quickly and accurately done. The tethered digital display answers the most versatile tasks.
Dymo S100 - postal scales
is rated
2.40
out of
5
by
10
.
Rated

5

out of

5
by
birdsafe
from
Good scale but trouble connecting to windows
Haven't figured out how to get Windows to recognize scale. Have plugged USB cable in several ports and can't get it to show up in my shipping program.
Date published: 2020-02-11T00:00:00-05:00
Rated

5

out of

5
by
PatrickSt
from
Very bad for postal purposes
This scale does not weight anything under 1.1 lbs, which was not advertised at all. Was supposed to read increments of 0.2 pounds. all my parcels are under 1 pound so this scale is totally unusable to us.
Date published: 2020-01-17T00:00:00-05:00
Rated

5

out of

5
by
RxPetsBest
from
Easy Easy
Just setup the S100 scale for a small online shipping business. The S100 integrates easily with our shipping solution and the setup was fast and easy.
Date published: 2014-05-05T00:00:00-04:00
Rated

5

out of

5
by
ALeung
from
This should be called "Parcel Scale"
We replaced our old scale provided by UPS with Dymo, works like a charm. Data to PC via serial port is a bit odd as USB is already there. Many gave poor rating because the scale has a wrong name, it is not "postal" scale, it is a parcel scale, or package scale. The scale for measuring sub-1lb scales are those like you use in the kitchen for measuring food ingredients and I do prefer those for measuring letters cause kitchen scales are more accurate. Now if Dymo can create one with 4 laser sensors on the corners to sense the dimensional weight that will be a killer in the logistic industry.
Date published: 2019-11-20T00:00:00-05:00
Rated

5

out of

5
by
VPiG
from
No software, doesn't work under 1 lbs.
If you are a small shipper without the room for multiple scales this isn't for you. If you ship things regularly over 1 lbs. and under 100 lbs. and nothing else, its a good scale. The overall utility of the scale is good. I just wish it was more sensitive. also, you have to convert the partial pounds to ounces yourself. That is annoying.
Date published: 2016-07-16T00:00:00-04:00
Rated

5

out of

5
by
Jason4882
from
DOES NOT WORK UNDER 1 LB
this scale will not weigh any items under 1 pound. it does not say this on the website or in any of the manuals. i had to call customer support to get this info after going insane trying to figure out why this scale would not weigh anything small. its extremely disappointing as now because they didn't disclose this info i'm out another $15 in postage to return it.
Date published: 2012-02-02T00:00:00-05:00
Rated

5

out of

5
by
Lauri
from
Software is not found
It seems that software adverticed to be on www.dymo.com/scalesoftware in manual does not exist
Date published: 2014-01-31T00:00:00-05:00
Rated

5

out of

5
by
Fletch
from
Doesn't Weigh under 1 lb. Ridiculous
It is ridiculous that it won't weigh an item under 1 lb. It is also ridiculous that it rounds up to even numbers only. It doesn't give any of these limitations in the description or specs on the page. I'll will be either selling or giving this expensive device away. Dymo should just stick to label makers.
Date published: 2016-10-03T00:00:00-04:00
Rated

5

out of

5
by
Todd W
from
Disappointed
who sells a POSTAL scale that doesn't measure oz but instead 10ths of a lb! Every online service that I ship with and even those I don't ship with want to know weight of item being shipped in pounds and ounces. This scale (my fault for not reading the fine print only indicates weight as such 1.8lb instead of 1lb 12oz. Now I have to spend my $ to ship this item back to the seller and look for something else that displays oz without having to convert manually. Disappointed!
Date published: 2017-02-20T00:00:00-05:00
Rated

5

out of

5
by
Leighlane
from
Not Accurately Described
This scale is marketed as weighuping up to 100 lbs; however, it is incapable of weighing anything up to 1 lb. If you buy this scale, you'll have to buy a second scale to cover all those things weighing less than 1 lb. DYMO is aware of this constant problem, yet still markets this scale us weighing up to 100 lbs, not from 1.1 to 100 lbs.
Date published: 2017-01-04T00:00:00-05:00