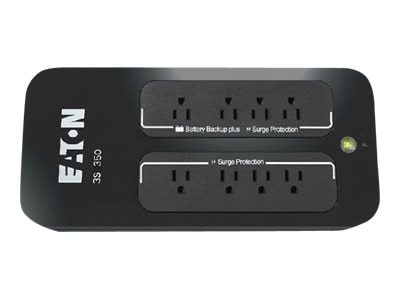 Quick tech specs
Standby ultra-compact personal desktop uninterrupted power supply with 8 outlets offers power protection for computers and prevents data loss/system downtime by providing battery-supported AC output during brownouts/blackouts
High 97% efficiency saves electricity/lowers energy costs
3 Year Eaton Warranty
Battery backup supports entry-level PC systems up to 12 min. during blackout conditions and a full load for 5 min.
4 5-15R UPS battery supported outlets/ 4 5-15R surge-only outlets
View All
Know your gear
The sleek, savvy and sophisticated 3S delivers premium battery backup and surge protection for up to 10 home and office devices. EcoControl functionality provides up to 30 percent greater energy savings than typical battery backups, and plug-and-play compatibility enables automatic integration. The slim 3S fits neatly under a desk, in an entertainment center or on the wall.
Eaton 3S - UPS - 200 Watt - 350 VA
is rated
4.65
out of
5
by
17
.
Rated

5

out of

5
by
Mstokes
from
null
I have bought several of these UPS lately & took advantage of the following Spiceworks rebate offer: https://spicerebate.eaton.com
Date published: 2012-08-08T00:00:00-04:00
Rated

5

out of

5
by
The Brit
from
null
Per the above review - installation was a breeze, the only thing is the little spark that you get when connecting the battery. Nothing intense or dangerous (I don't think), slide the cover back on and you're good to go.I connected my 2010 13" Macbook Pro to the UPS and connected up the UPS cable, the Mac immediately recognized the UPS and gave me statistics as to remaining battery life etc. I tried to download the Eaton management software for my mac but alas they do not make a Mac Intel version, after speaking with a technical engineer from the company, who by the way was very knowledgable and quick to return my call, I found out the in-built mac software in Snow Leopard and above is enough to manage this UPS.Next I simulated a power failure by pulling the plug from the outlet, the computer immediately prompted me that I had lost power and that should save all work and shutdown to prevent loss of work, the UPS started beeping constantly every 5 seconds or so and the LED indicator flashes.With my MBP, Linksys Router, Modem, and 2 desk lamps plugged I have approximately 47 minutes of available run time available… This is great. Albeit I'm using a laptop that indeed has its own working battery so that will buy me a lot more time, but take my older laptop where you must plug it in to work -- battery died a long time ago, this would be a perfect unit for this..In summary, this UPS unit is great for the small office / home office environment, with a master socket for your PC and several other sockets for peripheral devices - the UPS can detect your PC shutdown and disable power to the peripheral devices saving you power. It's lightweight, quiet, works brilliantly and Eaton support is fantastic. I would recommend it to friends and colleagues.
Date published: 2011-09-08T00:00:00-04:00
Rated

5

out of

5
by
Glen Bodor
from
null
Great for home use - Only half of the plugs are backed up by battery but all are surge protected so you need to make sure you've got the right units plugged into the right outlets. The fact that it has standard GPO power outlet ports is a big plus for general appliances. Useful for routers/switches/monitors and the occasional NAS. Overall quite pleased with this entry-level home UPS.
Date published: 2013-02-05T00:00:00-05:00
Rated

5

out of

5
by
Ben8917
from
null
Several of these are installed around the office for our end users. Install and setup is a breeze. Don't have anything bad to say about them. Great product
Date published: 2016-12-14T00:00:00-05:00
Rated

5

out of

5
by
Ron3300
from
null
For a 750 kVA UPS, I was very suprised at the light weight. It is certainly more atractive than the brand I have been using for the past 15+ years. I was able to successfully mount the device to the side of a bookshelf I use for a home computer rack and connect my 3 PCs. The software was a bit trickier. I wound up downloading the wrong package initially as the instructions were not very clear regarding the specific application needed to maange this unit.Overall I am very happy with this device. It has handled minor power blips while running at a 65% load for several months now without any outages. The software provides historical data well in excess of what I need. This has certainly lived up to the promises by my local Eaton rep and I plan to transition my enterprise UPSs to Eaton products when my current equipment wears out..
Date published: 2011-09-30T00:00:00-04:00
Rated

5

out of

5
by
Nick42
from
null
I've got one of these in the living room, with a lamp (LED bulb) on the battery port. The first time we lost power for a few hours, we had light. Couldn't believe how long this thing held up. After that I bought more for the house, and then looked into and bought larger ones for work. Quality build, great support (for the two times I had to call in the last couple years).
Date published: 2014-07-19T00:00:00-04:00
Rated

5

out of

5
by
Rob Dunn
from
null
I have one of these at home, and it works completely as advertised. Nothing extra special, other than it is from Eaton, a name I trust (I have since moved away from APC to Eaton over the years). Kept my system running during a short power blip the other day - which was a good thing, too, I was working on a document that I hadn't saved yet!
Date published: 2014-07-17T00:00:00-04:00
Rated

5

out of

5
by
Grey
from
null
With a USB connection and the temps running low on this device, it's definitely the best standard desktop UPS around. My wife uses one, at my suggestion, and after going through a half dozen previous, this is the one she likes and trusts when there's a thunderstorm or snow. The only drawback is the incessant beeping when the line power is out.
Date published: 2014-09-13T00:00:00-04:00
Rated

5

out of

5
by
Ruiconman1
from
Works Great
Several of these are installed around the office for our end users. Install and setup is a breeze. Don't have anything bad to say about them.
Date published: 2019-01-20T00:00:00-05:00
Rated

5

out of

5
by
bbigford
from
null
I put one of these in place to protect my tv and an Xbox. It's held up quite well. I've made sure not to overload the power on it. Between CyberPower and Eaton, I chose this model and I'm very happy with the result. Clean energy to my entertainment.
Date published: 2015-06-11T00:00:00-04:00
Rated

5

out of

5
by
TomCripps.exe
from
awesome
used with a colleague's setup, really good for a large amount of devices at once meaning you dont need to buy two or three. great product
Date published: 2018-10-16T00:00:00-04:00
Rated

5

out of

5
by
Ed Grauel
from
null
I just got one of these as a replacement for a similar spec APC unit that failed. I have been using Eaton UPS units for all of my UPS replacements, as the whole UPS only cost a little more than new batteries for the APC and offer excellent service.
Date published: 2013-11-11T00:00:00-05:00
Rated

5

out of

5
by
joehallissey2
from
null
Using this to backup my home server, a Lenovo ThinkCentre Tiny M700 and it's worked well.The case is solid and the instructions are clear on how to setup. There's even a simple app for monitoring.
Date published: 2016-11-11T00:00:00-05:00
Rated

5

out of

5
by
Richard Wright
from
null
UnpackingAfter unpacking you need to connect the battery. Instructions for this are clear and well documented. Just remove a panel from the back of the device (no tools required) and you will see the loose wire and the battery terminal where it needs to be connected. WARNING: Be prepared for a small spark when connecting the wire. I was startled but no harm done.InstallationI connected the UPS to a Dell Optiplex GX280 desktop computer running XP SP2 with 512 MB of RAM. I received the "New Hardware Found" message followed by it identifying the product as "Eaton 3S" and "MGE USB UPS".I then ran a scan with Spiceworks to collect the data. Even though this was a desktop computer it was identified as a laptop because of the battery in the UPS. This is a known issue with Spiceworks and was eventually fixed.Subsequent scans with Spiceworks failed to identify the UPS so I connected it to a second XP workstation but encountered the same results. The Spiceworks Support team worked with Eaton to identify the issue and released a patch in version 5.1.72667 of the Spiceworks application. Since this is a USB connected device I see the workstation in the UPS section of the Spiceworks Inventory Devices but that is acceptable. The Dashboard applet "UPS Supervisor" works great with this device.Simulated Power OutageI unplugged the power from the UPS and immediate I received the alert sound and flashing power light on the device. The XP workstation battery icon was then displayed on the workstation monitor.After 25 minutes I received popup alerts on the computer to switch to another power source.SoftwareThe Personal Solution Pac is a free download from the Eaton website but you have to provide a valid email address because the link to the software is emailed to you. Make sure the UPS is connected to the computer via the USB cable before installing and a reboot is required after the install.This software is very impressive. Not only can you get real-time statistics but it also has history charts and tables. I simulated the power outage again and after approximately 25 minutes the XP workstation safely shut down. Overall AssessmentThis UPS is lightweight and works great. Support from Spiceworks and Eaton is even better.
Date published: 2011-08-25T00:00:00-04:00
Rated

5

out of

5
by
pchiodo
from
null
Just got a whole bunch of these to replace APC - Cheaper and seem to have better life expectancy.
Date published: 2012-03-28T00:00:00-04:00
Rated

5

out of

5
by
Jeremiah Moberly
from
null
We have a number of the 3S 750's we use for our personal desktops and peripherals in IT, and they have been working well for the last year. They are not as huge and bulky as some other units and fit well under our workstations. So far I have no complaints! We haven't had any outages yet, so I suppose we shall test their mettle when the time comes.
Date published: 2015-06-18T00:00:00-04:00
Rated

5

out of

5
by
Hawkward07
from
3S350 UPS
Great design and easy to use! We mainly used these for our Retail Point of Sales and it worked great for us when we had to set these up. Its sleek body and simple style didn't take much room under the register stand. Easy to work with.
Date published: 2019-08-06T00:00:00-04:00