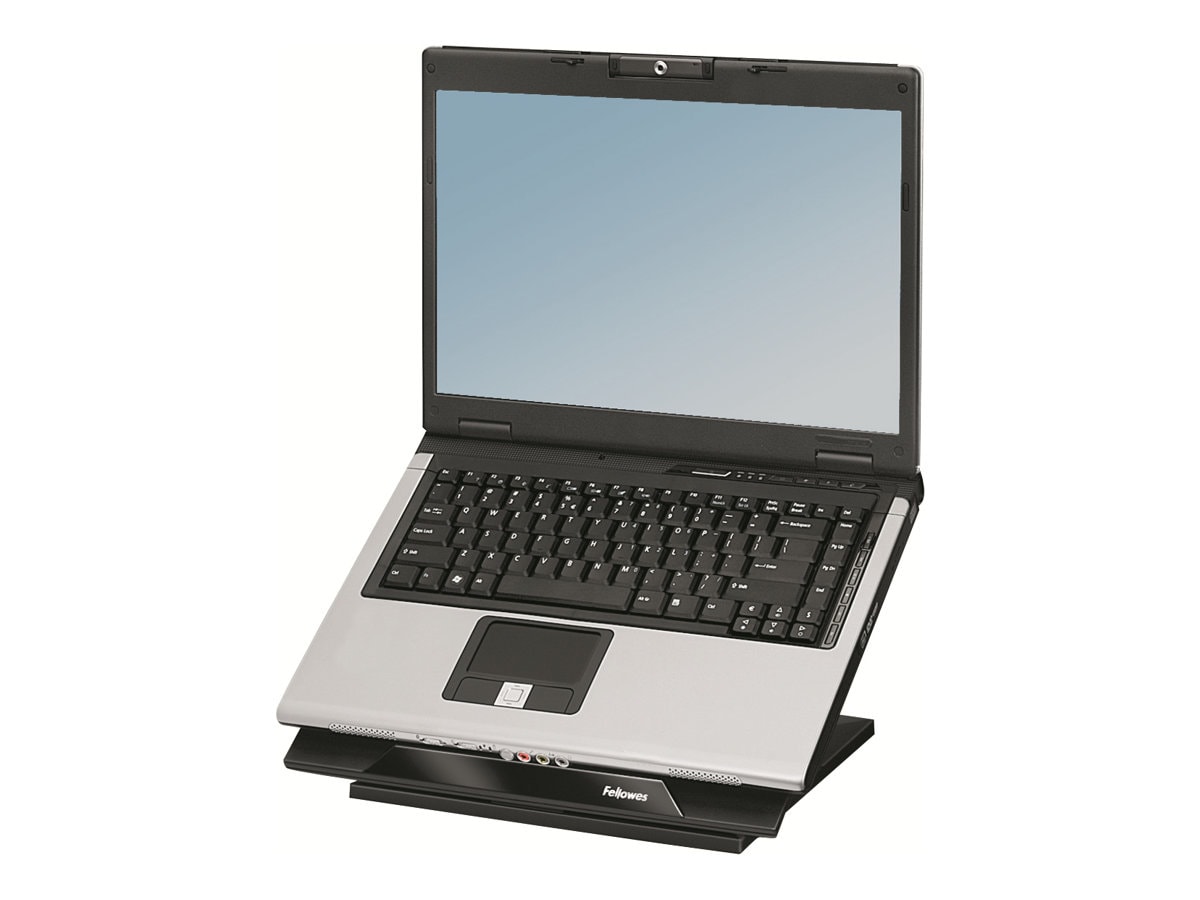 Quick tech specs
View All
Know your gear
The Fellowes Designer Suites Laptop Riser features four viewing angles to prevent neck and shoulder strain. Unit places laptop at a comfortable height to maximize efficiency, adjusts from flat to a 30° angle, and supports most laptops and docking stations up to 25 lbs. Stabilizing front edge prevents laptop from sliding off unit. Cooling vents help dissipate laptop heat. It provides space for USB hub. Sliding feet let you move unit without damaging surfaces.
Fellowes Designer Suites Laptop Riser notebook stand
is rated
2.67
out of
5
by
3
.
Rated

5

out of

5
by
RetiredJetJock
from
Seems Ok So Far
I've only had my laptop riser for a few hours so I can't make a completely informed judgment, but apparently I'm in the 2% of users that have computers that actually STAY ON the platform! My HP has a bit of a rounded bottom, but it stays on the riser with no problems. However, my wife's Dell is more rounded and does not actually make contact with the lip, so I can sympathize with the other user's comment. The rubberized strips on the riser appear to hold the Dell relatively well, but likely wouldn't be adequate for use with a higher incline angle. My only remaining concern is to see if the design allows adequate airflow to keep the computer from overheating. But so far, it's working swimmingly!
Date published: 2013-01-05T00:00:00-05:00
Rated

5

out of

5
by
OldManSlerm
from
DO NOT BUY!
The idea is great. But I am fairly certain that any 10 year old with half an IQ point could have designed it better. Everything is wonderful up to the part where the tiny, horribly designed, inadequate 'ledge' that is supposed to keep your laptop from sliding off and falling down onto the cement floor, IS A JOKE. I am certain that this product 'might' work for 2% of the laptop/netbook computers out there, if they have been designed with squared edges.... Oh wait. NONE of them today are designed with squared edges, so your curved, angled, or smooth bottomed computer will simply.. SLIDE RIGHT OFF. If you are shopping for something like this, do yourself a favor. Take $20 and light it on fire, and DO NOT buy it. If you DO buy it, make sure you have something soft for your computer to land on, because it WILL NOT be held in place by the inadequate tiny lip that is supposed to keep it there. I only wish there were a choice for ZERO stars. :( Based on this product, I would NEVER recommend Fellowes to ANYONE. I legitimately feel scammed and robbed. My money is gone and this 'product' is not going to do what it promised.
Date published: 2012-08-19T00:00:00-04:00
Rated

5

out of

5
by
ED469
from
It's OK but.....
I had another Fellowes laptop riser but found it took up too much space on my desk. I liked the slim look of this one so gave it a try. My laptop stays on, but the riser is not level. Super frustrating when I use the touchpad or type directly on the laptop. I have a separate keyboard that I use most of the time but occasionally work directly on the laptop. Not good value for the price.
Date published: 2021-12-23T00:00:00-05:00