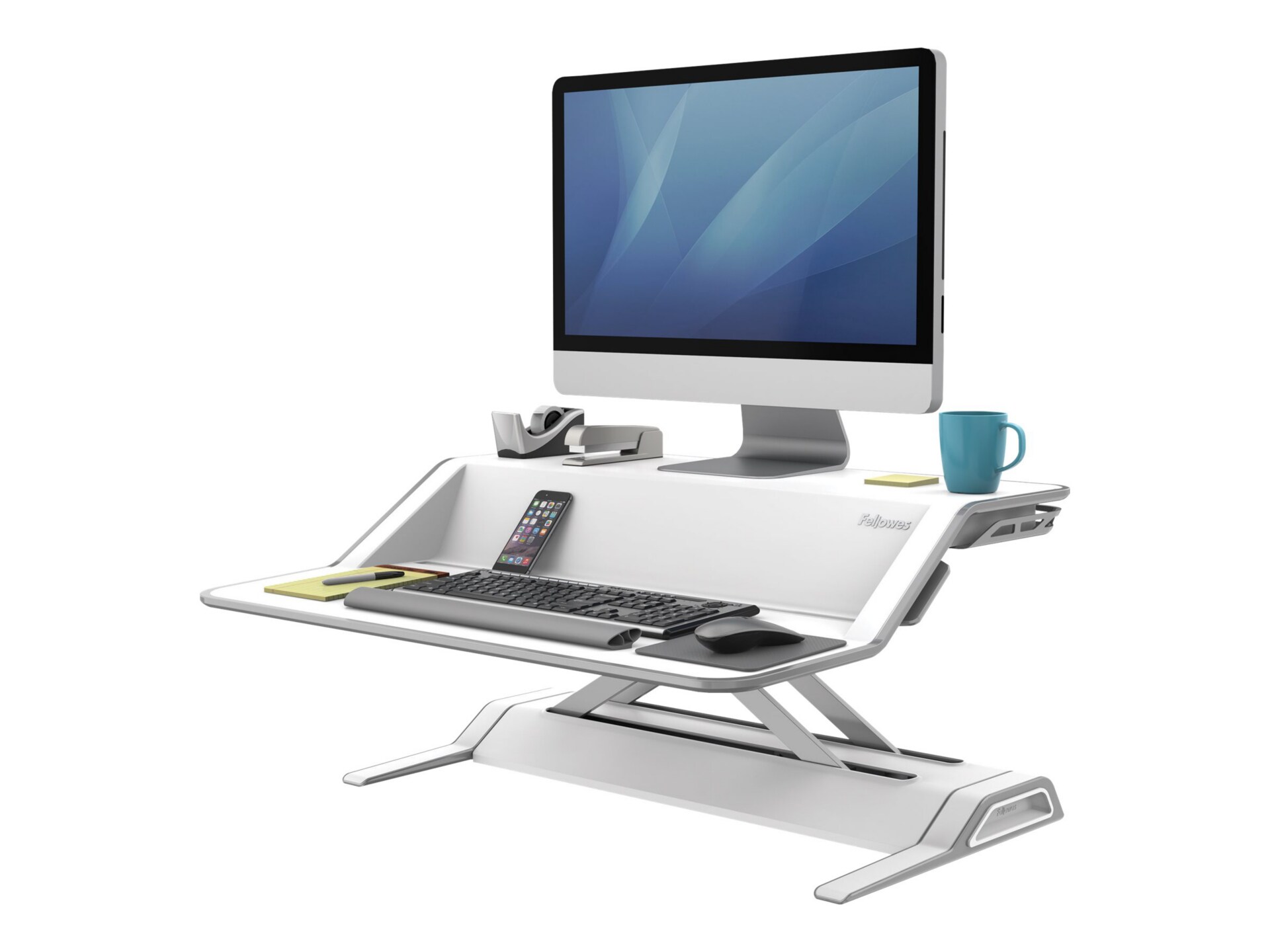 Quick tech specs
Stand Workstation
Waterfall
steel
Stand
for LCD display / PC equipment
white
View All
Know your gear
Designed to be easy to use, adjustable, and worry-free. Engineered with the durability to transition from sitting to standing multiple times a day. The Lotus Sit-Stand Workstation makes it effortless to add movement to your workday for improved wellness.
Fellowes Lotus Sit-Stand Workstation - stand (Waterfall)
is rated
4.79
out of
5
by
28
.
Rated

5

out of

5
by
LoveourStaff
from
Love our sit down stations
We purchased 5 sit stand stations for the employees at our insurance office. Every one loves the versatility of the use of the stands and how having the option to sit or stand at will and continue productivity has been wonderful. We have better posture, more energy at the end of the day and I highly recommend the purchase and use of the Lotus sitstand. Happy employees make a wonderful work day.
Date published: 2018-06-07T00:00:00-04:00
Rated

5

out of

5
by
JPG1930
from
I am so disappointed and wanted to love this product!
I saw the Fellowes TV commercial and it inspired me to buy their sit/stand Lotus Workstation. I loved the family owned theme, really liked the look of the product, and the construction seemed solid. I ordered from Amazon and was excited to receive the desk. It was already assembled and came with consideration for wires. The wire management was a big deal for me and something that most sit/stand desks are not considering. Fellows wire management is top notch and you can tell they spent some time on it. This is where the love stopped. To put is simply, the desk is not sturdy. There is very little support under the keyboard area and causes the unit to rock around with very little contact with the workstation. It came with velcro feet to secure the monitor and other items which I thought was strange and seems to be a way to try and salvage a bad design. Unfortunately I returned the desk and purchased another from an alternate manufacturer that was more stable and had a lot of the same features but not nearly as good looking as this desk and no consideration for wire management. I'm not happy with doing this but can't be sea sick while standing up and working. Please fix this ASAP and I'll buy another. I can't imagine that many people will not have this same review.
Date published: 2018-06-04T00:00:00-04:00
Rated

5

out of

5
by
Brenda745
from
I've Needed This For 20+ Years!
I have been using my Sit-Stand Desk for the last two weeks and I LOVE it! I have been an administrative assistant in an educational setting for over 25 years. If you have ever felt chained to your desk, this is a key to your freedom! I feel like a new person by having the ability to easily lift my desk and go from sitting to standing whenever I need or want to! The workstation set up on the desk is quite functional for holding papers, notes, pens, etc. Set up was easy and it is very user friendly. I've had lots of compliments from both staff and students in my building on it's design and "good looks". I'm the first person in my building to have one of these. Several coworkers have asked about it and marveled at how smooth and easy it is to adjust from sitting to standing. I have always been "vertically challenged" and this product "fits" me perfectly as well as my taller coworker who covers the office during my lunch/break. Versatile, User Friendly, Efficient, Stylish, and Healthy ... Perfect!
Date published: 2018-05-22T00:00:00-04:00
Rated

5

out of

5
by
Workingmama
from
Money well spent!
I've had my sit-stand workstation for over 6 months and absolutely love it. It takes absolutely no effort to lift and lower it when I'm ready to sit down or stand back up. I like the sleek look of it and many others in our office have since ordered a Fellowes Sit-Stand workstation after seeing mine.
Date published: 2018-07-10T00:00:00-04:00
Rated

5

out of

5
by
PM5300
from
Best Decision Ever!
I recently began using the Lotus Sit-Stand. I have some lower back and knee problems – sitting for an extended period of time doesn't help. A number of our team members use a different brand of sit-stand desks and encouraged me to give it a try. After using the Lotus for a few weeks I have to say – I love it! First it was so easy to set up – I work only from a laptop with an additional monitor and wireless mouse – no additional wireless keyboard. There are not a lot of cables but the Lotus hides them well. Also enjoy the recessed area for my cell phone. So easy to raise and lower – I try to alternate sitting/standing at least an hour at a time. In the raised position it feels sturdy – I do not add a lot of pressure while using the keyboard – I have no need to 'lean' on it. I did add a cushioned floor mat and the great news – my back and knees appreciate the Lotus – I feel it gives me more energy throughout the day. And those team members who use a different brand – all want the Lotus!
Date published: 2018-06-20T00:00:00-04:00
Rated

5

out of

5
by
DrRenee
from
I LOVE THE SIT-STAND WORKSTATION!!
I have been using the sit-stand workstation for a few weeks now and I LOVE IT!!! I love that it allows me to plug in all of my devices for charging. I drink a gallon of water a day and there is plenty of room on the workstation to have my 32oz flask without worrying about it falling on my computer. I did a Facebook Live interview from my desk this week and it worked out perfectly I was free to move and still be on camera. I started a health transformation journey a year ago and this workstation is allowing me to get even more steps because instead of sitting and typing I can stand and type. I believe that more people could improve their health if their companies invested in this workstation. My only complaint is it is a little big for my work area but I made it work. So I wish it came in different sizes.
Date published: 2018-04-13T00:00:00-04:00
Rated

5

out of

5
by
LG1996
from
Awesome Product
I've been looking for a sit stand solution for my home office for quite some time. I've seen many desks but some were either too expensive, too bulky, or did not have the appropriate features. The Lotus Sit-Stand Work station is perfect for my needs. I loved that there was no assembly needed. It was ready to go right out of the box! Adjusting from sitting to standing is seamless. I also like the cord management system, which keeps the work station cleaner and organized. So far, I've had the Lotus Sit-Stsnd for a little over one week and I look forward to using it for years to come.
Date published: 2018-06-05T00:00:00-04:00
Rated

5

out of

5
by
ToriTardugno
from
Absolutely love this workstation
I absolutely love this workstation. It is very easy to put together. The ease of raising and lowering the stand is wonderful. Instead of normal sit-stands that come at you this one goes vertical. We have the dual monitors on mine and have had this for about a year. In my opinion it is well worth the money. Just recently two other individuals in my office have acquired this workstation, as well.
Date published: 2018-07-09T00:00:00-04:00
Rated

5

out of

5
by
BossyPants
from
Great Product!
The Lotus Sit-Stand Workstation is a game changer! It is super easy to set up. I love the sleek look and the quality of the product. It is sturdy and strong and it looks great! The various height settings are ideal. Get up and get to work! I just love it!
Date published: 2018-06-12T00:00:00-04:00
Rated

5

out of

5
by
RHL39
from
Great Product and Pricing
We purchased a bulk order of the black Lotus Sit-Stand workstations for our offices as part of our wellness initiative. The employees who received the workstations love them! They are sleek looking and less bulky than some of the other models we have purchased in the past and the transition from sitting to standing is simple and effortless, allowing our employees the flexibility to change as frequently throughout the day as they would like. The are not heavy but are very solid and stable when in standing position. We also purchased the dual monitor arms and they really help give the employees extra space on the top ledge/shelf and make the work station look very sleek and clean.
Date published: 2018-05-21T00:00:00-04:00
Rated

5

out of

5
by
LisaSimpson
from
This desk rocks!
I've been a user of multiple sit-stand desks that are available and the Fellowes' Lotus Sit-Stand desk has been my favorite by far. The design of the desk where the keyboard and mouse sit allows for much better space management than any other desk on the market. Also, as a taller user I was concerned about the height, but the desk range meets my needs and with the monitor arms I'm able to place the monitors at the appropriate height. I've already noticed I'm standing more than I did with other desks I've used and I feel much better!
Date published: 2018-06-14T00:00:00-04:00
Rated

5

out of

5
by
InsuranceConnection
from
AMAZING!
Our office first ordered 6 of these to try them out and see how they liked them. They RAVED about how easy they are. They are so easy to set up I set 5 out of the 6 up the first time plus the other 6 yesterday. They take 10 minutes to set up and that's getting things squared away on the desk as well! We just got 5 more yesterday and I absolutely LOVE mine. It helps with my lower back issues already just having it for less then 24 hours! I highly recommend these and I know everyone else in the office loves the ease of using them and how they break up the day with being able to stand more! Great design, easy to lift and super easy to set up! GREAT JOB!!!
Date published: 2018-11-07T00:00:00-05:00
Rated

5

out of

5
by
Stacie
from
Nice design
As a physical therapist, I know how detrimental sitting for long periods can be. This workstation is designed well making it simple to transition from sitting at the desk to standing at the desk. It lifts and lowers smoothly. And I especially like how you can prop your phone or post notes on the solid space connecting the keyboard to where the monitor sits. The white color has a nice fresh look and it has stayed mark-free. I have owned it now for about 3 months.
Date published: 2018-07-06T00:00:00-04:00
Rated

5

out of

5
by
Jumpforjoy
from
An excellent piece ever
I believe this sit & stand was an excellent creation. It allows me more flexibility and works wonders to allow free flow. It benefits individuals with back problems and a great piece that works well with your work ethics.
Date published: 2018-07-16T00:00:00-04:00
Rated

5

out of

5
by
MrsG
from
Love this desk! Highly recommend it!
Very happy with the performance of this desk! We were hunting for a desk that would work with the shallow depth of our current desk tops. I love the ability of being able to lean papers upright in front of my keyboard! This area acts like a "paper stand holder" but does not block the view of my computer screens which makes data entry so much easier! This desk is weighted toward the back, so the base is firm and stays in place well. The only drawback is the slight movement (wiggles) of the desk top when it is in the standing position, but I've gotten used to it. It does function well when you raise and lower the desk. It is large enough to fit both monitors, key board and mouse without feeling cramped or restricted. As a whole, the designers have done a wonderful job with this desk!! It is a pleasure to stand, when I just can't sit any longer. So thankful for THIS sit/stand desk and I highly recommend it!!
Date published: 2018-07-13T00:00:00-04:00
Rated

5

out of

5
by
SueMac
from
Sit Stand has saved my back
I bought the Lotus for a new position I was hired for in a school office. I cannot begin to tell you how happy I have been. I am at my desk and on my computer from 7am until 3:30. I stand 90% of that time. I have had lower back issues for years and sitting can cause pain and numbness. This has all but eliminated that problem! Being the first contact person in our office, my desk has become a topic of conversation and envy with the school staff. It is a nice looking unit but even better is how easy it is to lower and lift. I would recommend this product to anyone interested in standing more at work.
Date published: 2018-10-11T00:00:00-04:00
Rated

5

out of

5
by
CK7064
from
A great edition to my home office!
Summary: I'm liking the Lotus desk! I initially was using a tall desk for a standup desk, with a adjustable height bar stool. I realized I wasn't a fan of the high chairs and wanted something that I could use with a normal comfy office chair with my feet on the ground. Unboxing: It's pretty straightforward as it's all one-piece. You just need to get it out of the foam blocks, plastic wrap, and a few pieces of cardboard that are protecting the handles. Size: Weight-wise, you'll probably want to heed the warnings on the box about having two people to unbox and move it. It's just heavy and big enough that's it can be unwieldy for one person. It is fairly deep, so you'll need at least 25 inches of depth. I think the directions ask for a about 28, which is probably better to allow for easy access to the cord management on the back. I feel like the desk is the right size for what I need. With the 12" chromebook and monitor on top, and the standard keyboard and mouse/mousepad on bottom, it fits perfect and will probably be all I put on here for the time being. Sorry, the coffee might need to go elsewhere (which is recommended anyways). Also, it seems like the lower part of the desk is deep enough that it would fit ergonomic keyboards as well. I'm guessing you could also fit a ten-key on too. First use: Just out of the box, of course I just wanted to try it out without reading any directions. I ran into an issue where the right handle wouldn't work, so I couldn't lower or raise the desk. It turns out, it's weight sensitive and requires a minimum of ten pounds in order to release. Push down a little and voila, the right handle works as well. Height adjustments: The lotus raises plenty high and has more than enough adjustments than I'll need. I'm 5'9, so I had no issues with the heights available. Depending on your setup, there is also a tension knob that you can change to match the weight. In a chromebook only scenario, or using my chromebook plus beefy 12lb old 22" monitor, the lowest setting worked fine. When using a laptop only, you might need to push down a little to hit that 10 lb release limit when adjusting the desk. When using a monitor without the arm, they've supplied five velcro pads for attaching to the desk and monitor. I'm not testing this part out, as I'm in the middle of switching monitors and to the arm (will update the review later), but I would recommend using them if that's the route you're going. If you start adjusting very quickly without velcro, the monitor may get a little tippy. I think the general rule would be, be gentle when adjusting and you'll be fine. The Lotus does what it advertises, and I can go on with my workday, adjusting the desk throughout. Generally, phone calls or light emails I like to do while standing, but during heavy coding, it might be more a sit-down activity. During standing and typing, the front of the desk might have a little play in it since the arm holding the desk is in the back. However, I didn't have any issues with this since I'm only typing on the keyboard, I'm not leaning on it.
Date published: 2018-07-29T00:00:00-04:00
Rated

5

out of

5
by
property2018
from
Great for standing and working
This apparatus is very modern and we have gotten many compliments on them. They are very easy to use and the phone charging is a bonus. They are wonderful to break up the day from sitting.
Date published: 2018-07-13T00:00:00-04:00
Rated

5

out of

5
by
Lance
from
Sit-Stand Workstation = More Energy
Even though I've only had my new Lotus Sit-Stand Workstation with a Dual Monitor Arm Kit for a couple of weeks, I can see the benefits of the sit or stand options. I feel like I have more energy and it breaks up the monotony of the day too. If you're in the market for a sit-stand device, you should definitely buy this one.
Date published: 2018-03-13T00:00:00-04:00
Rated

5

out of

5
by
RonG
from
I just love it!
When I received my Lotus workstation and unpacked it the first thing I noticed was how well built and robust it was. This is indeed a heavy-duty work platform. The small amount of assembly and the easy set up and installation was fantastic. I was using my Lotus in a very short period of time. Love how well thought out and designed it is, A place for everything in every position sitting or standing. My work space is much more efficient. Of course, I do love the standing aspect. I feel much better after a day in the office having not been sitting all day. My legs feel better and I actually have some energy to go home and do something!
Date published: 2018-06-14T00:00:00-04:00
Rated

5

out of

5
by
Jimbogogo
from
Love my Fellowes Sit-Stand Workstation
What could be easier, pull it out of the box, set it on my desk, connect my screen and plug in my laptop! Now I am up and down and active all day long, my back has less fatigue and I feel strong at the end of a work day, not run down. Get one, your back and your productivity will thank you. When Fellowes makes a next generation they should think about expanding space on deck so a docking station for laptops will fit or make knotch that the docking station can fit into.
Date published: 2018-10-22T00:00:00-04:00
Rated

5

out of

5
by
murdog
from
Awesome Product
Purchased the Lotus Sit-Stand Workstation 3 months ago. It was simple to set up, and it operates flawlessly. The design is well thought out, I appreciate how it travels vertically without taking up additional space as it travels up and down. Additionally, the cord management really helps the overall appearance of the desk. Lastly, several workmates purchased the same desk. We all think it is the perfect blend of design and function for a sit-stand desk. Thanks
Date published: 2018-02-23T00:00:00-05:00
Rated

5

out of

5
by
JM2018
from
Beautiful Product
I have been using my Lotus Sit-Stand for around two weeks and am really enjoying it! I had previously reconfigured my desk to allow me to stand while working but didn't have the ability to sit and stand so I am loving that this product allows me to easily switch from sitting and standing throughout the day. My favorite feature is how functional the surface is, especially how you can prop us notes or files in front of you. Set-up is extremely easy and quick -- the product is ready to go out of the box. It's a great design and a beautiful product. I'm excited to continue using it!
Date published: 2018-06-12T00:00:00-04:00
Rated

5

out of

5
by
OPT2018
from
Sit-Stand Workstation REVIEW
Our company purchased this sit-stand workstation initially, plus an additional one for our therapist to use and WOW! As the office manager; I am so impressed with the versatility and easiness when using it. I especially like the extra space where I can put my necessary items at my fingertips. It is super easy to put up/down and the stability of sitting the unit ontop on my counter workspace area is GREAT! Many patients have inquired and commented on its professional appearance as I work behind it daily. We continue to give out a brochure that explains the unit's details.
Date published: 2018-06-04T00:00:00-04:00
Rated

5

out of

5
by
WonderWomen
from
Great product, easy to use
Overall, this product is easy to use and ready to go out of the box. It needs weight on it to test raising and lowering it, so if you are like me and tried to test it out before reading the directions and putting anything on it, it won't work. Once my monitor was on it, it was a smooth operator. The ability to easily shift from sitting to standing is wonderful! The only complaint I have about it is I use a laptop with a docking station and that will not fit on here. I originally had to move my docking station to the corner of my desk and use my auxiliary monitor and wireless keyboard only on here, which is inconvenient. I ended up using this in my secondary office where I only bring my laptop with me and there is no docking station.
Date published: 2018-08-07T00:00:00-04:00
Rated

5

out of

5
by
WorkingMomsRock
from
Love this product!!
I have just been using this a week now and cannot say enough about it, the design is very sleek but sturdy so you don't feel the movement when typing on your keyboard or moving your mouse. The transition from sit to stand is also made easy and smooth. The monitor shelf is very nicely sized allowing for a docking station along with speakers. I also like that you designed a tray to hide the cables and wires but also included the cable sleeve for all the rest. I would definitely recommend this to my family, friends and co-workers!
Date published: 2018-06-01T00:00:00-04:00
Rated

5

out of

5
by
Cristina
from
Work Must Have - Great Quality and Great Design
I am very impressed with this product. The design is great and the attention to detail is also superb. The material feels nice and sturdy and it was relatively easy to put together. I rated it 4/5 for value because I do think it's a bit expensive. Overall, it's a great product.
Date published: 2019-07-10T00:00:00-04:00
Rated

5

out of

5
by
roddeuse
from
un produit bien pensé
De belle apparence et bien utile charge la façon de travaillé en beaucoup mieux. Génial.
Date published: 2019-11-16T00:00:00-05:00