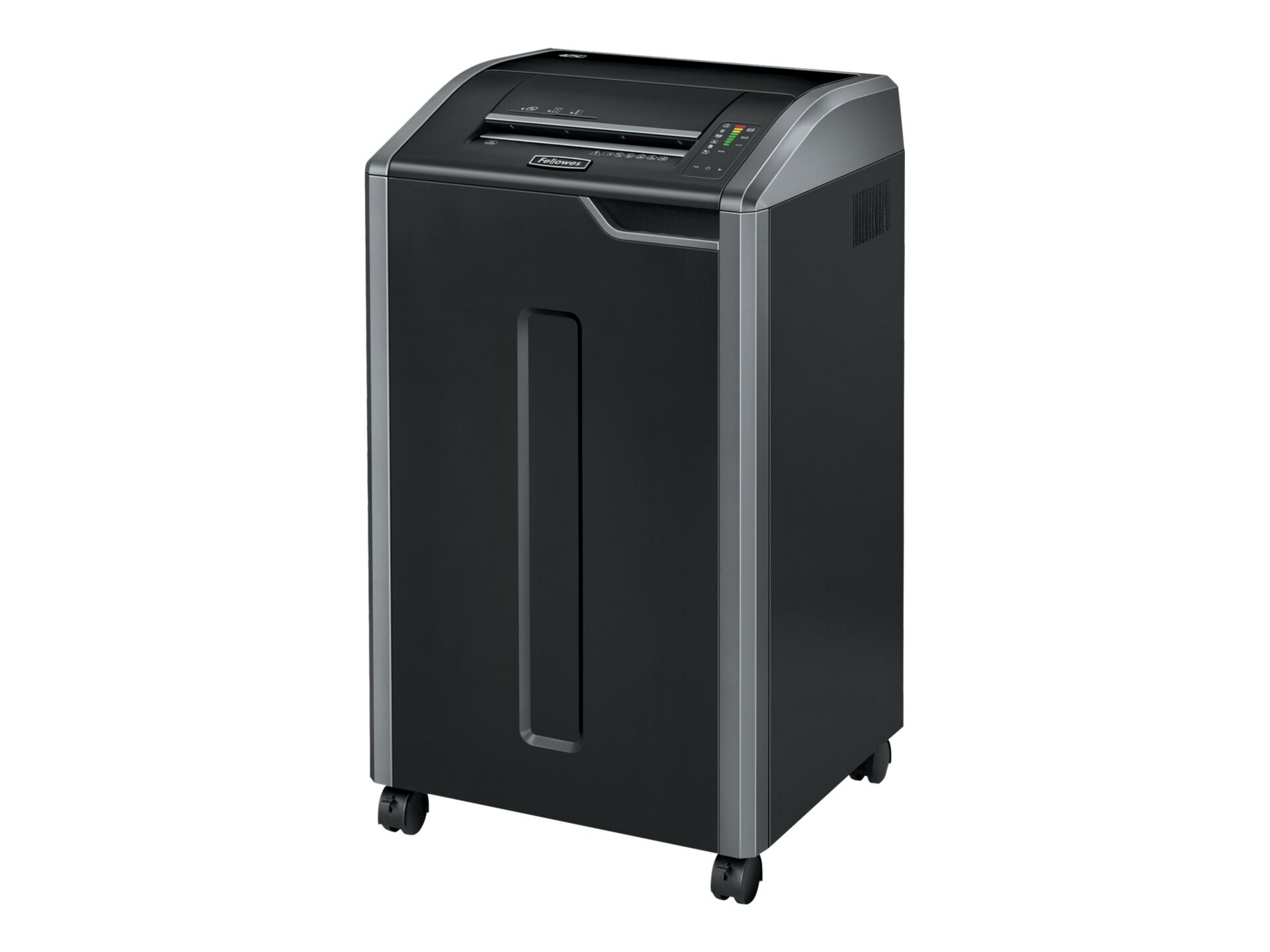 Fellowes Powershred 425Ci - shredder
Mfg.Part: 38425 | CDW Part: 916498 | UNSPSC: 44101603
Fellowes Powershred 425Ci - shredder
Product Overview
Main Features
Shredder
cross-cut
3.9 x 30 mm
P-4
Fellowes Powershred 425Ci - shredder is rated4.77 out of5 by13.
Rated 5 out of 5
by
dietcoke
from
Great Shredder
Bigger then we really needed but love how well it works over the smaller one we had before.
Date published: 2014-04-21T00:00:00-04:00
Rated 5 out of 5
by
19bassangels85
from
Best Purchase ever
Yes, being in the purchasing industry, we have seen and used many different models and brands of shredder's.In my experience we have come to rely on Fellowes, they are very duriable and reliable from the low to the very high performance! My company for the pass 10 years and enjoyed the 485ci unit, that we purchased another one for a group of10 shared users! Plus today, we just installed the 425ci unit, for HR Dept., use of 10 more shared users! these items are very easy users and very well manufactured! We are very proud of the Fellowes Products!
Date published: 2018-03-13T00:00:00-04:00
Rated 5 out of 5
by
Lori
from
Good Shredder
Good Shredder for a mid size office. Holds a lot of "shreds". Very nice collection basket - our last one was a wire frame and we had to fight with it all the time. Overall very impressed with this. Only downside is that it is pretty loud when shredding.
Date published: 2010-03-19T00:00:00-04:00
Rated 5 out of 5
by
AAHGAL
from
Gets the job done
We received our shredder for the office and I will have to say that I was not pleased when opening the front door that the bin that came inside of it is made of cardboard. For the amount of money spent on this machine, I believe there should be something a little more sturdy inside besides a cardboard box. However, after plugging it in and starting to use it, it works fairly well and we are pretty pleased with it. Like I said, the only thing I would change about this is the cardboard box inside.
Date published: 2014-05-29T00:00:00-04:00
Rated 5 out of 5
by
IRunTheOffice
from
Really Best Purchase Ever
We replaced our previous C99i (9 gallon shredder) with a 425i (30 gallon) shredder! Wow, what a difference. The little machine worked great, but not for the size of school we're in. We have a LOT of confidential information that requires shredding! The size of this shredder is much more preferable to an organization of about 60 staff, and you don't have to bend over to use it. Shredding is smooth, quick and efficient and quiet! Couldn't ask for a better shredder - thanks Fellowes!
Date published: 2017-04-10T00:00:00-04:00
Rated 5 out of 5
by
DarC
from
Excellent Shredder
We are very happy with our purchase. It is doing everything that it said it would. It's appearance is good too. We've been keeping it very busy. It was nothing to set up and that is great!
Date published: 2011-02-21T00:00:00-05:00
Rated 5 out of 5
by
DSR1
from
GREAT PRODUCT & MADE IN THE U.S.A.!
I REALLY LIKE THE 425Ci. I WISH IT CAME WITH A MORE DURABLE SHRED BIN INSTEAD OF THE CARDBOARD TYPE!
Date published: 2014-10-27T00:00:00-04:00
Rated 5 out of 5
by
julio
from
Excellent Machine
This shredder turned out to be the perfect size for our small office. It aggressively shreds everything we shove down its throat! Great job Fellows!
Date published: 2018-03-15T00:00:00-04:00
Rated 5 out of 5
by
PR01830
from
Really lives up to its description!
Quality product all the way! It is even better than I anticipated it to be. It runs quietly and efficiently with ease. Highly Recommend!!
Date published: 2014-05-06T00:00:00-04:00
Rated 5 out of 5
by
Allured
from
Well worth the wait and money
We just bought our first Powershred 425Ci crosscut shredder from Fellowes. We have never bought anything from Fellowes so we thought it was time to give them a chance. After countless hours of looking at shredders and pricing we finally came down to Fellowes shredder because of the Positive feedback from other users from Fellowes. This is the greatest and safest and most economical shredder we have ever owned. We give it 5 stars.
Date published: 2014-10-22T00:00:00-04:00
Rated 5 out of 5
by
Tysh
from
Just what you need!
This shredder is capable to do what you always wanted in a shredder. It let's you know if you are close to your paper feeder limit. It is touch-screen operated and our office staff love it!
Date published: 2015-06-22T00:00:00-04:00
Rated 5 out of 5
by
elemschool
from
Tough and Reliable Shredder
This is the 2nd shredder of this kind that we have ordered for our school. All staff have access to it so it is constantly in use. The original one we ordered held up really well which is why I have ordered the same one as a replacement. I like how smooth and quite it is. I believe it is worth the cost.
Date published: 2017-02-21T00:00:00-05:00
Rated 5 out of 5
by
Charlietown
from
A great shredder
The shredder is fast, quiet, and handles a huge load without overheating.
Date published: 2009-06-15T00:00:00-04:00