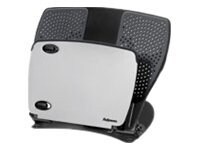 Quick tech specs
View All
Fellowes Professional Series Laptop Workstation with USB - notebook stand
is rated
4.25
out of
5
by
8
.
Rated

5

out of

5
by
Kittkatt
from
Laptop Adjustable Riser
I have been very happy with my adjustable laptop riser. It is wide enough to securely hold the laptop and adjustable to ensure you have a good posture position. The front plate is great when you're typing a letter as you can keep it right in front of you. The bonus USB ports are a nice addition.
Date published: 2020-06-28T00:00:00-04:00
Rated

5

out of

5
by
K5Teach
from
Awkward placement of the document holder
It looks great. Holds laptop securely. However, the placement of the document holder makes it difficult to type on the laptop. It needs a foldaway design or removeable option to make this a truly functional workstation.
Date published: 2020-08-28T00:00:00-04:00
Rated

5

out of

5
by
ProUserWriterEditor
from
You want professional? You've got it right here. This is it!
The Fellowes Professional Series Laptop Workstation w/USB lives up to its name. It is very professional. The riser is made from high-quality material, adjusts very easily, and holds my oversize laptop very securely. The rubber feet grip my desk surface securely without the need of any nonskid material. I worked in the text editing field for several decades (!) and switching from desktop to laptop has recently become increasingly more challenging as bifocals and aging eyeballs have entered the picture. Buying a laptop riser was way overdue. When I saw this one, I knew I'd found a winner. At its highest setting, the riser brings my laptop's screen to eye level, so my posture is greatly improved. Because the riser is designed to be an ergonomic accessory for a laptop, customers should expect and be prepared to use the riser in tandem with an external keyboard and mouse. There are no stability issues as long as the unit is used as intended. Doing so has made using my laptop enjoyable and comfortable. The additional benefit of having a built-in typing stand for little jobs is a very handy feature. Okay, there's almost always room for improvement. Here's what I came up with: 1. Upgrade the USB housing from plastic to metal (the plastic doesn't feel professional) and include the USB speed identifier on the unit (1.0, 2.0, 3.0). 2. Do not attach the USB hub to the base unit. It interferes with being able to flatten the unit for travel. (I keep my USB hub free to move around where best needed depending on what's being plugged in.) 3. Revise the printed diagram instructions by rearranging items "4, 5, and 6" to "6, 4, and 5" since 6 shows how to release (open) the unit from its packed/flat position to the open/usable position. That's it. The three "cons" are very insignificant. My primary reason for purchase this product was for the riser itself, and that's perfect! Thank you, Fellowes, for always making outstanding products.
Date published: 2015-06-06T00:00:00-04:00
Rated

5

out of

5
by
Scottar
from
Design Could be Better
This would be a good design except: The document holder seems to be backwards, you need an external keyboard to make use of it. Better idea would make it removable and reversible. On my laptop I have a large battery size with a hump at the bottom. This makes the laptop back heavy so it teeters when the riser is at a moderate angle. So I fabricated "L" brackets to keep the front from tipping up. Having 2 small cooling fans on the back grill would provide extra cooling, they could be optional. A stronger mount on the riser would make it more stable, it bounces when you type. But it provides a comfortable mounting angle for ergonomic concerns. Pads on the front of the laptop surface from the touch pad would provide a hand rest to eliminate strain. But then the new wireless keyboards make that not necessary.
Date published: 2012-08-18T00:00:00-04:00
Rated

5

out of

5
by
Billy1985
from
Changed my life!
Very useful laptop support, raises my laptop screen to the perfect height. Especially, suitable if using 2 screens. Say goodbye to neck pain!
Date published: 2021-01-21T00:00:00-05:00
Rated

5

out of

5
by
Bago
from
Durable Workstation
Very sturdy and well built. I especially like the USB adapter feature. Wish the paper holder on the front was detachable.
Date published: 2021-02-03T00:00:00-05:00
Rated

5

out of

5
by
Hybridworker
from
Sturdy and reliable laptop support
Helps massively with good posture at the desk when using an external keyboard, adjusting the height is at your fingertips. I also use the front panel to keep a document with my urgent tasks of the day.
Date published: 2021-01-21T00:00:00-05:00
Rated

5

out of

5
by
amfriesen
from
pros and cons
started with a different make and model but same idea as my laptop was on a monitor stand previously so not at the best angle - appreciate the variety of angles as other make was more restrictive and needed USB ports so that's what sold me on this model and you can't go wrong with Fellowes - didn't realize only had a document holder on the front as my other make had a ledge but of course Fellowes has a different model with a product holder on the front - agree with other reviews which stated USB hub could be more versatile
Date published: 2022-01-17T00:00:00-05:00