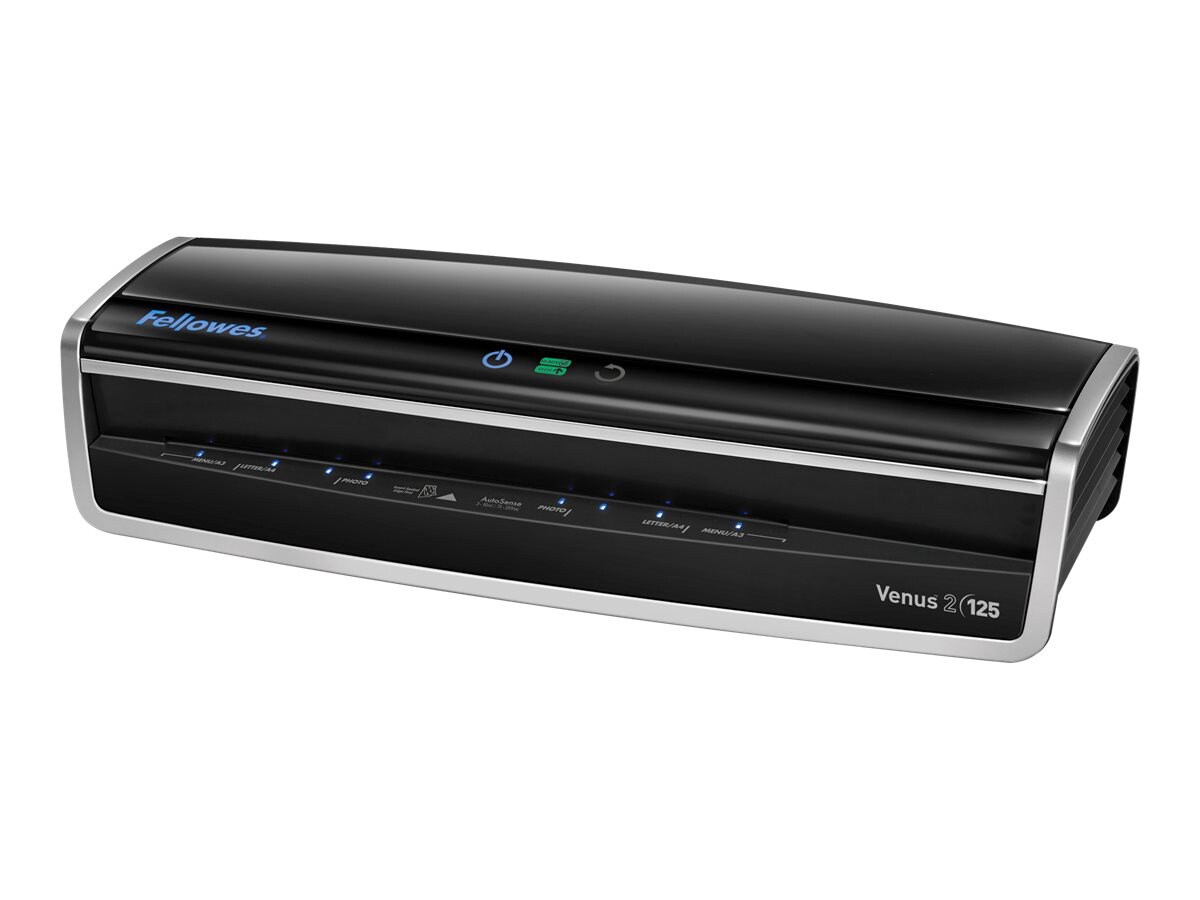 Quick tech specs
heat or cold laminator
31.8 cm
View All
Know your gear
It won't take long for this laminator to get warmed up. Thanks to InstaHeat technology, the Venus2 is ready to go in as fast as 30 seconds. With its robust six-roller system you'll receive high-quality laminations at a rapid speed of 43 inches per minute. That translates to a good-looking finish in a small amount of time.

The Venus2 laminates hot pouches up to 10-mil thick and cold pouches. Its AutoSense system detects the pouch thickness and instantly self-adjusts to the most suitable setting for your document.
Fellowes Venus 2 125 - laminator - pouch
is rated
4.70
out of
5
by
34
.
Rated

5

out of

5
by
MimiG
from
Better Quality projects
I have three different Fellowes laminators, but this one is my absolute favorite. I can laminate all of my projects quickly and efficiently, and I've received compliments on all of them. I'm not a professional at this, but it appears to be an expensive type of work. I highly recommend it; it will make your projects so much easier.
Date published: 2023-01-05T00:00:00-05:00
Rated

5

out of

5
by
Boss1
from
Best Laminator
I purchased the Venus™2 125 Laminator 2 weeks ago and have used it non-stop with no issues. I've used different pouch thicknesses' with no jams or issues. I like that there is minimal wait time for warm-up and processing. Best desktop laminator I've used in a long time.
Date published: 2021-11-16T00:00:00-05:00
Rated

5

out of

5
by
SusanL
from
Staff love how fast it heats up!
We upgraded due to our 6+ year old Fellowes laminator was making a horrible noise. I decided to pay a little more to get a faster heating cycle and am so happy I did! Easy to use, fast to heat up - I couldn't ask for more. Staff have thanked me again and again!
Date published: 2021-11-03T00:00:00-04:00
Rated

5

out of

5
by
documentor
from
Replacement for the Voyager 125
I recently purchased the Venus2 125 to replace the voyager 125 I have had for many years. The new machine heats up quickly and laminates wonderfully. Too soon to tell about the reliability but if it is a tough as the Voyager I will have no complaints. Great machine so far.
Date published: 2022-07-22T00:00:00-04:00
Rated

5

out of

5
by
Caroline6855
from
Plastifieuse VENUS 2 125
Cette plastifieuse est très facile d'utilisation, rapide et très performante. Cela fait 21 ans que je travaille avec des plastifieuses, et c'est la meilleure que j'ai utilisé à ce jour ! Merci Fellowes !!
Date published: 2020-11-04T00:00:00-05:00
Rated

5

out of

5
by
StonePlastics
from
Venus 2 125 Thermal Laminating Machine
I just got it in today, and I LOVE it! It heats up fast and runs through quickly!
Date published: 2020-07-09T00:00:00-04:00
Rated

5

out of

5
by
98546
from
EXCELLENT LAMINATOR
Needed a laminator for awhile, however didn't see the need, however the Pandemic changed my mind. Love this unit, no longer have to ask another Co. to laminate for me. Fantastic price point.
Date published: 2020-06-03T00:00:00-04:00
Rated

5

out of

5
by
dmpinole
from
Fast & Efficient !!
wOw ! Only wish I would've purchased this sooner ! Incredibly fast warm up time and so much faster laminating process. Lovin' it so far !!
Date published: 2018-09-18T00:00:00-04:00
Rated

5

out of

5
by
TheCommandant
from
Very Selfish!
Retired and purchased the Venus 2 125 strictly for myself. I have been using this for some 4 months now and love everything about. I clean the rollers after each use. "You take care of your equipment, it will take care of you!" A beautiful, and easy to operate laminator! SemperFi!
Date published: 2017-02-19T00:00:00-05:00
Rated

5

out of

5
by
TomL
from
Best Laminator available...
I consider this review a 'no brainer'. Why? First off, you are dealing with a time proven company.. Fellowes .. Not only does this company have high quality products that stand the test of time and have been doing it for years, they believe in their products and stand behind then with quick responses to any questions you may have and are there if you ever need them. This Venus2 125 Laminator has the fastest warm-up time, no more concern as to what thickness pouches you are using. Everything is automatic and the final product comes out picture perfect every time without any bubbles or any other imperfections. The unit is very well built, solid and good looking. I can't say enough about this laminator.. GET IT you WON'T be disappointed..
Date published: 2015-10-05T00:00:00-04:00
Rated

5

out of

5
by
discus1
from
Great laminator
I am a school teacher and teach students with special needs. We use a laminator most every day. With the help of a school grant, I was able to purchase this unit online at Amazon. It was so easy to set up and use. It is also convenient to use within one minute. No more walking down to the printing room and using the school laminator. Yea!!
Date published: 2015-01-27T00:00:00-05:00
Rated

5

out of

5
by
Kellie
from
great office laminator!
I just replaced a GBC office laminator that didn't last long with the Fellowes Venus 2 - 125. I have done several jobs and it is very easy to use and works great!
Date published: 2014-10-10T00:00:00-04:00
Rated

5

out of

5
by
Zippy
from
The greatest
This is the best laminator ever. Really easy to use and a joy to work with such a beautiful piece of equipment. You will be very happy with this purchase. Thank you Venus 2 125 ! You're the greatest!
Date published: 2017-02-18T00:00:00-05:00
Rated

5

out of

5
by
Belinder
from
Top Notch Laminator
The laminator is so easy to use and has it's own self features, to save time when laminating. Quaility of the laminated documents are so smooth and looks so professional. Better than any I have seen.
Date published: 2015-04-29T00:00:00-04:00
Rated

5

out of

5
by
njagu7
from
Laminator UNC-Chapel Hill
A good laminating machine that can use various mil pouches.
Date published: 2015-05-01T00:00:00-04:00
Rated

5

out of

5
by
OntheLAMinator
from
Venus™2 125 -- A Laminator Deserving Loads of Laurels
My first experience using a Fellowes product, and I must say I am impressed with the overall build quality of the Venus 2 125 laminator that I purchased. It has been performing flawlessly. Moreover, it appears that Fellowes is not just satisfied with creating and designing quality products that work well, but they are paying attention to bringing to market products of superior aesthetic appearance as well. Bravo, Fellowes!!
Date published: 2015-10-17T00:00:00-04:00
Rated

5

out of

5
by
DMStockton
from
Always Used Fellowes Products
Our company has always used Fellowes laminating machines. This was a very easy to use machine, however, after one year it stopped working.
Date published: 2015-12-22T00:00:00-05:00
Rated

5

out of

5
by
pjit
from
The Cadillac of Laminators!
After trying several laminators; my company purchased the Fellowes Venus 2 125 laminator and this is the best of all! It has a reverse to help with any jams or misaligned sheets. When the first one developed a squeak; your customer service came through with not only courteous replies, but quickly too! I got the replacement within a week and I am up and running again. Thank you for your outstanding customer service and excellent products. I highly recommend this laminator for any company small or great!
Date published: 2017-01-19T00:00:00-05:00
Rated

5

out of

5
by
pxiong
from
Produces great product, heats up fast, efficient.
Best decision ever to purchase this product. I love it. It produces great laminated sheets. Looks very professional. Pre-heat is very fast after powering on. This machine is super efficient. I am very pleased. I highly recommend it for office use or personal home use.
Date published: 2018-05-02T00:00:00-04:00
Rated

5

out of

5
by
Chickenhawk
from
Fast, Stylish, Solid
Great tool! Does everything as advertised. Very fast, easy to use, cool style, and solid, well built machine. Would recommend to anyone. First thing I've bought from Fellowes, won't be the last!
Date published: 2015-03-06T00:00:00-05:00
Rated

5

out of

5
by
zellajean
from
Materials Administrator
Very impressed with the ease and options that this machine has.
Date published: 2017-03-20T00:00:00-04:00
Rated

5

out of

5
by
b1gd0g
from
Great product
This laminator is very good quality which is needed for our ongoing health promotions which are ongoing throughout the year. We are confident that this laminator will provide years of good service.
Date published: 2019-05-10T00:00:00-04:00
Rated

5

out of

5
by
lamathers
from
New to laminating, seems like a nice machine.
Seems like a nice fairly heavy duty machine. Kind of a fancy design compared to more mechanical brands. First few sheets worked great.
Date published: 2016-12-28T00:00:00-05:00
Rated

5

out of

5
by
Teach
from
Venus2 125 Laminator
WOW !! Great machine, I am yery happy with my purchase of the Fellowes Venus laminator. I was looking for a machine capable of laminating 11x17 stock. This macine does that and more. It is fast!!! I can laminate a 11x17 schematic in as little as 12 secs. It seals the entire page with no bubbles or edges curling up. It will help me save time doing large volume jobs. I also like the fact that I don't have to adjust the machine for different size paper or laminating sheet thickness. It also looks cool!! I would definately suggest this machine if someone needs to buy a laminator.
Date published: 2014-12-12T00:00:00-05:00
Rated

5

out of

5
by
Angie318
from
Fellowes Laminator
The Laminator is smooth and easy to operate. A little too large.
Date published: 2015-01-16T00:00:00-05:00
Rated

5

out of

5
by
lrksbm
from
Excellent Laminator, Crystal-Clear Pouches!
I purchased the Fellowes Venus 2 125 laminator for my small business. It heats up quickly and laminates beautifully! The Venus 2 has many convenient features, such as automatically detecting the thickness of the lamination sheets, and auto reverse in case you encounter a jam (which I have not yet with this machine). This laminator came with samples of Fellowes laminating pouches which were crystal clear after use - much better than the generic laminating pouches that I had always purchased. I'll be purchasing the Fellowes laminating pouches from now on to help make my documents look their best!
Date published: 2017-07-29T00:00:00-04:00
Rated

5

out of

5
by
GMASUE
from
A really sturdy laminator that delivers professional work
I am a Spark Reviewer for Walmart and was sent a free Fellowes VENUS 2 (125) Office Laminator to review. I have always wanted a laminator to preserve paper items and now was my chance. The laminator came and I was surprised at how large and heavy it is. This laminator can be used for home, schools, offices, and any businesses. It is very sturdy. I took it out of the box and placed it on a stable surface. This is very important because it is heavy and needs to be sitting flat in order for it to work properly. The first thing I did was pull out the directions. The directions show how to set up the laminator which is not difficult. That only took 5 minutes. The directions state how the machine operates, but they don't really say how to use the machine. I looked up the company on the computer and was able to find a short video on their website. I had never used a laminator before so this was very helpful. I then noticed that when you turn on the laminator it runs through about 15 seconds of getting itself ready. In the video it showed a blue light on the top that after flashing becomes a steady light. On my laminator it kept flashing. I just thought maybe it was because it flashed until I put a pouch with a paper in it to laminate. So I did just that. The first run through it did not do anything so I put it through again. This time it did laminate the paper, but it was not hot as the video said it would be, but I have to say that the paper I sent through came out perfect. There were not any crinkles, it was sealed perfectly and looked professionally done. I then noticed an odor coming from the laminator. I wasn't sure what to do so I shut off the laminator. I then called the Customer Service number for Fellowes that was on the instruction booklet and talked to a very nice gentleman. I explained that I had never used a laminator before and wanted him to go through it step by step with me. He then told me what to do. When I turned the machine back on, it did the same thing with the flashing light and I told him. He told me that was not correct and first had me make sure the plug was firmly plugged into both the machine and my outlet. Then I told him about the odor. He said that a slight odor was normal upon using it the first time because of the heating elements. Then he asked me to turn off the machine and turn it upside down to get the serial number located on the bottom. I did and was surprised at how hot it was. I told him that the laminator was really hot to the touch. He took the serial number from me and told me that it sounded like there was something wrong with the mother board on the laminator. He asked for my name, address, etc. and then he advised me to keep it unplugged. He then stated that he will send out a new machine to me and return postage for the laminator that I have. He said that they want to see what was wrong with the mother board and that I will be keeping the new one that comes. I was really surprised at how customer oriented Fellowes is and have to say that any product can come with a problem as we all know, but usually when you call a company they just give you a hard time. Fellowes stands behind their products, and the laminated paper I did get done came out perfectly. I received my replacement laminator today and it works beautifully. Thank you Fellowes for being a company that manufacturers quality equipment and stands by their products.
Date published: 2015-04-15T00:00:00-04:00
Rated

5

out of

5
by
Lighthouse
from
Superb laminator
It's an ideal laminator and you probably don't want to go back to another one. Once you use them, you'll see the difference with common, cheap laminators. It's fast and with a really good result. I like the design of the Proteus most, but this one looks nice too. Absolutely recommendable.
Date published: 2018-06-01T00:00:00-04:00
Rated

5

out of

5
by
PharmaLil
from
Love this new laminator
This was purchased as a replacement and we could not be any happier. It laminates beautifully, without bubbles or streaks. I've even put in 3 sheets and one would never know as it seals completely. Highly recommend to anyone. We use in an office environment and so far (about 3 weeks), it has been used extensively and still operates as the first day. Job well done!
Date published: 2014-09-16T00:00:00-04:00
Rated

5

out of

5
by
SRF1
from
Performs well but noisy
The laminator is easy to use and the laminated items look good when completed. The only negative is it is much louder than I expected.
Date published: 2017-04-14T00:00:00-04:00
Rated

5

out of

5
by
HWoffice
from
Fast, easy laminating
It takes a little getting used to the way the machine cycles while it is warming up and learning when to push the "standby" button. The machine beeps when it is ready for 3mil material. It has additional lights that come on one at a time as it heats up to receive thicker material. It can laminate up to 10 mil thick pouches. It automatically senses the thickness of the pouch. There are markings on the front of the machine to aid in guiding your pouch into the feeding slot. There is a little arrow marking the center and then guidelines to the right and left of center for different sized items. You have to be careful to feed the pouch in straight. There is nothing to butt the pouch up against to keep it straight, so you have to slowly and gently slide it into the machine while holding it straight. You have to be sure to push the item to be laminated up against the sealed edge of the pouch, which is the edge you feed into the machine first. Otherwise you will no doubt jam the machine and have a mess. It does, however, have a reverse function just in case of a jam. The machine does a very nice smooth lamination. I have used it on regular paper and on card stock in various sizes so far with good results. This laminator has 6 rollers and will accept up to a 12.5 inch wide item. It heats up very fast, 30 to 60 seconds, and it feeds the pouch through faster than most lesser-priced laminators. Fellowes offers different sized pouches and also a combination pack of 5 different sizes so you can laminate smaller items without a lot of waste. It is recommended that you use Fellowes brand pouches in this machine.
Date published: 2015-04-30T00:00:00-04:00
Rated

5

out of

5
by
TSwice
from
Great for Hoome use
This is a great work horse for a small home business. I've been using this machine for the past year in my business. It has finally stopped working after many hours of tireless support and 12 people using it for medium jobs that should have been used on a larger machine. I've enjoyed this machine and will be ordering another soon.
Date published: 2017-02-27T00:00:00-05:00
Rated

5

out of

5
by
valou22
from
mélange pas les couleurs
Première plastifieuse que j'utilise qui ne mélange pas les couleurs lorsque l'encre est de la cire.
Date published: 2019-09-23T00:00:00-04:00
Rated

5

out of

5
by
Courtney
from
Fed Up
I bought this in Dec 2015, It is now June 2016 and my machine no longer works. It beeps continuously and doesn't heat up. This is also the second machine I've received because the first one they sent me with no charging cord or any information and it was broken straight out of the box. Definitely won't be buying it again.
Date published: 2016-06-13T00:00:00-04:00