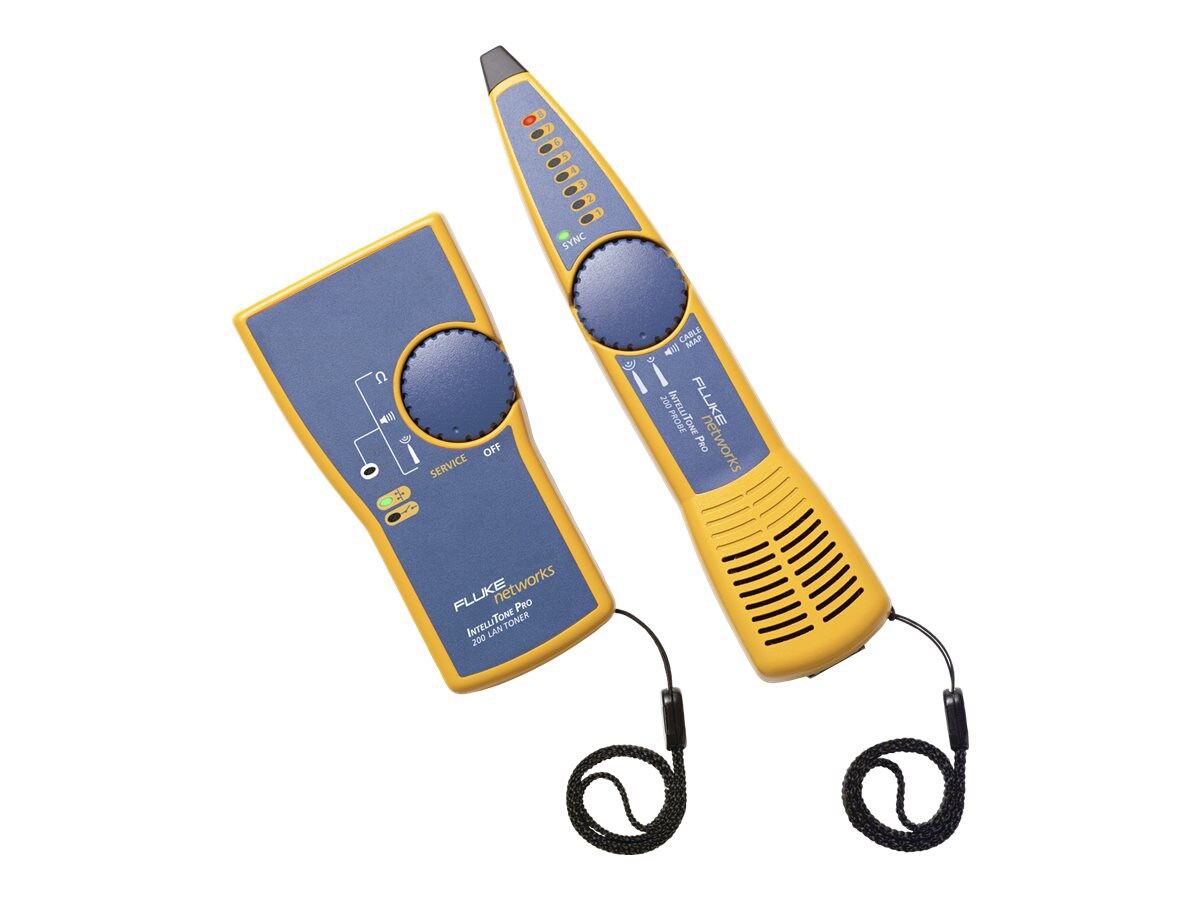 Quick tech specs
View All
Know your gear
Every day, cabling installers and network technicians deal with the shortcomings of cable location tools based on 40-year-old technology. Until now. Get advanced vision for locating cables more effectively at patch panels, switches, termination blocks, or hidden within bundles. The IntelliTone Pro 200 LAN Toner and Probe kit finds the cables others can't. IntelliTone Pro 200 LAN Toner and Probe is the first toner and probe offering digital and analog signaling all in one tool. That means it's equipped with the most powerful cable location technologies for any work environment. Use digital mode to trace and locate data cabling safely and effectively. Use analog mode to isolate individual wire pairs and trace voice, audio and video cabling. IntelliTone Pro 200 LAN Toner and Probe Series gives you superior vision for locating cables hidden in floors, ceilings, walls, and in bundles. Its breakthrough digital technology makes it the first tool to tone and trace safely and effectively - even on active networks.
Fluke Networks IntelliTone Pro 200 Kit - network tester kit
is rated
4.33
out of
5
by
3
.
Rated

5

out of

5
by
BravesB
from
null
I haven't used this tone and probe kit to its full potential yet, so I'm only rating it based on the few scenarios that I've needed to use it. But so far it has been a little underwhelming. The cable map feature seemed to work pretty well. I was able to test the cables behind my walls and found one with a bad read on pin 3. All others tested out fine. The Locate feature I could not get to work consistently at all. To test, I chose a data port whose wiring I knew the exact location of and set the tone and probe to the Locate mode. I put the probe near the bundle of Cat5 and heard nothing. I stuck the probe tip down into the bundle where it should be right next to the actual wire I'm trying to locate and it did not tone out at all. However, I tested another cable in Locate mode that wasn't in the middle of a bundle of wires, and it worked if I passed the tip of the probe right over it. But that's not what Locate mode is supposed to be for. It's for finding the general bundle in which a particular cable might be in. The Isolate feature seemed to work, but was again underwhelming. Since I knew the exact wire it belonged to, I held the probe on that wire and waiting to see if it would do anything. It took maybe 3-4 seconds, but it eventually started to sing to me that it was the right wire. You cannot make quick passes over these cables and expect to hear the tone. I had to wait several seconds on each test to hear it. The quick start guide it comes with is vague and unclear. I had to search the web to find a full user manual with instructions on how it works. Even after reading that and verifying that I was doing everything according to the manual, it still didn't seem to work fully as advertised. Haven't had an opportunity to test coax cabling yet, so I have no information to provide there.
Date published: 2016-07-15T00:00:00-04:00
Rated

5

out of

5
by
TigrisMagnus
from
null
Nice, Simple, Reliable, and Effective. What more could a tech ask for. I liked it so much where I was before I bought one for myself so that I knew I had a quality tool.
Date published: 2016-08-10T00:00:00-04:00
Rated

5

out of

5
by
John4120
from
null
Awesome toner to work with. It does everything that I have ever needed and is so clear sounding and easy to use. Once you get the signal on the course setting, then move to the fine setting and you can even plug into the bottom and make sure you have the exact cable. Great product, easy price tag!!!
Date published: 2016-12-08T00:00:00-05:00