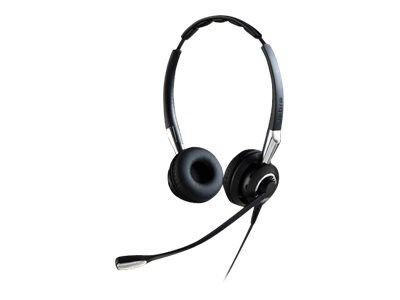 Quick tech specs
View All
Know your gear
Ultra noise canceling microphone to eliminate background noise.

For outstanding durability and optimum positioning.

Super soft leatherette head and ear cushioning for a superior fit.
Jabra BIZ 2400 II QD Duo NC - headset
is rated
4.43
out of
5
by
7
.
Rated

5

out of

5
by
Jose
from
null
I really like the sound quality, it is very clear. So far the best headset I have ever had. The mic has great voice pick-up capability. Love it!
Date published: 2016-04-18T00:00:00-04:00
Rated

5

out of

5
by
Rhojima
from
null
Fantastic headphone and very clear
Date published: 2018-05-04T00:00:00-04:00
Rated

5

out of

5
by
Clive
from
null
Have used Jabra for a long time now and have never been disappointed.The Jabra BIZ 2400 II Series meeting all my requirements with crystal clear quality and is comfortable to wear for long periods.
Date published: 2018-05-30T00:00:00-04:00
Rated

5

out of

5
by
Belle
from
null
NC feature is really great.
Date published: 2018-03-13T00:00:00-04:00
Rated

5

out of

5
by
Cindy
from
null
I try to write this review to provide the feedback for improving product instruction in future. I bought the product and didn't know how to use it. The headset was not even working when I connect everything together. The instruction tip on the wire was pretty small and hard to notice. I asked the customer service and before they replied me the second day, I finally saw the small tip attached to the wire and tuned it to level 3 following the instruction. However, I can only hear sounds but mic did not work so other people on the phone could not hear me when I was using the headset. Then I asked the customer service again and waited for their response because I was never able to figure it out myself. I even submitted ticket through my own company and though it was a top-down permission issue. Then based on the customer service reply the next day, I should have tuned to level 2 instead of level 3, meaning that the instruction on the product was not even too hard to notice but also incorrect. That wasted my time of waiting and asking and worry. I really think you should improve that.Also, when I submitted feedback to customer service, the page was very slow when I input my product information. Also the dropdown menu was very confusing with all the similar products names on it. I scanned through and was not quite sure whether I chose the right product name even before I started to write the feedback/query.Best,Cindy
Date published: 2016-11-08T00:00:00-05:00
Rated

5

out of

5
by
Noel I S
from
null
First of all the product was awesome good noise cancellation and best support
Date published: 2017-05-20T00:00:00-04:00
Rated

5

out of

5
by
Ellen B
from
null
Talk time is only 1 1/2hrs long. Not enough time. Especially because I am a audible reader. Wouldn't repurchase another one. Also, the volume isn't loud at all.
Date published: 2017-10-05T00:00:00-04:00
Rated

5

out of

5
by
WD Gaither
from
null
I like this headset a lot, although it was very pricey. Sounds are much clearer than with my old headset. Also I can turn the volume up much louder if I am having trouble hearing someone at a business meeting. I really like the fact that I can hot plug the USB connector at any time. The controls are very good. The GUI program is easy and direct.The only thing that I wish this headset had is slightly bigger earphones, so that I can wear then partly over my ears and partly above. I have behind-the-ear hearing aids, and I normally get sound both directly into the ear from the outside and from the speaker in my ear channel. The hearing aids sit on top of the ears, and each hearing aid has two microphones on the top. So I need to position the headphones so that some sound gets into my ear the normal way and some sound goes over the top of my ear and gets to the microphones. I am having trouble adjusting this headset so that I can do both. If the sound-projecting part of the headset earphone had a slightly bigger diameter, it would be easier.
Date published: 2016-02-29T00:00:00-05:00
Rated

5

out of

5
by
Orlando Reis
from
null
Great product.It is better than the first version, better mic, and better audio aswell, might buy another.
Date published: 2016-09-20T00:00:00-04:00
Rated

5

out of

5
by
Lucy Brenton
from
null
Clear calls, inline remote, long cord. This headset deserves 5 stars for the clarity for both ends of the conversation. It is a well made headset and not light and cheap. You might want to add a little more padding to the top bar, although it works fine for me. Love the ability to use the inline remote to put a call on mute, with the visual of the red light to confirm status.
Date published: 2018-04-16T00:00:00-04:00