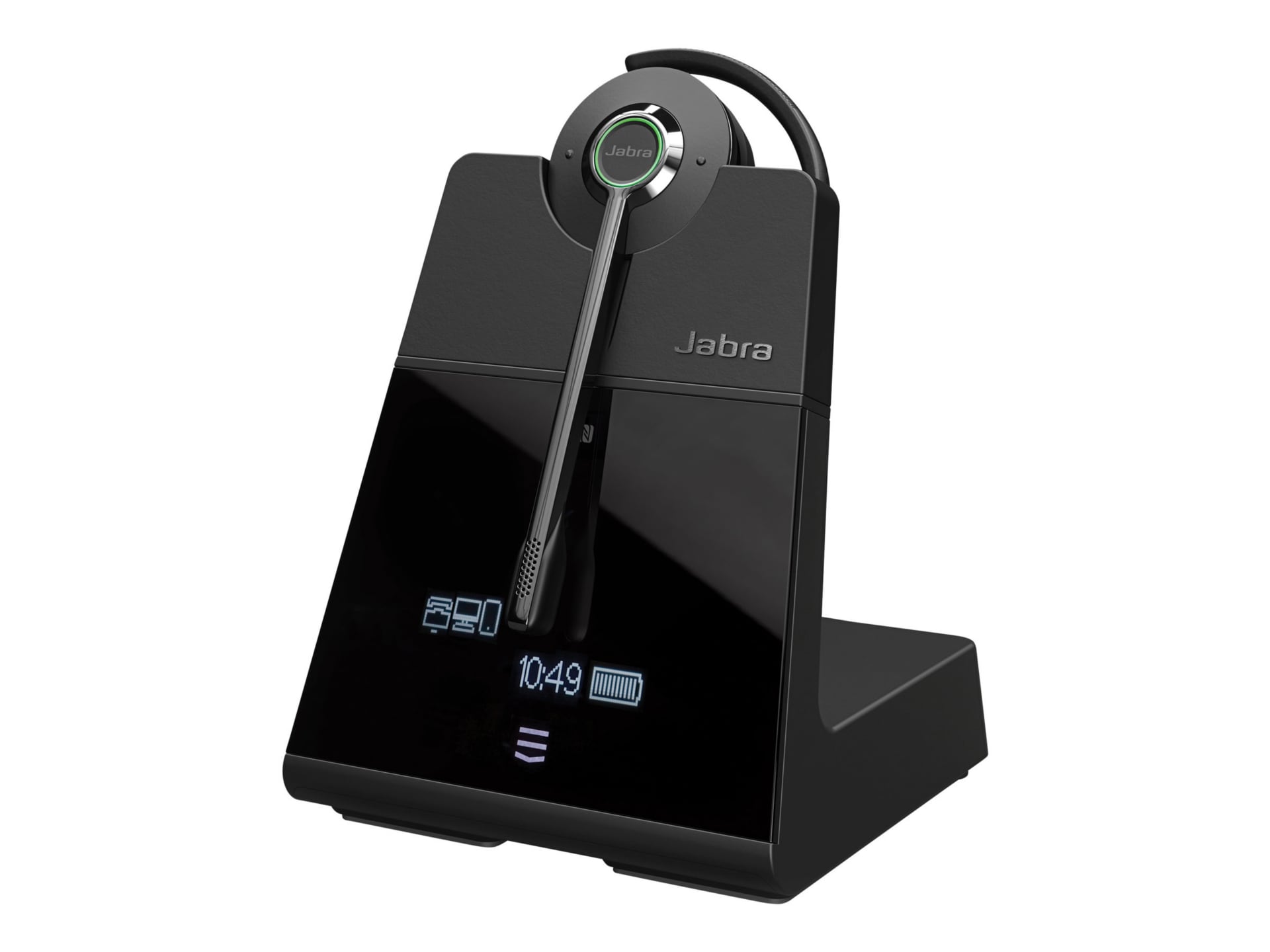 Quick tech specs
Headset
convertible
wireless
View All
Know your gear
Work away from the desk and still maintain a wireless connection that won't let you, or your customers, down. The advanced noise-canceling microphone and enhanced speakers deliver crystal-clear calls even in noisy offices. All incoming calls can be adjusted to a user-defined sound level that stays constant for all-day comfort. The busy-light acts as a do-not-disturb sign for colleagues. Easily answer and end calls, mute and adjust volume using the intuitive controls on the headset.
Jabra Engage 75 Convertible - headset
is rated
5.00
out of
5
by
3
.
Rated

5

out of

5
by
dschau
from
null
I do a lot of testing headset and the Engage is one of the best I have used for business phones.
Date published: 2019-05-23T00:00:00-04:00
Rated

5

out of

5
by
Jeff J
from
null
Coming from a Jabra Pro 9450 headset (connected to Polycom desk phone and computer via USB) and a SteelSeries Arctis 7 wireless gaming headset, I still had a set of earphones on my desk for when customers or coworkers would call my cell phone. I spend a lot of time on screenshares and conference calls so was looking for a headset that was:* connected to desk phone and computer, and preferably cell phone as well* excellent noise cancelling and call quality (both ways) for a slightly noisy office* comfortable* not $1mI first tried a Jabra Pro 925/935 but there isn't an option to connect to computer, desk phone, and cell phone. Moving up to the Engage 75, I got **everything**! Couldn't be happier.
Date published: 2019-07-01T00:00:00-04:00
Rated

5

out of

5
by
Julio P
from
null
because is a good working tool, excellent
Date published: 2018-08-23T00:00:00-04:00
Rated

5

out of

5
by
Randy W
from
null
Great product!! Will buy more as our company grows!
Date published: 2019-02-19T00:00:00-05:00
Rated

5

out of

5
by
Larry G
from
null
The device has a small form factor which is great for saving space on a desk. However for a new product I would expect better technologies in some areas. Most notably the change for the magnetic charging style that can be found on the awesome 4970 pro. The out dated usb mini is not only a pain in the butt to quickly attach the head set to but can be just as equally annoying trying to remove as well. The touch screen menu on the base is a little more cumbersome as well. Again I look at the 9470 as being a better example when it comes to functionality and ability to navigate easilyI purchased this headset thinking its new it must be an upgrade over the 9400 pro series. so far I feel this unit is a side step or even a step back. For the price and quality I would probably pick the 9400 pro series over this. The unit does have some strong points. At least in regards to the convertible. It is indeed one of the lightest headsets I have ever dawned. At times I almost forget I was wearing except for the annoying ear piece that channels the sound. really this could of been thought out a lot better. It is almost non forgiving when it come to adjusting the headset once its on. If you need something that looks nice allows multiple connectivity this may not be a bad unit for you.
Date published: 2018-04-27T00:00:00-04:00
Rated

5

out of

5
by
Tim H
from
null
Elegant and rich feature set. A little difficulty figuring out the menu system for initial set-up. Prompted for and attempted firmware update, which failed and "bricked" the device. Once working again, sounds quality seems fine. The Convertible headset is okay for it's "fit" though not my preference. Not sure how to set up stereo engage headset with Convertible base.
Date published: 2018-11-30T00:00:00-05:00