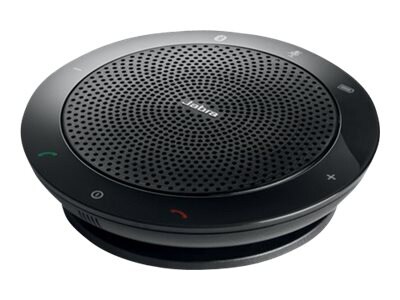 Quick tech specs
VoIP desktop speakerphone
wireless
View All
Know your gear
Jabra takes audio conferencing to a new level with Jabra Speak 510, a unique portable speakerphone enhanced with Bluetooth. You can literally turn any room into a conference room to stay focused wherever you are and increase your productivity.
Jabra SPEAK 510 UC - USB VoIP desktop hands-free
is rated
4.69
out of
5
by
251
.
Rated

5

out of

5
by
Marie D
from
null
Highly recommend - great value and quality for the $$Best money I've ever spent as a full-time teleworker. I work from home almost exclusively as a member of a virtual team. I spend almost 8 hours per day in Skype meetings/working sessions. I have a wonderful headset that will last all day without needing a recharge; however, after hours of wear, my ears ache. It's disorienting to spend that many hours with something clamped to your ears/head.The Jabra Speak 510 allows me to USB direct connect to my docking station or laptop. I only hard connect it when the battery is low and I haven't had a chance to recharge. I use the bluetooth method of connection almost exclusively.The sound quality is excellent and I am told that the speaker is of excellent quality. Typically, you can tell which engineers are using their onboard mic/speakers, and the quality suffers. Not so with this product.On the rare occasion that I must go on site to meet in a conference room, I carry my Speak 510 with me. I have found that I rarely use the on site provided equipment. I, and others, favor the use of this device for it's ease of use and the 360 coverage.My only complaints are:1) I have to record a lot of meetings, and on a recent recording I noticed that my voice tends to fade here or there, but not intrusively so. Still, the point of this device is that is should be capable of 360 voice/mic.2) It seems like the battery life is no where near the quality of my wireless headset; however, being able to hardwire in a pinch remedies that quite easily.
Date published: 2019-06-09T00:00:00-04:00
Rated

5

out of

5
by
Mw
from
null
Exactly what i needed, a smart, hassle free, hands free, devise to pick up my moble calls and deal with conference calls. It did everything better that expectstions, spund quality for calls is brilliant. w
Date published: 2016-03-29T00:00:00-04:00
Rated

5

out of

5
by
Thomas C
from
null
easy to connect really plug and play without waste of timeclear tone quality wired and Bluetooth available
Date published: 2018-08-12T00:00:00-04:00
Rated

5

out of

5
by
Jeff S
from
null
It was just what I was looking for! It has Bluetooth and USB connectivity so I can have my Cell phone -Bluetooth and computer - USB connected at the same time. Everyone I have talked to while using it has said it was very clear. In addition I get a clear sound from it on my side also.
Date published: 2018-11-30T00:00:00-05:00
Rated

5

out of

5
by
CharlieCB
from
null
This is a great little VOIP speaker phone. Since it is small, it allows us to have speaker phone in any location. Highly recommended!!!
Date published: 2018-05-06T00:00:00-04:00
Rated

5

out of

5
by
Daniel F
from
null
I'm very impressed with this speaker. For Skype calls on the computer, no setup was needed - just plugged it into the USB port of my computer. Also, I paired it with my iphone through Bluetooth and it handles calls very well, transitioning between my car Bluetooth and the Jabra speaker without a hitch, and without dropping the call. The mic is good. I regularly set the speaker in the middle of a conference table and everyone around the table can hear well and be heard well.
Date published: 2018-11-05T00:00:00-05:00
Rated

5

out of

5
by
Swanson1106
from
null
Everybody I am on the phone with complains about a terrible echo. So bad that I either have to hide my phone in a desk drawer or just turn off the Jabra 510. They need to figure out this echo issue.
Date published: 2016-03-04T00:00:00-05:00
Rated

5

out of

5
by
Susan F
from
null
Great option for conferencing with bluetooth.
Date published: 2019-04-04T00:00:00-04:00
Rated

5

out of

5
by
Jan C
from
null
we liked the jabra510 but it doesn't have the range that we need for our meetings and so had to return it for the speak710.
Date published: 2019-02-03T00:00:00-05:00
Rated

5

out of

5
by
Alick S
from
null
Great product. Works easily and quickly out of the box for SfB calls and mobile calls. Very easy to setup and get working. Makes working and calls so much easier!!
Date published: 2017-09-27T00:00:00-04:00