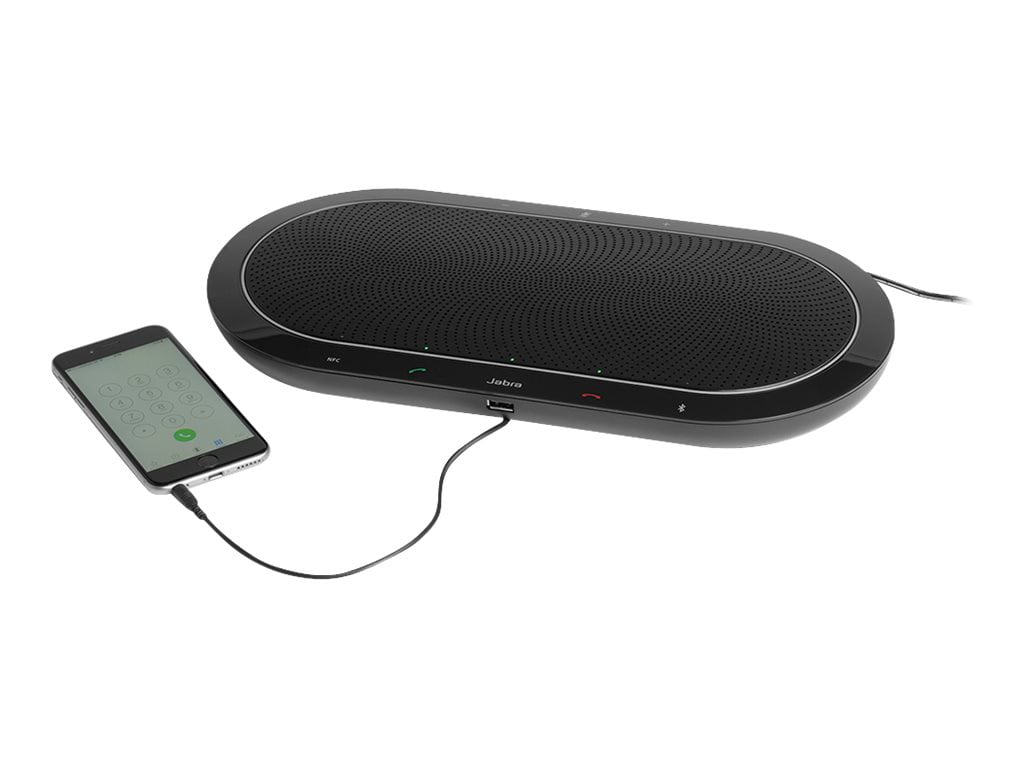 Quick tech specs
USB VoIP desktop hands-free
wireless
View All
Know your gear
Professional speakerphone designed for collaboration for up to 15 attendees in the same meeting room Works with PCs and any Bluetooth enabled device.
JABRA SPEAK 810 MS
is rated
4.62
out of
5
by
63
.
Rated

5

out of

5
by
Taylor
from
Fantastic conference room speaker
While it's a bit expensive, it's worth the money if you are sick and tired of crappy conference call speakers. The 810 has multiple mic's and technology that allows people on the call to hear the guy in the back of the room as if they were standing in front of the Jabra. It's impressive. Best Skype speaker on the market.
Date published: 2018-08-13T00:00:00-04:00
Rated

5

out of

5
by
Ann S.
from
null
Love the speaker. I got this for work conference calls using my iPhone and have been very pleased with how it sounds and ease of use.
Date published: 2016-11-11T00:00:00-05:00
Rated

5

out of

5
by
Jongheun Lee
from
null
There was no serious problem.However someone issued voice quality.
Date published: 2017-06-07T00:00:00-04:00
Rated

5

out of

5
by
Dusan D
from
null
After using it at work, I decided to get one for myself.Works very good, clear communication with other party.
Date published: 2017-06-11T00:00:00-04:00
Rated

5

out of

5
by
Simon G
from
null
I needed a non-headset, handsfree solution for Skype calls and the Speak 510 appeared to have all the features I would want.I've been very impressed with the 510, it worked immediately out of the box with Skype and the call quality is excellent.I've not yet had time to use it as a bluetooth handsfree device.Not the cheapest solution, but this really is a case of "you get what you pay for".I would not hesitate to recommend this for use with Skype.
Date published: 2017-06-19T00:00:00-04:00
Rated

5

out of

5
by
Jason Sheperis
from
null
My use-case: I use my mobile phone to attend conference calls all day from my noisy home office or on the road. This is a very solidly-built product. Feels like it can take a tremendous amount of throwing in my carry-on and traveling with me on work trips. I like the fact that it has a snug little case. The battery life is astoundingly long. Sound quality (both incoming and outgoing) is very good, and compares nicely to larger/dedicated speakerphones in conference rooms I've used. For all of the above characteristics, this unit gets 4.75-5/5 stars.That said, I feel there are some significant user interface "opportunities" that would make this device truly remarkable. Given that the device is round, there is no way to orient it so that you know which button does what by touch. This makes being able to identify the buttons (and their function) quickly and intuitively very important. This, I feel, is the biggest "miss" with this product. The buttons do not, themselves, light up, and the choice of LED color to communicate to the user is sometimes puzzling. Details: The "buttons" themselves are on the outer ring of the device and very easy to push accidentally when handling or moving it. Having the button ring slightly recessed or perhaps each having their own "dent" would make the device easier to use "by touch". That said, it is not always obvious when you have actually "hit" a button ("did I hang up that call or is it still on?"). There is an audio indication when a button is hit, but it is unclear whether a long press or a double-tap is what is required to actually *do* something sometimes. Either a separate LED, audio, or haptic feedback when a function has been engaged/disengaged, would be nice. The fact that the LED's are on the "ring" and not tied to the buttons themselves can make things a little confusing in low-light conditions, especially given some of the odd choices for LED behavior.Which brings me to the LED light-up behavior. Even though the all the LED's appear to be able to do red/green/white: when receiving a call, the pickup, decline, AND power buttons all flash green. Without looking at the device, it's impossible to know which button is which. Seems like a wasted opportunity to use already-built-in features. The second miss here is the ability to customize the device's behavior, such as: "stop streaming media when I accept a call" or "resume media streaming when I hang up a call" or "start all call on mute" or "stop media streaming when phone call rings". The device already has companion software. It seems like it would not be too much of a stretch to add this ability. And last, just a comment on the website itself. When looking at the Jabra "microsite" for my particular product (Speak 510 series), it points me to several mobile applications that supposedly enhance my experience with the device. However, none of these applications actually work with the Speak 510 Series in any way shape or form. They don't break anything, but certainly seems like sloppy website management from a leader in the field. Please don't let my suggestions lead you to think that this is not a good product or that I do not enjoy it/find it useful. In fact, it is the very solid construction and basic performance of the device that leads me to wish it operate ever-more-so intuitively and be more customizable.
Date published: 2017-03-20T00:00:00-04:00
Rated

5

out of

5
by
DRUET O
from
null
Perfect for conf calls on WebEx
Date published: 2017-03-31T00:00:00-04:00
Rated

5

out of

5
by
Richard S
from
null
The Jabra 510 works great. I'm using it all the time. In hotel rooms but also in my Subaru which has an awful sound system and for a low price with the Jabra I can put this in my dashboard and people can now hear me.
Date published: 2017-05-22T00:00:00-04:00
Rated

5

out of

5
by
Fabien O
from
null
For scrum meetings with offshore teams, it's much better than all other tools used previously.
Date published: 2017-05-05T00:00:00-04:00
Rated

5

out of

5
by
Marilyn
from
null
I've used the Jabra 510 twice for conference calls between a group in my home and a group in another home. Both the microphone and the speakers worked very well. The size of the 510 is a real plus. It's also works well for music and video from the cell phone if you don't need a top quality acoustic speaker.
Date published: 2017-03-06T00:00:00-05:00