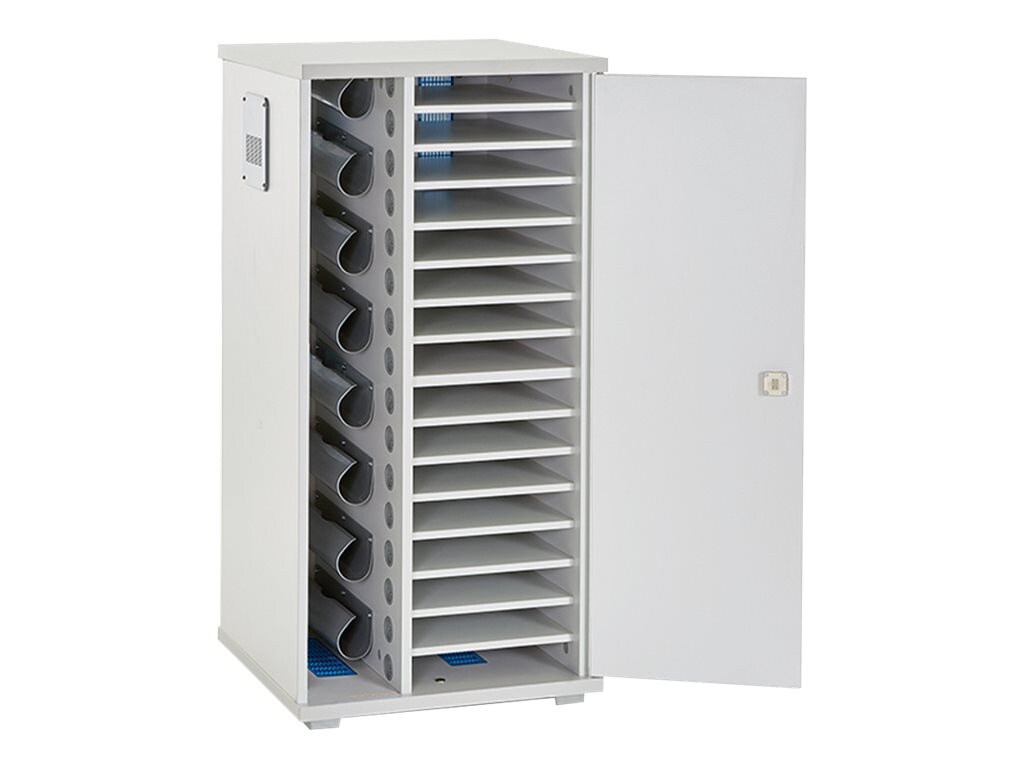 Quick tech specs
Device (up to 15.6") Static AC Charging Cabinet
for 16 netbooks/tablets
MDF
blue
Cabinet unit
lockable
steel
screen size: up to 15"
View All
Know your gear
LapCabby offers the most thoughtfully designed charging solutions on the market with features built in to make charging your devices easier, faster, safer, cost-effective…and better looking!

Introducing the Lyte Range by LapCabby, static storage and charging cabinets for 16 devices up to 15.6 inches including laptops, tablets, mobile phones, e-book readers and point of sale devices.

Lyte 16 Single Door cabinet offers secure storage and charging with a key and lock that includes a 7-pin activation system, tested by an independent locksmith. The double-sided key has two sets of teeth making the locking system more durable, impossible to pick, substantially increasing security.

Designed to be desk or floor mounted and built to a high specification making them perfect for the office, school, medical, industrial and retail environment.

The Power Management System with built in 'Soft Start' feature turns the power on incrementally (within 4 seconds) while managing the power consumption to ensure power surges do not occur and all devices charge efficiently.

All devices charge simultaneously with one IEC mains power cable that is designed to snap out if pulled away from the wall before being unplugged, preventing trips and falls and damage to the electrical system.

Horizontal shelves with circulation vents are spacious enough to fit laptops and can accommodate protective cases.

Silent charging means no noisy fan as air vents allow constant air circulation keeping devices cool.

The separate side power compartment secured behind removable steel panel secures cables and provides access to power sockets with individual holders for AC adaptors and excess cable preventing over-heating. Specially designed cable clips keep cables tidy and free from damage.

The LapCabby range is covered by a comprehensive Lifetime Warranty (5 year electrical) and is tested and certified to the UL Safety Standards.

Delivered Fully Assembled.