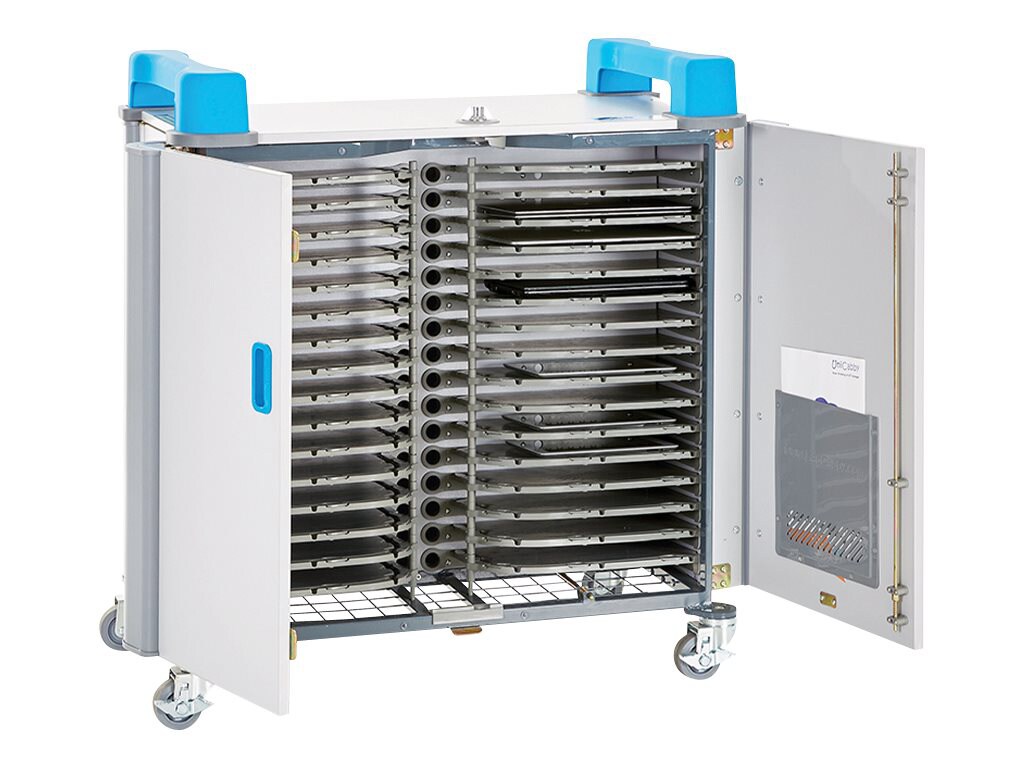 Quick tech specs
Device (up to 14") Mobile AC Horizontal Charging Cart
for 32 tablets / notebooks
heavy duty steel
screen size: up to 14"
Cart (charge only)
lockable
blue
View All
Know your gear
LapCabby offers the most thoughtfully designed charging solutions on the market with features built in to make charging your devices easier, faster, safer, cost-effective... and better looking!

The UniCabby 32H by LapCabby is a horizontal storage and charging cart for 32 devices up to 14 inches including laptops, tablets and chromebooks.

Coloured ergonomic ABS injection molded handles with "soft touch" coating, make LapCabby easy to maneuver. Rounded corner extrusions and rubber bumpers protect the walls and devices when in transit.

A robust dual point locking system for the ultimate security with lock and key located on top of the unit to avoid key breakages during transit. The lock includes a 7-pin activation system, tested by an independent locksmith. The double-sided key has two sets of teeth making the locking system more durable, impossible to pick, substantially increasing security. Inset door handles prevent protruding parts causing damage and breakages.

One IEC mains power cable is designed to snap out if pulled away from the wall before being unplugged preventing trips and falls and damage to the carts electrical system.

Silent charging means no noisy fan. Side vents and a welded mesh base allow constant air circulation keeping devices cool. The built-in heat sensor constantly monitors the inside temperature and in the case of a laptop overheating the sensor will shut the power off until the ideal ambient temperature has been restored.

Large L shaped doors allow full access to the devices during deployment and to the power compartment when loading cables.

Specially designed horizontal shelves, with cleverly designed cable management system, neatly stores and secures charging cables in 5 points and allows for different cable port orientations (long or short side on the device).

Heavy gauge steel binding plate that connects four 5-inch swivel, non-marking hospital grade wheels (2 locking) to the fully welded frame, which completely prevents loosening or buckling of the wheels.

The separate power compartment in the back opens via a concealed handle and contains individual holders for AC adaptors and excess cable preventing over-heating. Specially designed cable clips keep cables tidy and free from damage.

Supplied with Power7 Management System manages the power consumption to ensure power surges do not occur and all devices charge simultaneously. The system also acts as a sophisticated timer allowing three different charging schedules per day, 7-days a week. Power strips turn on one at a time, 1.5 seconds apart to avoid a surge on the power supply.