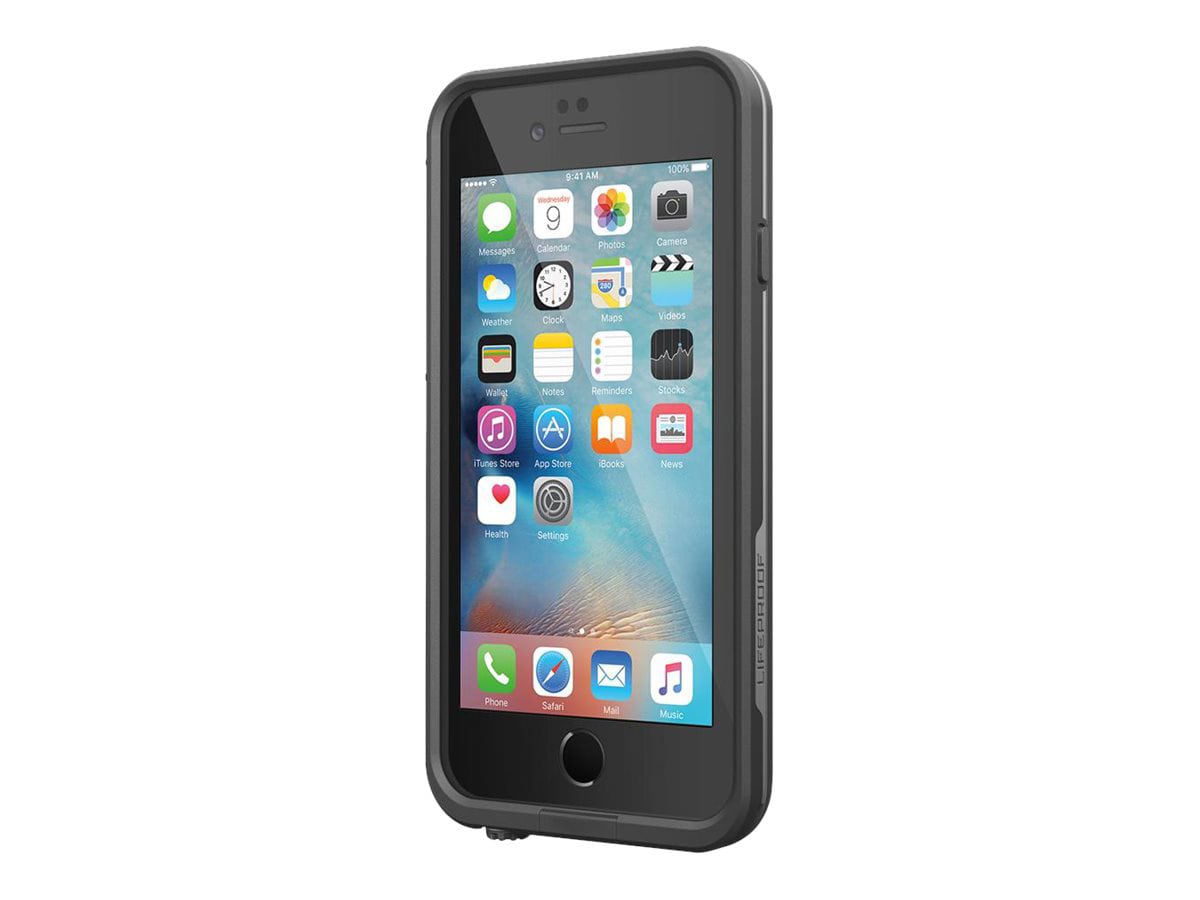 Quick tech specs
Protective waterproof case for cell phone
for Apple iPhone 6 Plus
View All
Know your gear
Scaling mountain peaks, racing desert dunes, paddling coastal breaks - your LifeProof case is geared up to get you through amazing adventures in the toughest terrain.
LifeProof Fre - protective waterproof case for cell phone
is rated
4.48
out of
5
by
229
.
Rated

5

out of

5
by
bej14
from
It's Works Great
I bought this case a couple of weeks ago and I'm already loving it, it's honestly works great, although there was a tiny scratch on it, it doesn't show really, but other than that it works great, I went swimming with my friends and the water proof worked great, I love this phone case for the price it was.
Date published: 2018-04-09T00:00:00-04:00
Rated

5

out of

5
by
Mila
from
Functional and cute
The color of the pink case is a little brighter/more saturated than I expected, but I do still like the color. I've only ever used lifeproof cases, so by that you can probably tell that they are good quality and reliable (otherwise I wouldn't keep buying them. It takes them a while to fall apart (my last one took two and a half years to become banged up), but my phone is still in perfect shape, knock on wood. The only problem is that these cases allow moisture inside via steam, but they've never filled with water (and it hasn't ruined my phone). It's also annoying to find little particles inside the case shortly after cleaning it, but overall it's good & sturdy, and I should point out that I'm quite clumsy (My phone once flew out of my hand on accident and hit a moving Audi, bounced back into the sidewalk close enough for me to grab it and run. Barely a scratch, but I didn't look back to see if it had damaged the sports car) I'd give it a 9/10.
Date published: 2018-04-29T00:00:00-04:00
Rated

5

out of

5
by
imimmb
from
Lifeproof not for life
I am on my fourth lifeproof case. All have the same issue with the flap covering the connection for the charger wearing out. I have been particularly careful with this element but it has not made a difference. The rest of the case meets all other promises made by the manufacturer. I would like to see this element improved.
Date published: 2018-09-15T00:00:00-04:00
Rated

5

out of

5
by
Uno1
from
Worth it
I have had life proof cases for about 1 year now and consider it worth it. Definitely saves phone from drops, water, dirt/dust!!!
Date published: 2017-10-10T00:00:00-04:00
Rated

5

out of

5
by
Elvin J
from
Went to waterpark
I bought this like a week or two ago, Love it used it in the wave pool and all the water rides to videos pictures on the water perfect, love this product
Date published: 2017-07-21T00:00:00-04:00
Rated

5

out of

5
by
crazy
from
Good
Very good so far, seems to do its job of keeping the phone protected.Unfortunately it reduces the volume, if the phone is in my pocket while working I can barely hear my message alerts, and the ringer is not much better, it was quite loud when fitted to a standard case!
Date published: 2017-09-04T00:00:00-04:00
Rated

5

out of

5
by
Missy
from
Worth it!
These cases are well worth the money! I can be clumsy, and the floors in my house are extremely hard tile. It is not unusual for me to accidentally drop my phone. Whenever it happens, I retrieve it, without trepidation, knowing it is intact. I will always have one!
Date published: 2018-01-20T00:00:00-05:00
Rated

5

out of

5
by
Riis
from
Wrong life pro box
I order a 6 plus box and may iPhone is a 6sI'm not happy I have to sell it before I order a new one
Date published: 2017-09-19T00:00:00-04:00
Rated

5

out of

5
by
JPC1
from
Durable!
This is my second LifeProof case and I love it! As a hiker and traveler, I need a case that is durable and stand up to the abuse I give an iPhone case in life. The dust proof and durability...that the phone is fully protected...is what I appreciate about this case. And how an adaptor was included so I can hear my music! Thanks! I would like to see a few more colors...maybe the case one color instead of the two tone blue...but I am buying this case for function. I would recommend this case.
Date published: 2018-09-21T00:00:00-04:00
Rated

5

out of

5
by
Cindy
from
Life Proof Case
People can not hear me when I talk and even though nothing touches the ringer button it turns off when should be on and vise a versa.
Date published: 2018-05-13T00:00:00-04:00