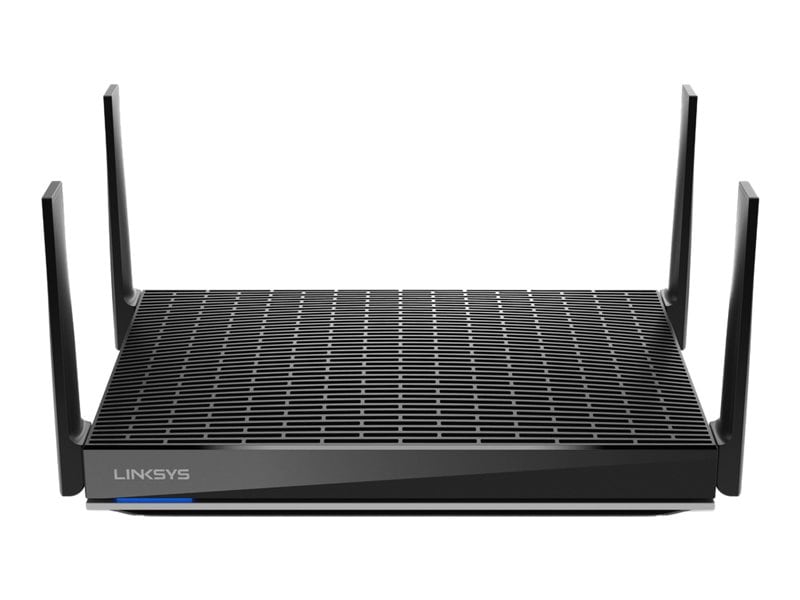 Quick tech specs
More capacity to more devices with WiFi 6 technology
Powered by Intelligent Mesh™ Technology,easily expand full speed WiFi coverage
Smarter Security with automatic updates,parental controls and guest mode
Covers up to 3,000 sq. ft,handles 40+ Devices,and Speed up to 6.0 Gbps
Isolates your network to eliminate interference
Setup and control your network from anywhere with the Linksys App
View All
Know your gear
THE FUTURE IS NOW WITH INTELLIGENT MESH TECHNOLOGY AND WiFi 6


The Linksys MR9600 is a super powerful Dual-Band WiFi 6 router perfect for those who want true gigabit speeds, more range and pure gaming power throughout their entire home. Powered by Linksys Intelligent Mesh™ technology and 6 Gbps of speed, it's 4x faster than WiFi 5 routers, eliminates dead zones and isolates your network to eliminate interference. If your needs change and you want to grow your network, this future-proof router expands by adding any Linksys mesh compatible products. The MR9600 is so easy to set up with the Linksys App, you'll be streaming 8K video in a matter of minutes.


MORE CAPACITY TO MORE DEVICES


WiFi 6 sends and receives multiple streams of data simultaneously, providing up to 4x more WiFi capacity to handle every mobile, streaming, gaming and smart home device on your network.


BYE BYE DEAD ZONES


Intelligent Mesh™ Technology combined with WiFi 6, delivers gigabit WiFi speeds to every corner of your home, including the backyard and outdoor smart home devices.


MINIMIZES Wi-Fi CONGESTION


Eliminate interference from neighboring networks with advanced WiFi 6 technology that can isolate your network, reduce congestion and deliver the strongest, clearest WiFi signal available.