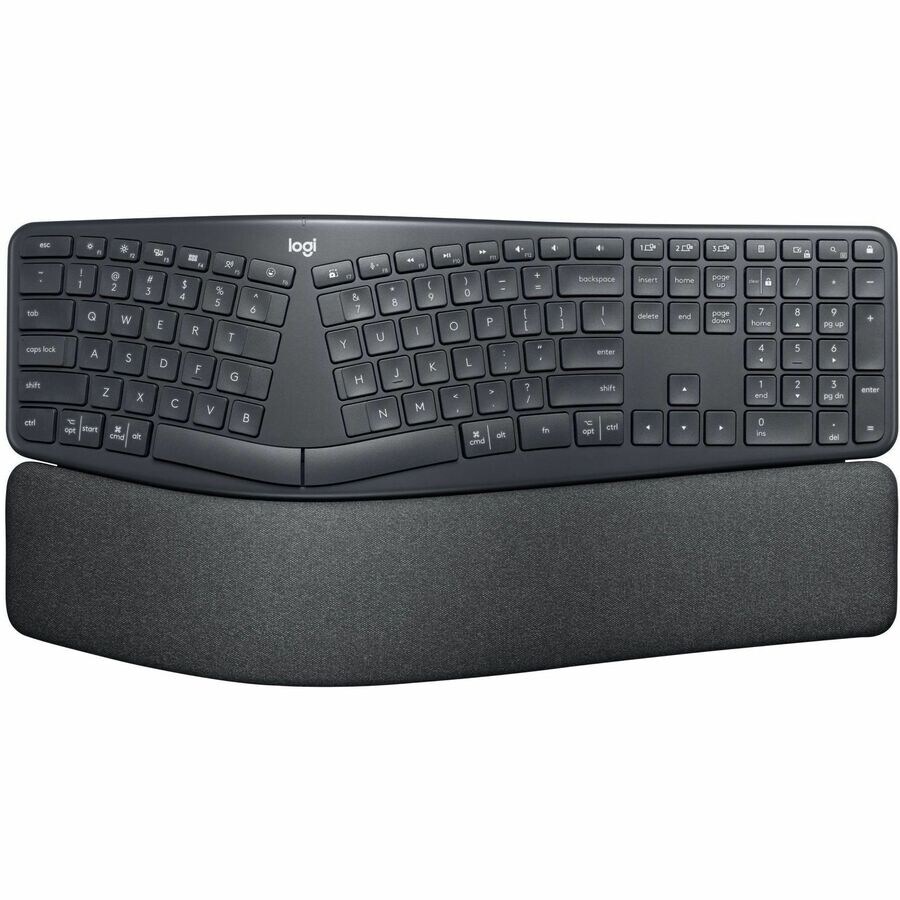 Quick tech specs
View All
Know your gear
Type more naturally with ERGO K860 - an advanced ergonomic keyboard that promotes a more relaxed typing posture - reducing wrist bending by 25% and offering 54% more wrist support.

The curved, split keyframe reduces muscle strain on your wrists and forearms. And the pillowed wrist rest offers comfort and the optimal ergonomic position. The adjustable palm lift feature keeps your wrists in a natural posture, whether you're seated or standing.

You'll confidently type on Perfect Stroke keys - crafted for precision and fluidity. And an integrated numpad, multi-device capabilities, and two-year battery life ensure that you won't compromise performance for ergonomics.
LOGITECH K860 ERGO SPLIT KEYBOARD
is rated
4.48
out of
5
by
27
.
Rated

5

out of

5
by
KRISTIE S.
from
Works as Expected
Works well, ergonomically friendly. The wrist piece does not come off.Very easy to sync to laptop.
Date published: 2021-08-11T16:37:19-04:00
Rated

5

out of

5
by
ERIN A.
from
Love it - very comfortable and easy to get used to
Excellent purchase. Went from an old keyboard with sticky keys to this sleek and comfortable keyboard. My wrists have never been happier!
Date published: 2020-12-30T17:05:06-05:00
Rated

5

out of

5
by
GT Sailor
from
Left hand fits, right hand slips
Left hand is perfect, but I find my right and slipping to the right. It is a great keyboard, perfect touch, and I much prefer it over the Microsoft wireless (which i also have. I also like that it integrates with the Logitech wireless mouse that I have as well. Great product all-in-all.
Date published: 2020-10-30T00:00:00-04:00
Rated

5

out of

5
by
Scott & Denise
from
Best Decision - So we purchased 2
We needed a wireless keyboard and looked for an ERGO that would fit our posture and hand positioning. The Logitech ERGO K860 fit us both very well. I'm BIG & WIDE, so the angle of my forearms and hands are naturally positioned on the keyboard. I can now work longer without shoulder and tricep pain from bringing my elbows in front of my big fuel tank. However, she is much smaller and loves how the wrist pad supports her while typing and is more comfortable. She also loves the low profile of the keys and how responsive they are (I need to add they are quieter than our last keyboards. Now I don't know of any scientific evidence to support my statement, but WOW! she sure types faster than before the Logitech ERGO K860 Keyboard. I'm impressed for sure.We are both very happy with our purchase of this keyboard and recommend that you do the same. You'll be glad you did.
Date published: 2020-07-24T00:00:00-04:00
Rated

5

out of

5
by
Jomalo
from
Solid quality feel
I generally like this and really like the touch of the keys. It's just a little awkward finding the home keys without looking because I can't center the keyboard properly; the number pad interferes with mouse placement. Wish there was an option that came without a number pad. I'll get used to it. Overall high quality.
Date published: 2020-03-18T00:00:00-04:00
Rated

5

out of

5
by
Frank
from
Excellent Purchase
Excellent purchase - superior design - easy of use - setup is a breeze - I would not think twice about buying another -- just do it !!!!
Date published: 2020-08-09T00:00:00-04:00
Rated

5

out of

5
by
Lady Bassist
from
Best split keyboard ever.
Best keyboard ever. I have used many brands of split keyboards over the past 20 years. This one is far and away the best of the bunch. The cushy wrist-rest, the chicklet keys, soft, quiet touch. It is truly wonderful.
Date published: 2020-03-06T00:00:00-05:00
Rated

5

out of

5
by
agowriss
from
Not fully Ergonomic
Not fully Ergonomic. The keyboard is long. Might have been better if the numeric keypad was not available. Because of the length, have to stretch to reach the mouse
Date published: 2020-08-04T00:00:00-04:00
Rated

5

out of

5
by
Robert I.
from
Feels fantastic, functional, and fun.
This is a really great keyboard that works, fits my hands, is comfortable, and is spaced very nicely. The quality of the build is solid and feels top notch. The keys are easy to press and do not stick. Their angles are logical and do give me that feeling that I missed the magic center of the key.
Date published: 2020-05-22T00:00:00-04:00
Rated

5

out of

5
by
cARK555
from
Logitech ERGO K860 Split Keyboard
This keyboard is very nice and can connect to multiple devices. The only draw back is it is not rechargeable and takes batteries.
Date published: 2020-10-27T00:00:00-04:00
Rated

5

out of

5
by
Brian
from
Improved comfort
Took a bit of adjusting but I now find this a more comfortable keyboard for long days of typing.
Date published: 2020-09-21T00:00:00-04:00
Rated

5

out of

5
by
Huber Heights Spelling B
from
Good keyboard for minor aches and pains, but has caused some confusion with accidental Mute keys.
This keyboard has been helpful with minor wrist and hand strains while typing. I only get aches and pains a few times per week, though I am using my Dell laptop daily. If I get any pain, then I just take advantage of this keyboard's tall and padded curves and odd shapes, to hang my forearm and wrist at a different angle for pain relief. I also like how this Ergonomic keyboard naturally fit in after my previous keyboard and wireless mouse of the same brand. This Ergonomic keyboard does not come with a wireless mouse, yet it accepted the situation of just switching out the keyboard. My only gripe would be that I have occasionally touched the volume keys in a sloppy way, by accident, but it put my laptop into a locked mute situation. It took me more than a day to figure it out the first time. Then no trouble until a month later when it happened again. This time it only took half as long to figure out how to fix it. I am still not sure why it got triggered so easily, twice, and caused me such a hassle. The Problem is in the Chair, not in the keyboard, perhaps, but it was still a hassle.
Date published: 2020-02-20T00:00:00-05:00
Rated

5

out of

5
by
SEAN A.
from
Super comfy and really nice to type on. The split space bar and extra keys are really nice.10/10 product from Logitech
Date published: 2020-06-24T16:24:04-04:00
Rated

5

out of

5
by
STEPHEN M.
from
Very comfortable ergonomic keyboard
The K860 really helped my wrist pain. It's my first time using a split keyboard consistently for multiple weeks, and I can't see myself going back to a keyboard with a standard layout. It does take some getting used to, but the additional long-term comfort is worth the few typing mistakes made in the first few days. Other features like Bluetooth device switching and negative tilt are huge productivity boosters. One downside is that this keyboard has a built-in wrist rest. While it is very comfortable, the gap between the wrist rest and the keyboard can be difficult to clean. Overall, it's a great purchase, and I would recommend it to anyone who's curious.
Date published: 2020-06-24T16:24:53-04:00
Rated

5

out of

5
by
CHRIS G.
from
I was a little concerned moving from an older K350 about the keys but the typing feels good even with the shorter keys. This has great wrist support and the key layout feels comfortable. This also supports multiple logitech receivers if you need to support multiple pc's at your desk.
Date published: 2020-03-19T10:47:19-04:00
Rated

5

out of

5
by
RENASHA SILV A.
from
Ergonomic Keyboard
This state of the art ergonomic keyboard is the best. I have tendonitis and a normal keyboard aggravates the problem. This ergonomic keyboard has greatly reduced this problem.
Date published: 2020-04-22T16:15:41-04:00
Rated

5

out of

5
by
E
from
Good to have it, but fine without it
Wish it to be chargeable and not uses batteries
Date published: 2021-01-22T00:00:00-05:00
Rated

5

out of

5
by
Jody M
from
Nice smooth keystrokes
I am so happy with this keyboard. The keys are not huge and clunky and hard to press. I just love it.
Date published: 2021-04-15T00:00:00-04:00
Rated

5

out of

5
by
Steve
from
Great wireless keyboard
Great product. Love it!!
Date published: 2021-02-24T00:00:00-05:00
Rated

5

out of

5
by
I like Dell
from
Missed strikes
Keys not sensitive and missed strikes often.
Date published: 2021-02-24T00:00:00-05:00
Rated

5

out of

5
by
mavyogo
from
Amazing.
Great keyboard. Basically everything about it is amazing.I don't have the shoulder or elbow pain as much as I used to. I've done other work to sit more ergonomically and use a vertical mouse, but the keyboard is perfect.
Date published: 2021-02-24T00:00:00-05:00
Rated

5

out of

5
by
Stephanie I.
from
Wow! Fantastic
The best keyboard ever made. First it stopped the wrist pain i had with a flat traditional keyboard. It is so comfortable and my hands are in the perfect position. Fantastic idea, too bad this wasn't thought of first and is the standard. I will stick to this type of keyboard for the rest of my days.
Date published: 2021-02-24T00:00:00-05:00
Rated

5

out of

5
by
Drew
from
Expensive ergo keyboard
Feel of the keys is nice but not really worth the price. I came from a Logitech MX Keys but needed to switch to an ergonomic keyboard. This keyboard is more expensive than the MX Keys and does not have backlit keys nor a built-in rechargeable battery. The construction and materials feels inferior to the MX Keys.
Date published: 2021-02-26T00:00:00-05:00
Rated

5

out of

5
by
Nancy S.
from
Excellent product
This is an excellent keyboard. I use it to type on two different computers. The shape of the keyboard has helped with pain I was experiencing with flat ones. Highly recommend!
Date published: 2021-02-25T00:00:00-05:00
Rated

5

out of

5
by
Sean
from
Volume Controls Result in Bad Experience
Biggest gripe is with volume controls. This may sound minor, but I use this feature many, many, many times a day. When you modify the volume through your keyboard, occasionally the keyboard will randomly adjust the volume to max levels... and you will NOT be able to adjust in ANY manner until you remove the keyboard USB from your device. This can result in more than an inconvenience, and in fact, a bad experience... for example, during video conferences
Date published: 2021-02-25T00:00:00-05:00
Rated

5

out of

5
by
Boots
from
Love it
Love it - easy to install and use
Date published: 2021-03-13T00:00:00-05:00
Rated

5

out of

5
by
TED H.
from
It's expensive, but Buy it.. it's worth it.
I love this keyboard. It solves the problem of having a keyboard that is too loud to use on a conference call, it is ergonomic so it is very comfortable and causes no repetitive use issues and it has great tactile feel.
Date published: 2021-07-29T00:41:05-04:00