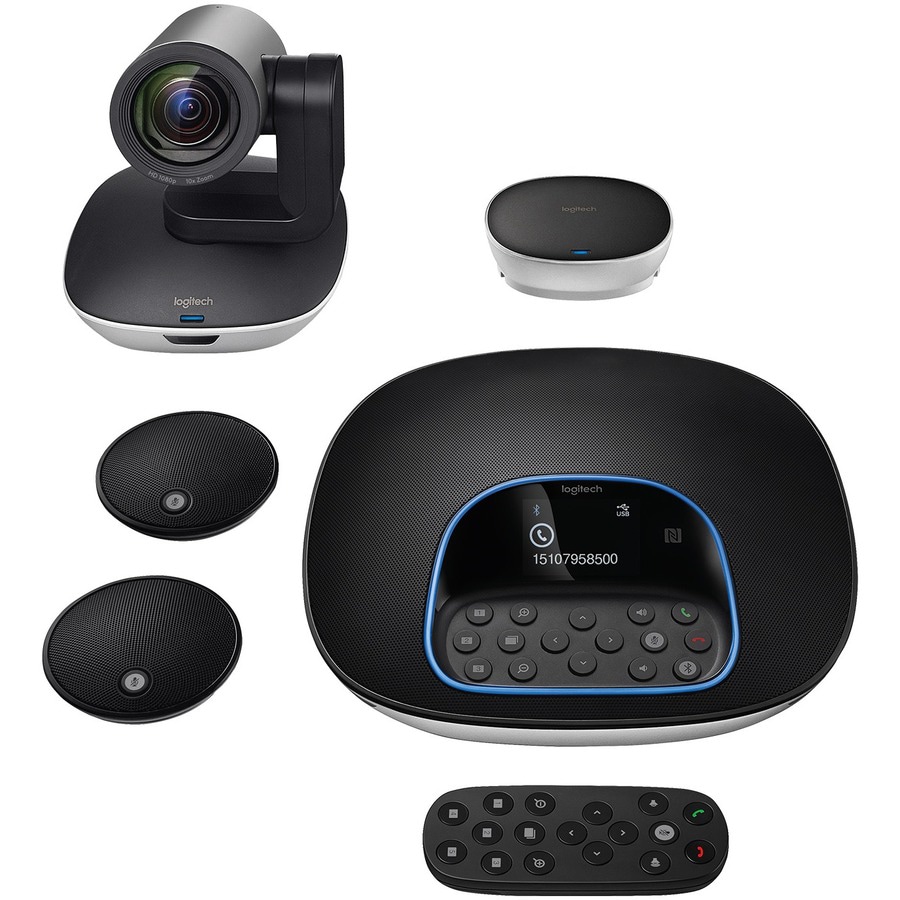 Quick tech specs
with Logitech Expansion Microphones
View All
Know your gear
Imagine a meeting where everyone is seen and heard. GROUP delivers this with exceptionally sharp video quality and a masterfully designed, full-duplex speakerphone. USB Plug-and-Play connections make video meetings easy. Use the camera on the table or mount it on the wall.

Group is ideal for mid- to large-sized video conferences. It has full-duplex speakerphone with lifelike sound that's crisp, clear, and highly intelligible. Everyone can be seen with the 90-degree field of view. Multiple camera presets make it easy to frame and focus the lens on frequently used views - such as the conference table, whiteboard, and close-ups.
Logitech GROUP - video conferencing kit - with Logitech Expansion Microphon
is rated
5.00
out of
5
by
7
.
Rated

5

out of

5
by
Ben8917
from
null
We deployed this system to our larger conference room replacing a much older scavenged together system that never worked correctly. The response from the users has been amazing they love the new gear. The quality and user friendliness has been simply amazing
Date published: 2016-12-13T00:00:00-05:00
Rated

5

out of

5
by
A_ride_4_ever
from
null
Two words to describe this unit. amazing quality I received this unit as part of a spice panel and up until I received the unit I thought I was going to be reviewing a not so great teleconferencing system. Man was I wrong. The system showed up with very easy setup instructions. Color coded plugs help guide you on where each cable goes. The unit was for the most part plug and play. The unit is certified for Skype for business but works with any standard chat/video client. The pros: Very flexible mounting solutions (includes bracket for wall mount). Heavy non-slip base. 10x optical zoom / PTZ Dedicated communications hub. (speaker/mic/display/controls) Remote with seat location buttons. (programmed camera positions) Plug and play with priority device. heavy external mic's with non-slip base (optional purchase) Far end control. Cons: No shipped instructions other than the pictograms inside the box. For testing the unit was used for the recent spice panel, I found that I had no issues hearing or being heard by the other panelists. The camera/Audio function flawlessly. It might not be the cheapest video conferencing solution out there but for what it does offer you would have a difficult time finding a better quality device for the price point. Logitech really outdid themselves on this one.
Date published: 2016-10-28T00:00:00-04:00
Rated

5

out of

5
by
samuel.brooks
from
null
The Logitech GROUP worked like a charm for me and my team. With video conferencing on the rise in higher education, we needed a solution that was compatible with all the popular video conferencing platforms. From a budget point of view, we first tried using video professional equipment and the video codec configuration gave us a long and intense battle. But when we tested Logitech GROUP, I cannot express enough in this review the gratitude we felt when it worked. There was no battling with configurations. It was a plug and play experience. The video conferencing platforms we tested the Logitech GROUP with were Google Hangouts, YouTube Live, Blackboard Collaborate Ultra, and Zoom. I hope this review will help you with your projects. Thanks,
Date published: 2017-03-17T00:00:00-04:00
Rated

5

out of

5
by
ShaneDCM
from
null
I have this setup in a room that can have up to 20 people in it for a meeting, with the extra mics it works great!! We use it connect with people all over the world, board members, sales people and host of other characters. I ran Cat5E through the floor and up the walls and bought the C2G extenders for it, it all work flawlessly. We use it with click meeting and skype, but also have used it with Goto meetings we have been invited to. I use it with an Intel NUC mounted behind the TV we use for the meetings. I would recommend this as a great way to do video conference calls with anyone anywhere in the world.
Date published: 2016-09-16T00:00:00-04:00
Rated

5

out of

5
by
MAINSTRIKE
from
Everything you need in one box
** Disclaimer: I had won this through a Spiceworks contest. ** Logitech GROUP is an all-in-one-box solution for your online conferencing needs. I was surprised to discover I needed no drivers. The setup was easy with colour-coded cable ends and very ample cable lengths to make wiring simple. Skype noticed all the components with ease. My first calls had clear quality on both audio and video. It's best to have a dedicated machine to make the calls but that causes some challenges when others bring in their own devices for presentations. The product is geared to a teleconference room without presenting other materials.
Date published: 2018-01-09T00:00:00-05:00
Rated

5

out of

5
by
Ryan9324
from
null
This is a very powerful conference room setup for video meetups. The GROUP has excellent speakers, and extended microphones to capture everyone's voices. We use ours with Zoom.us ZoomRoom application. The camera is superb!
Date published: 2016-09-16T00:00:00-04:00
Rated

5

out of

5
by
Brad9052
from
null
The Logitech GROUP makes a fantastic solution for video meetups. It has really good speakers and the option to use one or two microphones, depending on size of the room, to make sure everyone can be heard. We use this for Distance Learning and for students that for whatever reason have to miss a class they can remote in and watch and/or actually participate using Skype. Having the remote control available to the instructor and the camera able to move around the students instead of having the students move around the camera is also a huge benefit.
Date published: 2016-10-27T00:00:00-04:00