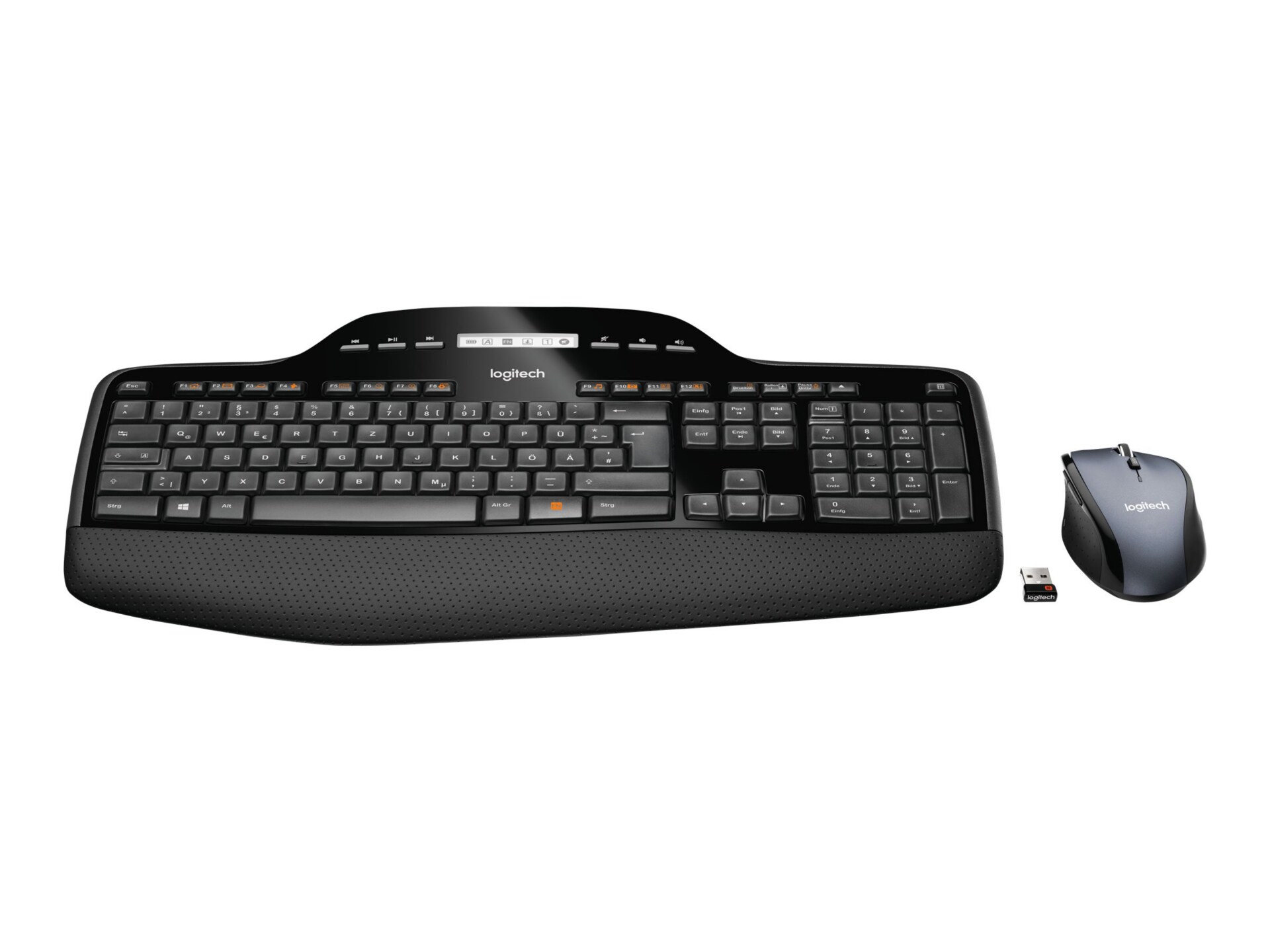 Quick tech specs
Keyboard and mouse set
2.4 GHz
View All
Know your gear
A long battery life for both keyboard and mouse makes this combo so hassle-free you just might forget it uses batteries at all. With Logitech Incurve keys and a cushioned palm rest, this low-profile keyboard almost feels like it's custom-made for you. Logitech Unifying receiver - the tiny, wireless receiver that stays in your laptop and lets you add devices as you need them.
Logitech Wireless Desktop MK710 - keyboard and mouse set - English
is rated
4.16
out of
5
by
32
.
Rated

5

out of

5
by
LV2017
from
Great Keyboard / Mouse Combo
I love this combo. Great response time and key feel, compatible with Logitech Unifying software, and great wireless range. Battery life in both mouse and keyboard are excellent. I'm going on 10 months of 40 - 50 hours per week of use with the original batteries (never turn them off). I've not had any issues with keys decals fading so far.
Date published: 2017-09-20T00:00:00-04:00
Rated

5

out of

5
by
DBrand
from
Great features, poor decal quality on keys
This keyboard is great for features and battery life, however.. the decals wear OFF the keys way to quickly.. and Logitech WILL NOT cover this under Warranty!
Date published: 2017-01-29T00:00:00-05:00
Rated

5

out of

5
by
Rich
from
Letters rub off
This Keyboard is poorly designed and is not meant for Business use. The Keyboard lettering rub off.
Date published: 2014-11-03T00:00:00-05:00
Rated

5

out of

5
by
3will3
from
The most for the least
My employer, law firm managing partner, many hours at workstation every day, asked me for help on keyboard/mouse issues he was having. This was my choice and he is pleased with the function and ease of use!
Date published: 2018-08-15T00:00:00-04:00
Rated

5

out of

5
by
Appsmanster
from
Sponge Bob the wireless keyboard.
I usually stay away from giving a review. I understand that everyone has a different opinion that is always right. But this is one product I have to comment on. As a rule I love the Logitech line. I have a MX Master 2S mouse for work and a G700 mouse for home. As well as other assorted items I love. So I figured that this would be a great addition to the line. Sorry but no cigar. It has to be the worse Logitech item I have ever purchased. And may rank in the top 5 worse items I have ever purchased. I bought this because of the Unifying receiver to work with my MX Master 2s mouse. The mouse in this combo is pretty sweet. Feels good in the hands. Very responsive and it pleasing to use. Its a great addition to my laptop. But the keyboard is total garbage. Besides having the keys to narrow, they are so mushy that it hard to get a rhythm going. I miss more keystrokes in a day then I have missed in my entire life. Its like typing on a sponge. Hand position is so bad that my wrists start hurting after and hour or so. No matter what position you put the keyboard in it is still painful. It gets worse. Different amount of pressure has to be applied to type making feel none existent. This effectively causing you to backspace often to correct mistakes. There is a bright note though. I like the display for the battery and other indicators instead of the lights on a regular keyboard. So what is the verdict. Mouse 1 -- Keyboard 0 .Mouse is great but I had to go back to my Dell keyboard. My son made a very profound comment when considering what equipment to buy and in what order. To him, and I agree, the monitor is the most important. Keyboard is next. Followed by the mouse. Everything else will fall into place. I understand that as a programmer, his priorities are different than most. But I have to agree in this case. So to recap, would I buy or recommend this product to someone.......No. That is just my opinion. Take it for what its worth.
Date published: 2018-12-27T00:00:00-05:00
Rated

5

out of

5
by
buyer
from
the best keyboard ever
I have used several different types of keyboards over the years. This one is the best, it is quite, it is easy to install, it was easy understanding the quick function keys. But the best part is the built in wrist rest and the 2 different size of legs to adjust the heights. I would buy this one again and again.
Date published: 2016-01-03T00:00:00-05:00
Rated

5

out of

5
by
Dtwizzle
from
most reliable keyboard we use
We have hundreds of this model wireless keyboard and mouse and it performs great and has many options. Logitech makes great quality items.Dustin Green
Date published: 2017-06-07T00:00:00-04:00
Rated

5

out of

5
by
LoriV
from
Great value
This logitech mouse & keyboard have a very smooth touch, I like this so much better than the other major brand I used.
Date published: 2019-05-28T00:00:00-04:00
Rated

5

out of

5
by
John
from
Office addition. Get rid of the cords.
The cord for my keyboard draped over the front of my desk. On several occasions salesmen have got their feet entangled with the cord and snatched the keyboard off my desk. Along with my business cards, stapler, etc. So nice to have the flexibility of a cordless keyboard. And the MK710 is ergonomically the best I have experienced. The smooth edged keys are so easy to use. I highly recommend this keyboard/ mouse combination.
Date published: 2019-06-04T00:00:00-04:00
Rated

5

out of

5
by
karanbazaz
from
Second time to purchase this set. Love it!
This is my second time to purchase the Logitech keyboard/mouse set. They work flawlessly. Also I appreciate the ergonomic design, which helps keep my carpel tunnel in check.
Date published: 2019-08-20T00:00:00-04:00