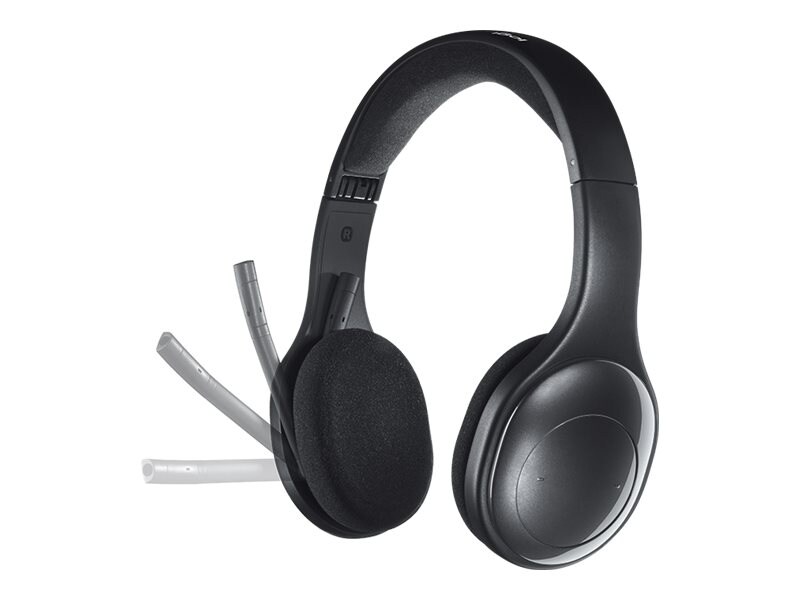 Quick tech specs
View All
Know your gear
This comfortable, wireless headset lets you chat, rock and surf on multiple devices like your PC, tablet and smartphone - with rich digital stereo and a full set of on-ear controls.
Contact Sales Assistance
(800) 972-3922
,
Monday-Friday 8am-6pm ET
Logitech Wireless Headset H800 - headset
is rated
3.25
out of
5
by
8
.
Rated

5

out of

5
by
Achilleos
from
Excellent Headset and Mic
Currently this is a headset that I recommend for Zoom or Skype sessions at work. I also use this headset at home for gaming and watching movies. The battery last long enough and the quality is excellent. I don't really see why people are reviewing it so bad. If you forget to charge the headset, you can connect the long cable and still use it at the same time. I personally find that this headset is great by quality and price as well.
Date published: 2016-07-31T00:00:00-04:00
Rated

5

out of

5
by
sfcakestealer
from
Are you serious?
I have bought this mic two times and it seems that the second time was the worst time. With this mic you have to take the chance of either the mic dying or it one day doesn't want to work anymore. I would only recommend this mic if your looking for something with a medium price and quick use.
Date published: 2014-07-08T00:00:00-04:00
Rated

5

out of

5
by
admin1
from
Looks good but very unreliable
Looks good and is comfortable to wear but it is very unreliable. One never knows whether it is going to work when the unit is activated. Leave it for an hour and it might work.
Date published: 2014-11-12T00:00:00-05:00
Rated

5

out of

5
by
Dinoraptor101
from
World's best travel headphones
If you don't like stuffing things in your ears and still want something portable. that miracle is here, the search is over this is THE ONE.Durability 10/10I have been using the H800 for over 2 years now and they are by far the best headphones I have used over the last 10 years.Price: 10/10The H800 delivers quality sound I would compare close to my Audio Technical 400$ professional monitor headphones.Sound 10/10The headset is also open-air allowing me to hear surroundings for traffic and walking, great to use outside and officePortability 10/10They are light, and I don't sweat after wearing them for 5 hours straightMicrophone 10/10You'd expect good headphones always have bad mics, think again, H800s surpassed that expectation by providing a very clear + flexible directional microphone that hides nearly underneath the arch. and can be unfolded in a second on the same side of the answer-button.So what are the negatives you say? Is this a paid review?No, this is absolutely not a paid review, and while I would admit some Logitech merchandise tends to be fragile and flimsy, this is not one of them, neither is G502 Gaming mouse! but that's another story.Negatives hmm, just one.If you're not familiar with Logitech's pairing you will not find that step in the user-manual and it will take googling to find out that pairing this headphone requires you to hold the power+volume_up keys until the lights start flashing blue and red. <-- Hint hint remember this!Else this headphones make leaders like Bose/Bang&Olufsen/Marshall and all the other over-expensive brands look like out-dated and out-designed and un-portable brands.
Date published: 2017-03-02T00:00:00-05:00
Rated

5

out of

5
by
mkmcgregor
from
Great headphones for the price! Great sound, range, connectivity, and function. Limited Battery Life.
I've used this only for the last week. So far comfort and sound quality are excellent. Battery life states 6 hours, which is limited. As long as you shut it off when not in use (there is an off/blue tooth/wireless switch an a LED indicator) it lasts all day and into the next. I mostly use it for listening to music, taking/receiving calls, and other IM voice communication. Calls were not the primary reason. I use mine with a blue tooth 4.0 receiver on my desktop and what is built into my laptop. Excellent range; about 60' where the first break happens, but I can go to about 80-100' before it becomes bad. My desktop receiver is elevated (USB extension) above the cube walls which helps with range. I do not use the included wireless, but it's a nice touch that it has a place for storage of it in the left ear piece where the battery compartment is also located. Overall the features and design are very good. Battery life could be better. The left ear piece could hold a large battery and would be welcomed. At least the battery is replaceable and you could have one charging and one in use, but that is not very convenient. Overall, I really like these. Comfortable for long term wear, great sound, folds for easy travel, very light, and connects to both blue tooth or through the included Logitech wireless dongle. I wish it had a wired jack to use it without wireless if the battery runs out. A bigger battery (or option) would also be a welcome plus. A case would also have been welcomed, but that's asking a lot for the price. It also will not activate (answer/hangup) my Shoretel Softphone with the play/pause (which also has an image that indicates that it's intended for that purpose) which would have been nice; that maybe more a software issue than a problem with this headphone. It's easy enough to mouse to the popup and click answer; just would have been nice. The Off/BT/Wireless is hard to move smoothly; that's both good and bad. Because they are so light (good feature and also concern), I am concerned they will not last as long as others. I feel like if I'm not really careful they will easily break. However, for the price they are well built and function very well.Charges only through USB cable. Not a negative since you can plug it into an computer or phone charge.Overall impressed and happy with the purchase. Price was excellent for features and sound quality.
Date published: 2016-03-15T00:00:00-04:00
Rated

5

out of

5
by
Dude1127
from
Not bad.. But..
Audio quality is pretty good as is the range, but the battery life is terrible. At best I get about 4 hours of use before it gets static.
Date published: 2015-04-22T00:00:00-04:00
Rated

5

out of

5
by
CKB33
from
Terrible product.
Barely has a 10ft range, would not recommend if you actually want to walk away from your desk.
Date published: 2019-02-04T00:00:00-05:00
Rated

5

out of

5
by
derh04
from
I'm buying another one
I don't know what happened with the head set of the other 2 reviewers but my head set has done it's job really good.I use it at my office, connected to my office phone, my laptop and my cellphone. I switch the connection in between those 3 anytime and it works really good. I'm not an audio expert but the quality seems good to me, even while playing music. I have used it at around 6mts from the signal source and works good (I haven't tested it's maximum reach). All the buttons work. And the battery charge has never failed me.
Date published: 2014-12-03T00:00:00-05:00