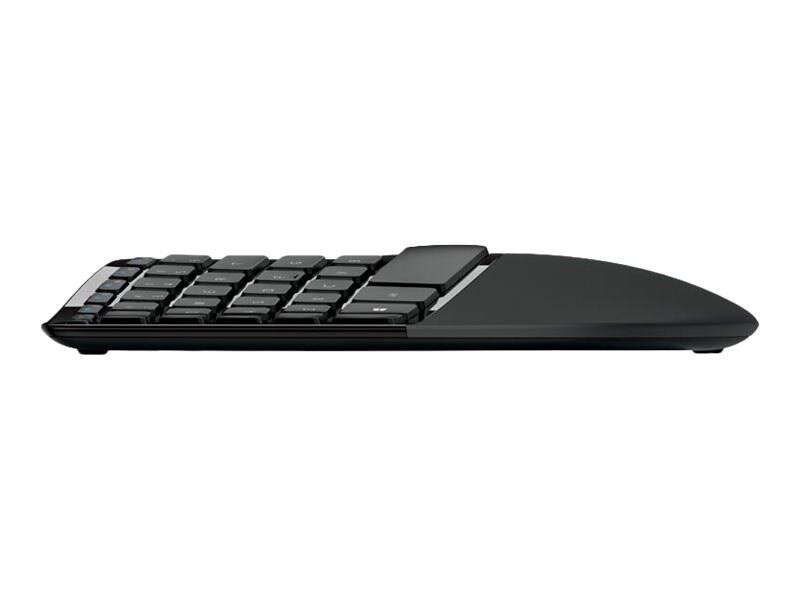 Quick tech specs
Keyboard and keypad set
2.4 GHz
View All
Know your gear
With its modern, ergonomic design, Sculpt Ergonomic Keyboard sets the standard for support and comfort. It keeps your hands and arms in a relaxed position as you work, helping you feel refreshed after a day at your desk without soreness or injury.

Sculpt Ergonomic Keyboard is built on advanced ergonomic principles, with a split keyboard layout that keeps wrists and forearms in a relaxed position, and a cushioned palm rest that protects against inflammation and repetitive stress injuries. The domed keyboard shape works to reduce and correct excessive wrist pronation that can cause pain and limited mobility.

The natural arc layout follows the curve of your fingertips for a more natural way of typing. The reverse-tilt design positions the keyboard at the correct angle to give you a neutral wrist position.
Microsoft Sculpt Ergonomic Keyboard For Business - keyboard and keypad set
is rated
4.12
out of
5
by
17
.
Rated

5

out of

5
by
Alexandra
from
Great feel but dumb elements
I love the feel of this keyboard. It has a great touch and the ergonomic shape is great. It is not that adjustable. You can make it higher by adding a plastic piece to the bottom of it. Higher to one level only. It also can't be adjusted down. It has one option - up. There are no built in feet to adjust. This is dumb. I'm not using the 'up' large plastic piece but may want it later, so it just sits on my desk waiting (most likely until it gets lost)?Dumber is the fact that - at least for my hands/brain - the backspace key is very wide and occupies what my brain believes should be the delete key territory (delete is still there, just farther right). I am continually mistakenly hitting backspace instead of delete. I'm sure I'll adapt but since I work on multiple keyboards all day, and only have this issue on this keyboard, it seems like a design choice that is useless and ultimately annoying.Last, there is no way to tell is capslock is on or off. No indication (typically there's a light somewhere/same issue for number lock). You have to type to discern if it's on or off. Makes for a lot of wasted typing. That said it's comfortable and I'm keeping it but I would not recommend it or buy it again based on these issues.
Date published: 2017-09-27T00:00:00-04:00
Rated

5

out of

5
by
Wendy1
from
Wonderful and comfortable!
Nice feel to the wrist and fingers. Keys are very responsive and overall I just love this keyboard. At first I thought it would be too high in the front, but after it was assembled I quickly got used to the features. Probably the best keyboard I have owned!! Also love these features: wireless, detached number keypad. The only thing on my wish list is a light on the keyboard that lit up when the Key Caps was active.
Date published: 2017-07-04T00:00:00-04:00
Rated

5

out of

5
by
Annie
from
Great features and very comfortable
Very comfortable, keys are quiet and I like the detached 10-key pad feature.
Date published: 2017-10-19T00:00:00-04:00
Rated

5

out of

5
by
Fred
from
So far it seems great! There is a definite learning curve.
So far the thing seems great! But I cannot accurately judge how well it will hold up over time. There is definitely a learning curve. One of my problems is I have to use a standard keyboard at work and then when I get home I get to use this.The information papers that come with it are wholly inadequate. I would be interested in learning more about it and its shortcuts.
Date published: 2017-06-01T00:00:00-04:00
Rated

5

out of

5
by
dhedges01
from
Wrist Pain Be Gone
I love this product! Before even typing one email would give me cramps and wrist pain, but no more!I love that its wireless. Less cords the better!The only thing that is a bummer is there is no way to know caps-lock is on unless you start typing - makes passwords a little rough.
Date published: 2017-11-28T00:00:00-05:00
Rated

5

out of

5
by
Angiep47
from
Comfortable, but numbers are an issue.
I attempted to get used to this as my first ergonomic keyboard. However, I found I was not able to accommodate the split row of numbers at the top of the keyboard. My work involves typing a lot of numbers and text together, which I do quickly without looking at the keyboard. I ended up having to constantly look at the keyboard to make my fingers go to the correct numeric keys, which did not match up to the way I was taught decades ago. In addition, the keys for home, delete, etc. were arranged differently. While I found the comfort of this keyboard to be exceptional, I unfortunately ended up having to go back to a conventional keyboard. For someone who can rely on the numeric keypad and primarily types text, this would be an excellent choice.
Date published: 2017-05-17T00:00:00-04:00
Rated

5

out of

5
by
GoldBeachAmber
from
2nd one I own - BUT product details picture the mouse - NOT INCLUDED!
This is the second Microsoft Sculpt that I've purchased - duplicating system setup in two locations. Love the keyboard & mouse....but this purchase did not include the mouse - sigh.... Still happy with product and pricing - now need to located mouse to match.
Date published: 2016-09-09T00:00:00-04:00
Rated

5

out of

5
by
matton17
from
Killer
Use it everyday all day. Best ergo keyboard on the market.
Date published: 2014-09-02T00:00:00-04:00
Rated

5

out of

5
by
RHW199
from
It's a Winner!
I purchased this to select my beloved, but aged, Microsoft Elite ergo keyboard which, sadly, is no longer available. Although there are some minor key placement differences, the split and overall feel are very similar, and the silent keys means nearby workers won't miss the clicks and clacks from my typing. I ended up elevating mine in the rear to improve my typing experience and comfort. At first I didn't think I'd like the separate numeric keypad but I've gotten used to it and the calculator option has already proven handy. Two Thumbs Up!
Date published: 2018-03-14T00:00:00-04:00
Rated

5

out of

5
by
Sujan
from
stopped working after 1 year
It's a nice keyboard+keypad set - very good typing experience, but the thing stopped working after a year of use. 2 colleagues also had the same problem. The wireless radio is likely the problem, although I have not fully evaluated the failure mode.
Date published: 2017-12-07T00:00:00-05:00