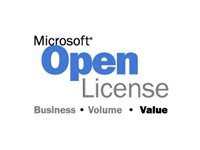 Software Details
Software assurance
Open Value
1 Year Acquired Year 1
Single Language
1 operating system environment (OSE)
additional product
Win
View Tech Specs
Know your gear
Microsoft System Center plays a central role in the Microsoft vision to help IT organizations benefit from self-managing, dynamic systems. System Center solutions capture and aggregate knowledge about your infrastructure, policies, processes, and best practices so your IT staff can build manageable systems and automate operations in order to reduce costs, improve application availability, and enhance service delivery.

System Center solutions are tuned to simplify management of the systems and applications your company already has implemented, including Microsoft SQL Server, Microsoft Exchange Server, the Microsoft Office system, and the Microsoft .NET Framework. In addition, System Center solutions interoperate with third-party management tools so you can make the most of your existing investments and build on the System Center foundation with confidence. System Center solutions provide the reliability, scalability, and security required to manage the most mission-critical IT systems, applications, and services.

With an aim to enable self-managing dynamic systems, System Center solutions close the gap between development, operations, and IT by evaluating dependencies and optimizing business process performance from deep inside the operating system, applications, and composite services and workflows. These solutions also provide comprehensive management of physical and virtual environments, resulting in improved efficiencies and better control.

Using the System Center family of solutions, you can connect your organization's people, processes, and tools across your development and operating environments. As a result, you can optimize your IT infrastructure.

With the System Center family of IT management solutions, you have the power to more effectively and easily manage all of the components that define IT, allowing you to focus more on delivering new business value for your organization.
Availability:
Discontinued