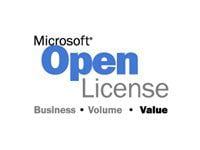 Know your gear
Visual Studio Ultimate is the state-of-the-art development solution that empowers teams of all sizes to design and create compelling applications to delight users. You can use flexible agile planning tools - like capacity planning, taskboards, and backlog management - to enable incremental development techniques and agile methodologies, at your own pace. Use advanced modeling, discovery, and architecture tools to describe your system and help ensure that your architecture vision is preserved in the implementation. Bring development and operation teams together by using IntelliTrace in production, Operations Manager Connector, and Preemptive Analytics. Improve quality and reduce time to resolution by generating actionable bugs from deployed software, and effectively partner with the operations staff to provide data that gives developers greater insight into production issues.
Software Details
Step-up license & software assurance
upgrade from MS Visual Studio Premium Edition
additional product
Win
1 user
Open Value
1 Year Acquired Year 2
All Languages
View Tech Specs
Get a Quote
Microsoft Visual Studio Ultimate with MSDN - step-up license & software ass
Your quote has been submitted.
What happens next?
A confirmation email is on its way. Within one business day, you will be contacted by an Account Manager to finalize your quote.
Your Quote Request
Microsoft Visual Studio Ultimate with MSDN - step-up license & software ass
Error!
Something went wrong.
Please try again later.