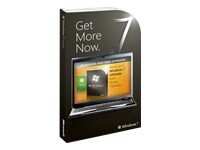 Know your gear
Windows 7 Ultimate is the most versatile and powerful edition of Windows 7. It is including the ability to run many Windows XP productivity programs in Windows XP mode. For added security, you can encrypt your data with BitLocker and BitLocker To Go. And for extra flexibility, you can work in any of 35 languages. Get it all with Windows 7 Ultimate.

MICROSOFT WINDOWS ANYTIME UPGRADE

If you want to upgrade your copy of Windows 7, you can go online and do it in about 10 minutes, right from your PC.

No disks, no delays. And with Windows Anytime Upgrade, you can upgrade to a more advanced edition of Windows 7 - from: Windows 7 Starter to Windows 7 Home Premium, Professional or Ultimate; Windows 7 Home Premium to Windows 7 Professional or Ultimate; Windows 7 Professional to Windows 7 Ultimate - in as little as 10 minutes. That way, you get to take advantage of extra features while keeping your current programs, files, and settings intact.

Upgrading doesn't mean installing new software. In Windows 7, the software you need comes preinstalled. All you have to do is purchase an upgrade key from Microsoft or another authorized retailer to unlock those shiny new features.
Contact Sales Assistance
(800) 972-3922
,
Monday-Friday 8am-6pm ET
Software Details
Product upgrade license
upgrade from Home Premium
32/64-bit
View Tech Specs