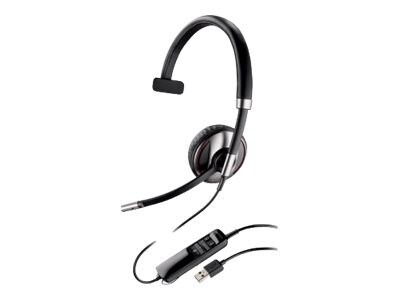 Quick tech specs
700 Series
on-ear
wireless
USB
headset
Bluetooth
wired
UC Standard version
View All
Know your gear
Bluetooth-enabled Corded USB Headset with Smart Sensor Technology.
Contact Sales Assistance
(800) 972-3922
,
Monday-Friday 8am-6pm ET
Plantronics Blackwire C710 - headset - UC Standard version
is rated
4.47
out of
5
by
17
.
Rated

5

out of

5
by
Msprout
from
Excellent Product
Excellent reception and voice quality. A great value.
Date published: 2015-06-11T00:00:00-04:00
Rated

5

out of

5
by
timm
from
shelf life
my company had ordered ~ 100 plus of the blackwire c710 headsets but after on shelf for over 1 yr (unopened) having problems with devices being recognized via USB port on macbook prohave a working headset but the un-opened(shelved) headsets are NOT being recognized
Date published: 2014-04-21T00:00:00-04:00
Rated

5

out of

5
by
Bonddad
from
So Far, Not Compatible With Samsung Galaxy 5
I originally bought these to work with my Lenovo Yoga and IPhone -- and they worked great. However, I just bought a Samsung Galaxy 5 and it appears this is currently not supported. I do hope this changes ASAP.
Date published: 2014-05-12T00:00:00-04:00
Rated

5

out of

5
by
KGrabowski
from
Excellent headset!
I bought this for my work softphone. It is the most comfortable over the head headset I've ever used. The ear pieces are very soft - and comfortable even for a two hour long conference all. The sound is amazing. I have asked co-workers if they hear noise in the background when I speak to them using this headset - and I've gotten no bad replies. All say it is clear and quiet. I like the way it folds in the ear pieces for a safe fit into my laptop bag. Easy to set up right out of the box. Bonus is that it works great with my cell phone (iPhone).
Date published: 2014-10-08T00:00:00-04:00
Rated

5

out of

5
by
Scottda2
from
No Windows 10
Worked great until I upgraded to Windows 10. Plantronics doesn't seem to be supporting this product on the Windows 10 platform. Do not purchase if you have upgraded or plan to.
Date published: 2015-12-03T00:00:00-05:00
Rated

5

out of

5
by
TheWilbur
from
I use it every day. Great headset.
I've been using a C710 for a few months. Works great for Lync, Skype, and iPhone over Bluetooth. Companion PC software works fine and firmware updates are easy. Battery is great for those who need a good comfortable headset when they travel. I've used with iPhone, Blackberry, and Android phones. Bluetooth reception is fine; any issues I've had are with the handset's bluetooth range. 
Date published: 2013-08-17T00:00:00-04:00
Rated

5

out of

5
by
ClarkKent
from
Could be improved
Bought this for the usual mix of Skype meetings, music listening and phone connection. It is a bit too small though. Even fully extracted the earpieces end up on the upper part of the ear. This makes it a bit uncomfortable and the audio is not optimal. I looked for a possibility to compensate for this in the Windows driver/Software but there is no way to do this. Audio is described as "superb" but is actually quite average. An equalizer would be great.
Date published: 2017-04-06T00:00:00-04:00
Rated

5

out of

5
by
coop926
from
Product stopped working after 4 months
Purchased this in Sept 2014 and it's already broken by Jan 2015! Great product but the fact that it has already died 4 months into use is a problem.
Date published: 2015-01-13T00:00:00-05:00
Rated

5

out of

5
by
VirtualTrainingProject
from
Overall good product, need cleaning protocol
Bought in October '18 and using them for or. Good product working as described. Called support to inquire what the cleaning protocol was. have been using antibacterial wipes and the black cover is no longer black. Support didn't have any recommendations except to use alcohol wipes.
Date published: 2019-02-19T00:00:00-05:00
Rated

5

out of

5
by
RayRay16
from
Good Headphones... Horrible Options
I purchased the C720 headphones after using the predecessor for many years for business online conference calls. This model does not allow the user to disable the Mute on/off voice prompts even when using their Plantronics Hub. The headset is great but after contacting tech support they admitted that the voice prompts and tones cannot be turned off. Why in the world would I want this interruption while on a conference call that distracts from my attention from the call? Obviously they did not obtain user input when designing this model. But the fact that they do not allow you to turn off this feature through the software is just ridiculous. They have the ability, they just choose NOT to allow users to turn it off for whatever reason they may have and they do not clearly identify this in their sales pages. I've enjoyed Plantronics for business headphones for years, but this certainly has me shopping for other brands.
Date published: 2019-05-27T00:00:00-04:00