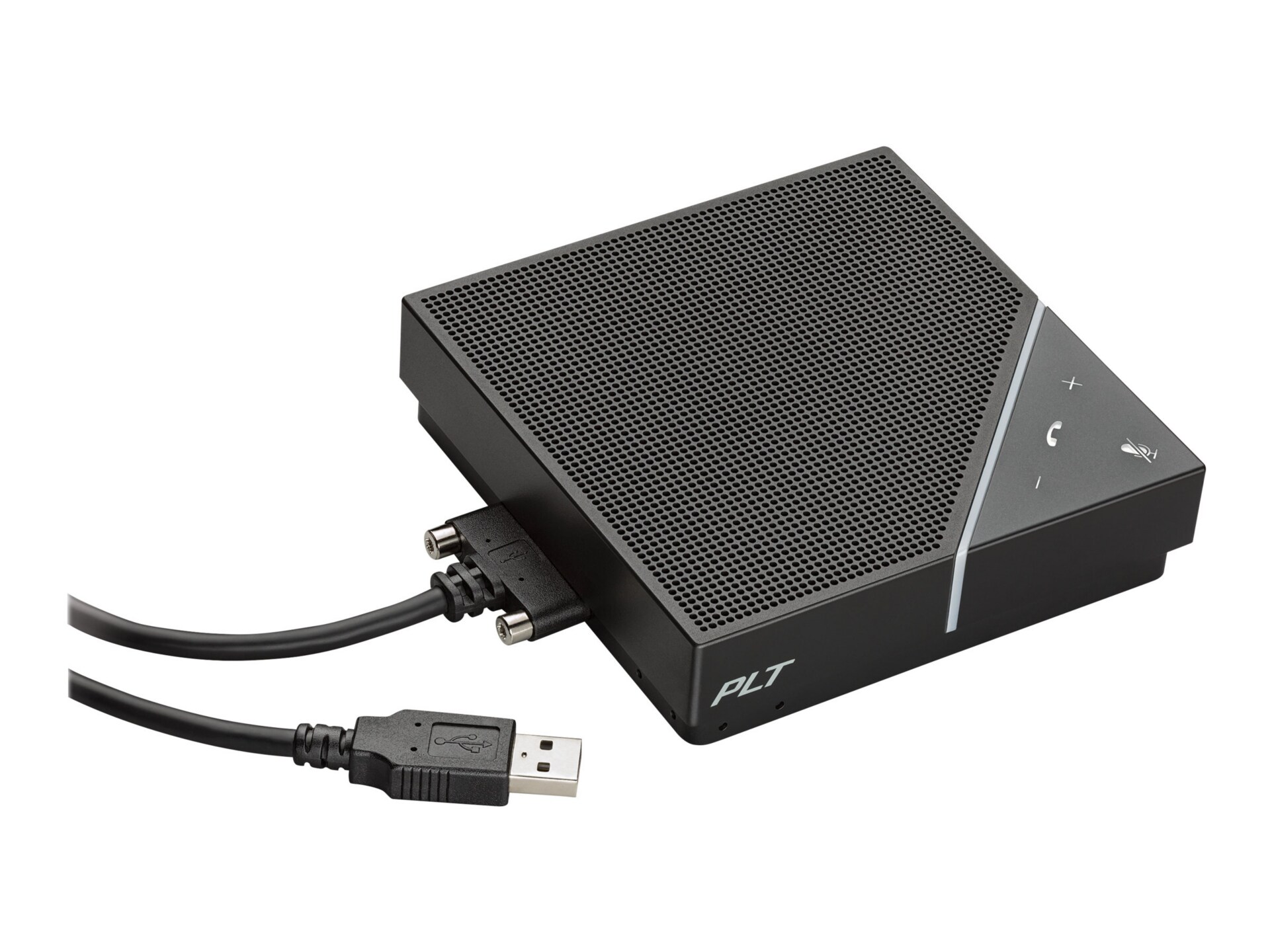 Quick tech specs
Speakerphone hands-free
wireless
View All
Know your gear
When you need exceptional conferencing performance in a small group conference room, turn to the Calisto 7200. The newest member of the Calisto family is designed to make collaborating easy. Four directional microphones provide 360° coverage and filter out unwanted noise, so you can be confident that everyone in the room will be heard. With both USB and Bluetooth connectivity, it's always ready when you are, while touch-sensitive controls make managing calls simple. The dedicated Bluetooth clearing button ensures new users will always enjoy a quick and effortless connection. Plus, Plantronics Manager Pro makes it easy to manage devices and update firmware. Calisto 7200 is designed with today's open office environment in mind.
Contact Sales Assistance
(800) 972-3922
,
Monday-Friday 8am-6pm ET
Plantronics Calisto 7200 - speaker phone
is rated
4.67
out of
5
by
9
.
Rated

5

out of

5
by
JBarry465
from
Fantastic for Working From Home or Small Offices
As a cybersecurity engineer, I often work from home to lessen the distractions of the traditional workplace. Whenever I have meetings, I end up wearing a headset or putting my cellphone/laptop on speaker phone to avoid having something in my hands and around my ears, while I continue to work. However, wearing a headset for an extended amount of time can be irritating and speaker phones generally reduce call quality and increase background noise on both ends. The Calisto 7200 is the perfect solution to my problem. This device allowed me to connect my smartphone to participate in meetings hands-free, while feeling like I was there in person. Connecting a Bluetooth enabled device to the Calisto 7200 is straightforward, easy, and quick. The quality on the calls was much better than any speaker phone option I have ever used and I did not emit as much background noise as I would have if I was on speakerphone. I also heard less background noise from other participants in calls. The Calisto 7200 is also portable and can fit in any laptop bag, backpack, purse, and more. It can additionally be plugged into a laptop over USB to be used from there as well.I would definitely recommend this product to anyone who works from home and for small office environments where more complex and expensive systems might not be needed or warranted. If you are looking for portability, great call quality, and an easy-to-use product, the Calisto 7200 is for you.
Date published: 2019-07-29T00:00:00-04:00
Rated

5

out of

5
by
Active1
from
Clear sound
I use this at work and it works great while I multitask
Date published: 2019-07-26T00:00:00-04:00
Rated

5

out of

5
by
Enchanted2015
from
Great features and portable!
I received this about a month ago. It is wonderful to be able to use this speaker system for conference calls vs. my phone. The call and mute buttons are easily accessible, and make it a breeze to toggle from mute/unmute during business calls. The speaker system easily allows one to accept calls when listening to music. Furthermore, the Calisto 7200 is portable, and has a very nice carrying case.
Date published: 2019-08-14T00:00:00-04:00
Rated

5

out of

5
by
tconkle
from
Amazing Portable Speakerphone
I've had the Calisto 7200 for about 2 weeks and I've been using it everyday for calls with my Team & Customers. The sound quality is outstanding. I like to walk when I talk and walking around my office there was never a complaint from the poeple on the other end about being able to hear me. The battery life is great and it integrates flawlessly with the PLT HUB app on my MAC to monitor the device for firmware updates. I will be traveling with it this week so i'm excited to see how it works with a room of people and how it picks up the others talking. But so far my personal experience is amazing. Its been so nice not needing to hold my phone or wear my bluetooth headset while on long calls.
Date published: 2019-08-12T00:00:00-04:00
Rated

5

out of

5
by
BBiegler
from
works great
I tried this out and it seems to work great. Good sound and easy to use
Date published: 2019-07-25T00:00:00-04:00
Rated

5

out of

5
by
William22
from
Portable Conference Room
The clarity of this device is very clear for everyone on the call. It works great for me at job site meetings.
Date published: 2019-07-26T00:00:00-04:00
Rated

5

out of

5
by
Brett_L
from
Excellent Speaker Phone for Mobile Business
After receiving this devices, I instantly noticed the overall build quality. The speaker is quite heavy and appears to be very well built using premium materials. I used this with my cellphone over bluetooth, and the speakerphone provides excellent omnidirectional call quality. Audio is crisp and clear. Participants on the other line could hear audio very clearly, even when talking into the speaker across a large room. I would definitely recommend this device to people looking for solutions for small businesses looking for an easy to use conferencing solution. The device itself is incredibly intuitive to use and just works. When plugged into a power source, the device will stay on indefinitely, which is a very useful feature whether using it at home or work, so I can pick up a call at anytime without having to re-pair my bluetooth connection. When on battery power, the device will power off after a period of time to conserve battery life which can be a hassle if you get an incoming call, but it does turn on and pair quickly so it's not a big deal. The speakerphone is large, but not too large and included a soft-sided case, making it easy to pack in my laptop bag and carry with me on-the-go. To expand on the audio quality, I have used it to listen to music on-the-go as well, but that is not the intended use of this device and as such, the audio quality isn't fantastic for music or other media. As expected, there is very little bass to the sound, so if you're looking for a speaker for music first-and-foremost this isn't the speaker for you. If you primarily need high quality conference audio, this delivers on that promise with flying colors as the vocal range is fantastic. Music quality is still better than the speaker built into your phone or computer, so it's still an added value for those uses as well if a large external speaker isn't available.My biggest complaint about the device is that there is no option to activate a voice assistant on your phone. With other bluetooth devices I own, I'm accustomed to being able to press a button (typically long press on the call button on the bluetooth device to pull up my assistant of choice and from there I can say "Call ____ mobile" or "Play ____ on Spotify". With this device, I need to have my phone in hand to make the call or start the music. In most business use cases, this isn't a big deal and is probably preferred if the speaker is shared between multiple users, but as a single user of the device, it does limit the overall functionality/convenience of the device. There is also no "Next" or "Previous Track" buttons, so using the device for media also is a bit less convenient. All things considered, this device excels at what it was designed for...conference call audio. The device is very simple to use with very few features beyond the most critical ones (Power, Bluetooth Pair, Volume, Mute, and Hang-up) which would make it a fantastic device to share with others in a small business setting as it's easy to use and does what it's supposed to well. The minor complaints about not having media buttons or voice assistant features are really added features that could enhance the overall experience, but were also probably very intentionally excluded from the device to create a well-rounded no frills speaker that could be used with no prior training. Despite the missing enhancements, I would still definitely buy this device again, primarily due to build quality, conferencing quality, and primary functions working exactly as advertised.
Date published: 2019-08-09T00:00:00-04:00
Rated

5

out of

5
by
ragnarh
from
null
Early January Plantronics has provided me a free test sample of Calisto 7200 Speaker Phone and I want to share my impressions using it to enjoy music and joining Conference Calls with Webex, Microsoft Teams and Skype for Business. With one touch incoming calls can be accepted or finished and everyone might get the value of pushing a mute/unmute button quickly. Don`t want to go deeper into real life examples here…This device is made for PC, MacOS and Bluetooth Mobile Users on-the-go to transform any workspace into a small group conference room for up to 6 people. Sometimes hardware vendors want to categorize users into personas like "Road Warrior", "Office Workers", "Virtual Home Office Workers". Well, I am a mix of few personas. For me it`s important that these speaker phones provide long battery life when traveling, have excellent music quality and very reliable bluetooth connection. Microphones should reach speakers in the room which don`t sit next to the Speaker and but also remove background noise. Trying to square the circle?Setup, Installation and ConfigurationSetup was quick and easy: Connect the USB cable to my laptop and to my SmartPhone using Bluetooth, both were detected immediately. Big unexpected surprise: Bluetooth connection works across different levels in my house, so I could receive calls upstairs in my office when my Phone was left in the living room. Then I downloaded Plantronics Hub App for Windows to update latest firmware which promised a new feature: switching Calisto into mute when not talking for a longer time and silencing background noise ("NoiseBlock™ technology". USB Cable also offers a locking mechanism which might be very useful in larger shared office rooms. Haven`t seen it with my other speaker phones I am using like Sennheiser SP 220 and Jabra 710. I don`t want to miss to mention that I prefer the way Sennheiser and Jabra can store the cable which looks neater.Microphone and Sound QualityI listen a lot to music, podcasts and Audio Books everyday for entertainment and professional education purposes. I am currently listening to Spanish Guitar Flamenco Music and I am impressed about clear mid tunes and crisp trebles sound, same for Civil War`s Billie Jean. So for me it`s a joy to use them for this use case and I don`t have other Loudspeakers connected to my PC anymore which make spontanous calls much easier. Really hate to switch devices in Windows10 settings when getting incoming calls.Listen to my voice sample where I am talking to the 4 microphones which promise 360° coverage in a distance between 10 cm to 7m https://ragnar365.blog/2019/01/18/review-of-plantronics-calisto-7200-speaker-phones-short-look-at-calisto-3200-and-5200/
Date published: 2019-04-30T00:00:00-04:00
Rated

5

out of

5
by
DoctorC
from
Awesome sound quality even in open office space
This is a fantastic piece of kit. i use in home office but have used in our work office as well. I have even used it for a company conference call with 50 people in an open office space and everyone was amazed that it sounded excellent and remote users could hear all users clearly...I have tested against equivalent devices from Jabra and others and this is much better than all of them for sound quality.
Date published: 2019-05-03T00:00:00-04:00
Rated

5

out of

5
by
ManiVRS
from
Easy Setup, Nice design, Good quality, Great Sound
Very happy with the purchase. Does exactly what it claims. Fairly easy to setup for first time use. Great sound quality. Positioning of power & Bluetooth buttons makes it hard to know the status (because of how I am having to place the speaker on my desk, those buttons are away from my view). The speaker connects to the computer with multiple names (wired/bluetooth connection etc.) at the same time making it challenging to know which one to connect to. The speaker goes into constant "in-use" mode when Cisco WebEx Meetings application is opened, making it unavailable for subsequent incoming/outgoing calls, or the next WebEx/Zoom meeting using Computer Audio.
Date published: 2019-07-01T00:00:00-04:00