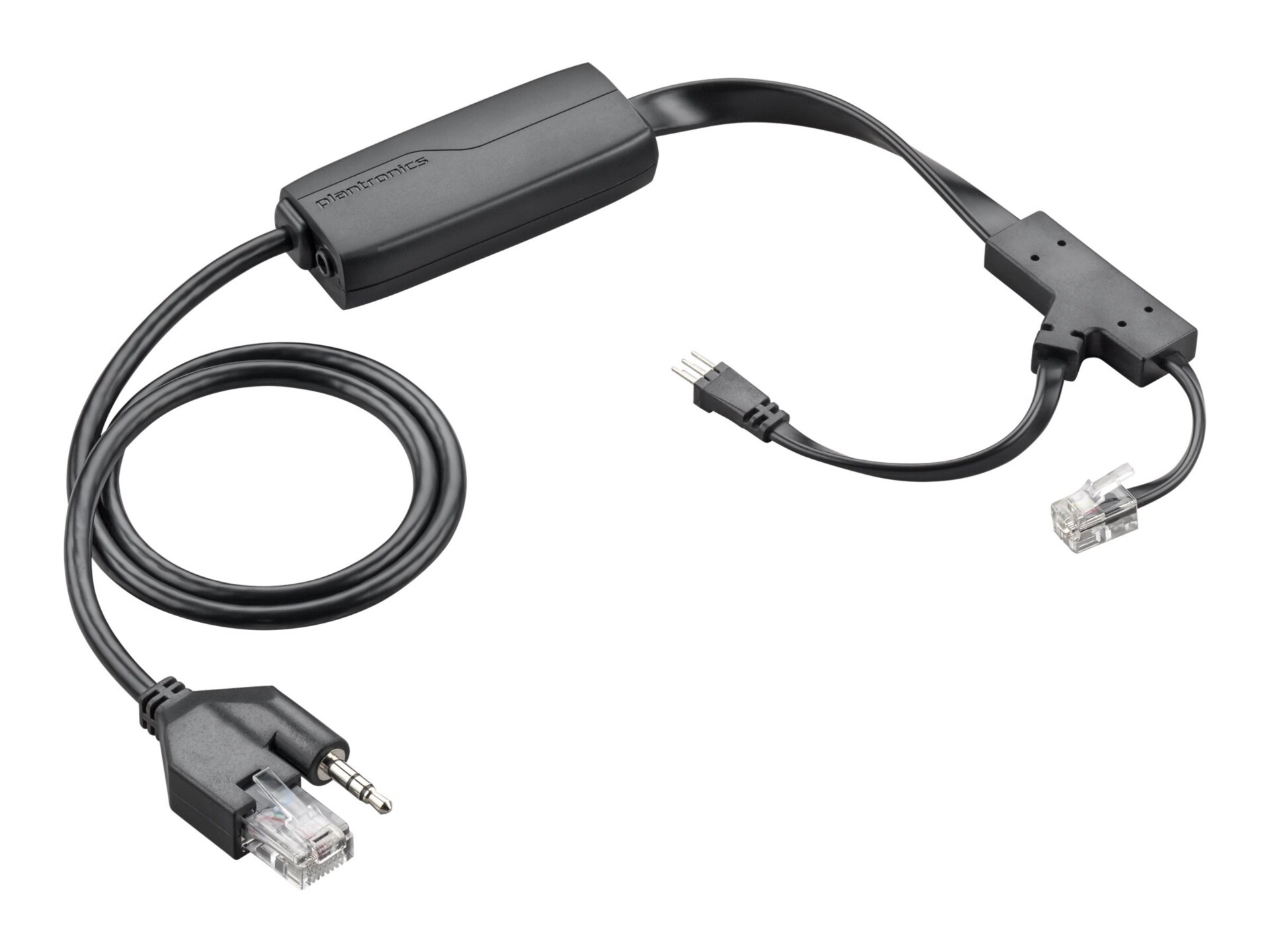 Quick tech specs
51
for Poly MDA200; CS 510
540; Savi W710
W730
Hook switch for phone
520
W720
View All
Know your gear
Electronic Hook Switch Cable for remote desk phone call control (answer/end). This cable eliminates the need for a HL10 Handset Lifter.

This cable works with Polycom desk phones and may work with additional manufacturers, check with our Product Configurator for more information.

Replacement Note: The APP-51 EHS cable replaces the APS-50 cable and features compatibility with the Plantronics On-line Indicator accessory.
Plantronics EHS APP-51 - hook switch
is rated
4.20
out of
5
by
5
.
Rated

5

out of

5
by
kram82
from
Must have for Polycom phones
If you want your Plantronics headset to automatically answer the phone without pressing buttons on the phone itself, this is a must have. We had Shoretel phones prior to Polycom and it worked without special cables. Once we migrated, we lost the ability to answer and hangup calls on our headsets. This cable solves that problem entirely. It's a tad expensive in my opinion but worth it if you're on a headset frequently.
Date published: 2018-04-17T00:00:00-04:00
Rated

5

out of

5
by
CLK1
from
A Must Have!
A must have if you work from home or walk around your office!
Date published: 2019-06-21T00:00:00-04:00
Rated

5

out of

5
by
Doc44
from
An unexpected time-management benefit!
I use a Plantronics wireless headset with my internet phone and have been very pleased with the reception and comfort of the earphones. However, I always seemed to be "tethered" to the phone because I had to answer each call manually using a keypad button. Now, if each and every client called at the appointed time, this would not be a problem...but this is just not the case in this complex business climate. The EHS Cable addressed this issue brilliantly by allowing me to answer each and every call from anywhere in the office as long as I had the headset on. Problem solved!
Date published: 2017-03-08T00:00:00-05:00
Rated

5

out of

5
by
batemanjd
from
Plantronics-EHS Cable APP-51 (Polycom
The first cable didn't work, I called Plantronics and everyone there was very kind and helpful. They overnighted the second cable and it works perfectly. The quality of sound is crystal clear. Also, I love that I don't have to add a hand receiver lift and can choose to answer my phone either by using the headset or picking up the receiver itself. I've recommended Plantronics headset & the EHS cable to our regional manager.
Date published: 2015-11-11T00:00:00-05:00
Rated

5

out of

5
by
Counselor1025
from
It works
Initially I had some problems with disconnects installed on my Polycom phone. After speaking directly with tech support I was advised to make a settings change on the phone. It now works flawlessly with my phone and the Plantronics Savi 700 headset.
Date published: 2016-11-09T00:00:00-05:00
Rated

5

out of

5
by
Lisa56789
from
null
Even after I got this part it still doesn't work with my phone :(
Date published: 2018-04-06T00:00:00-04:00
Rated

5

out of

5
by
Cheryl
from
Good customer service
I have had no problem with the products I have purchased, except for the EHS cable that I had originally ordered. It did not work properly, but, I was able to contact Plantronics and was walked through needed steps to determine why I was not getting my calls as should have been. It was determined that it was a faulty cable, and Plantronics overnighted me a new one with a return label to send back the original one. These things happen. The new one works and I was very pleased with the level of customer service.
Date published: 2014-03-17T00:00:00-04:00
Rated

5

out of

5
by
hpis250
from
Not compatible
I have a polycom soundpoint 32x/33x and this cable was not compatible. Not enough plug ins for this cable.
Date published: 2014-12-29T00:00:00-05:00
Rated

5

out of

5
by
IMtheOM
from
Convenient!
I used the headset lifter with my previous Plantronics headset and sometimes the handset would fall off and I would have to manually hang up anyway. With this EHS Cable I don't have to worry about any moving parts. What a blessing.
Date published: 2014-07-25T00:00:00-04:00
Rated

5

out of

5
by
eric81611
from
Seamless Call Transition
I purchased the APP-51 EHS Cable to compliment my Plantronics CS-540 headset. The alternative was to purchase the handheld lifter which was the same price as the APP-51 EHS Cable. Calls are seamlessly transferred from my phone peripheral to the wireless headset without any interference or issues. I highly recommend complimenting the Plantronics CS-540 headset with the APP-51 EHS Cable.
Date published: 2016-11-22T00:00:00-05:00