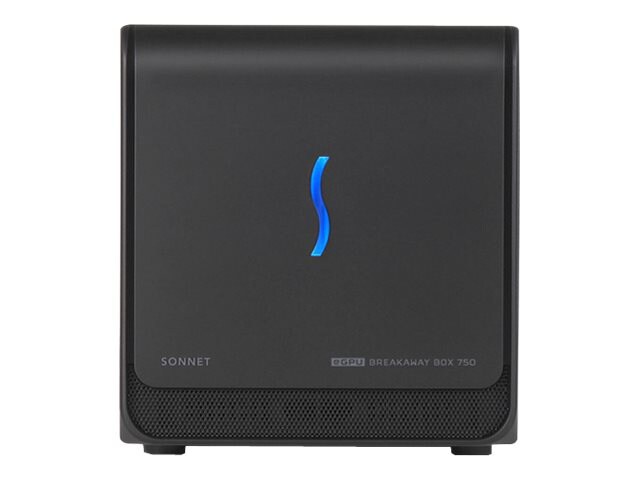 Quick tech specs
System bus extender
750 Watt
View All
Know your gear
Whether you're editing, rendering, color grading, animating or creating special effects, many of the pro applications you use rely on desktop and workstation graphics (GPU) cards to do the heavy lifting in processing data. Unfortunately, many popular computers are equipped only with integrated graphics or low-power discrete GPUs that bottleneck performance when performing these tasks. Happily, there's a simple path to greater productivity - add a Sonnet external GPU (eGPU). The eGPU Breakaway Box 750 Thunderbolt 3 to GPU PCIe card expansion systems boost your eGPU-compatible computer's graphics performance by connecting a high-performance GPU card to your computer via a single cable.

With each new generation of GPU cards, users can look forward to a step (or leap) forward in performance. Less predictable is how much power they will require to operate - better performance frequently requires increased power. For eGPU users, power consumption can be a concern. Don't limit your future card choices - choose a Sonnet eGPU Breakaway Box 750. Equipped with 750W power supplies, these Sonnet chassis easily support the highest power demands of latest GPUs and have plenty of extra power to support GPU cards from generations to come.

eGPU Breakaway Box 750 systems are designed specifically to accommodate the most power-hungry double-width GPU cards. They support Thunderbolt-compatible cards with popular GPU chipsets - such as AMD Radeon RX series (including VEGA GPUs); and NVIDIA GeForce series and TITAN GPUs. Even the latest pro cards - AMD Radeon Pro and NVIDIA Quadro GPUs - are supported! With a GPU card installed, a Breakaway Box functions as a simple plug-in upgrade to significantly accelerate the demanding needs of your video production workflow.