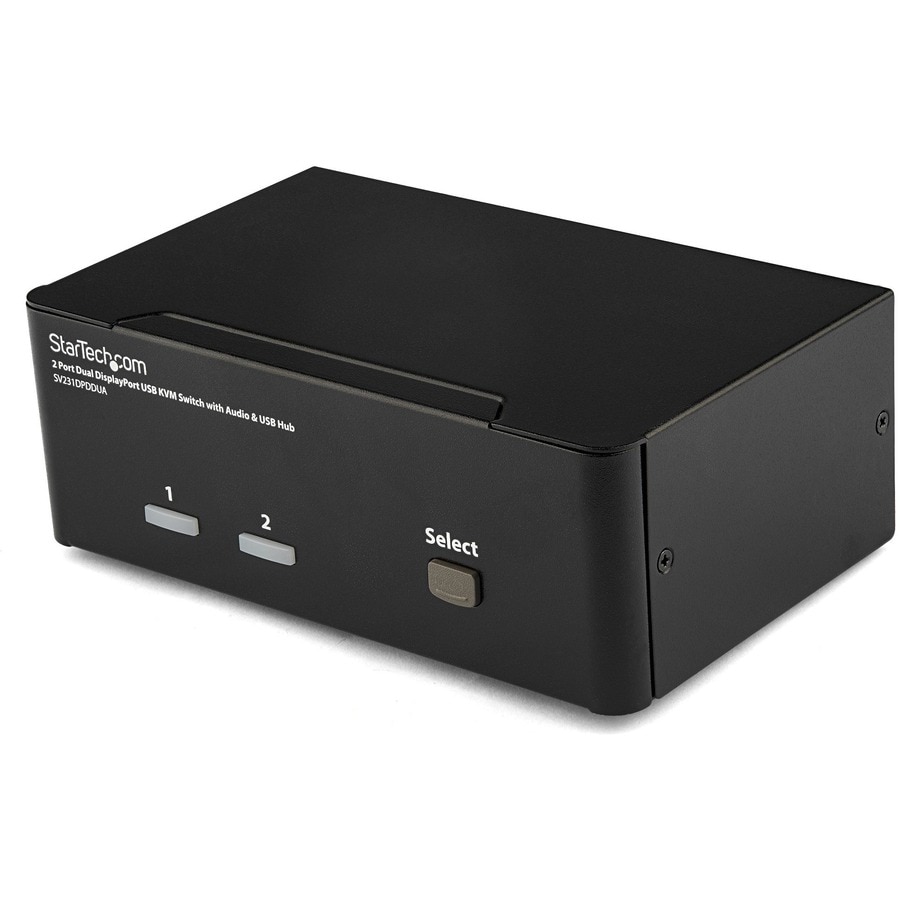 Quick tech specs
Control 2 high-resolution dual DisplayPort computers with a single console
Supports resolutions up to 2560x1600
Perfect for high-resolution applications such as Multimedia design,multimedia post-production and video editing
Compatible with DisplayPort equipped desktop and notebook computers and DisplayPort monitors
USB KVM Switch/DisplayPort KVM Switch/DisplayPort KVM/Desktop KVM Switch/DP KVM/DP KVM switch/USB keyboard and mouse with DisplayPort monitor
View All
Know your gear
Control 2 high-resolution dual DisplayPort computers with a single console. The SV231DPDDUA 2-Port USB Dual DisplayPort KVM Switch with Audio and USB 2.0 Hub combines next generation digital display standards with seamless KVM control, allowing you to switch between 2 dual head or twin DisplayPort systems. Also ideal for systems with a single DisplayPort output, and a second video source such as DVI or HDMI, using a low cost accessory adapter.

Delivering multi-computer control for high-res multimedia applications, the dual view KVM supports resolutions of 2560x1600 (@60 Hz) with DisplayPort HD audio, as well as 2-channel analog stereo audio and microphone input.

Suitable for high quality static imaging, such as medical applications (MRI, X-ray, etc.), a maximum resolution of 3840x2400 is supported at reduced refresh rates.


StarTech.com 2 Port Dual DisplayPort USB KVM Switch w/ Audio & USB Hub
is rated
3.50
out of
5
by
2
.
Rated

5

out of

5
by
RespDave
from
Can't recommend - way too twitchy and buggy
I really should've paid attention to the other reviewers' experiences. I have also found that there's too much magic involved to get my two-PC/two monitor desk setup to work consistently with this thing (I have an HP Z240 desktop, a docked HP Zbook 15 G2 laptop, and a pair of slightly older Philips 240B's). Full disclosure: the cables from KVM to monitors are DP-to-DVI, since they lack DP inputs. Oh, and one laptop dock output is DVI, so there's a powered DVI-to-DP converter, also StarTech, in the mixFunctionally this works as well as other KVMs - a quick keyboard sequence always triggers the one-two switch, and the mouse, another USB peripheral, and audio swap seamlessly, but invariably one monitor or the other will randomly go dark with a "no video input, going to sleep" advisory. No amount of "re-detect monitor" triggering at either PC works. And I've played endlessly with both PC's advanced EDID settings and can't make a difference. It seems like it's more likely to fail the longer I stay at either PC without switching. Though I can eject and redock the running laptop and usually recover on that end.No, too much of a daily hassle. Eventually I'll find a better solution.
Date published: 2018-06-03T00:00:00-04:00
Rated

5

out of

5
by
IT Support Tech
from
Frustrating
Support about 40 of these and work most of the time but have a high level of failures from keyboard/mouse not working to screens not always detecting. Have to buy several replacements each year. Wish there was an alternative on the market
Date published: 2018-09-20T00:00:00-04:00
Rated

5

out of

5
by
BillRyan
from
Very mixed feelings with this...
First, let me note I received this item in exchange for an impartial review.That said, please pay attention and know what you want and need before buying this. DisplayPort is NOT HDMI. They look similar but aren't and unless you have DisplayPort, you'll need an adapter which will delay things.Past that, this is as easy to use as any other KVM StartTech offers. It's not a low end KVM. This is serious KVM for people that want and need a professional product.The scenario this solves is simple - Multiple computers, typically a Desktop and a laptop or two towers and one primary monitor, mouse, speakers and peripherals that you want to share with the two computers. Very simple solution to an annoying problem. The construction is really solid as I said above, it's durable and strong, allows some air flow so heat isn't a huge issue and everything fits pretty as well as it could. Unlike the other KVM switches I've got here, this one started out working great and then got really sketchy. I see a few others noted a few problems. I'll just say I've had the same ones almost identical. HOWEVER, it's easily fixed, very intermittent and is seldom a very big problem. To fix it you hit the button twice. Yet it still does seem weird and my only concern is that it seems to have gotten worse over time, the quick fix may not continue working.As long as you know what your components are, understand DisplayPort vs HDMI, have the adapters if you need them, you'll have this thing out of the box and working in a few minutes. I was hoping I had a bad unit until I saw a few other people post about it. Time will tell.
Date published: 2017-09-14T00:00:00-04:00
Rated

5

out of

5
by
sefanzed
from
Not really Mac Compatible
I bought this after speaking with Startech's support team, which while they didn't really know a lot about this product, were generally helpful.First the Good news. Supports DisplayPort to legacy adapters very well. I'm running a 30" Apple monitor (w/powered adapter) and 27" hdmi (passive adapter) between two macs. No video problems. Now the Bad news: The unit doesn't recognize a mac keyboard, (according to StarTech support "no KVM does")so in addition of not being able to use the HOT key switching, the unit won't even pass keystrokes from the dedicated keyboard usb in to either or both machines (I got inconsistent results from this- I tried 2 units). Fortunately, the hub works just fine, so if you place the unit where you can reach it, it will perform well (just don't use the dedicated keyboard or mouse inputs). The unit is well priced at amazon and rakuten, and compared to other solutions (which also have their own issues) it's at least workable. Would hope that their Asian development partners start supporting Macintosh products. There are more than just cheap PC's out there!
Date published: 2014-05-25T00:00:00-04:00
Rated

5

out of

5
by
PeteDarton
from
Poor Device
Been looking after lots of these devices for several weeks now and no end of problems. Problems: have to type each key twice at bios level, screens go blank when lost focus or go into powersave mode. Have to switch PC off/on to get video output again. remote desktop comes inactive at times when trying to connect to remote server, have to close down and reopen. These are just a few of the issues, very poor performance for what should be a simple product.
Date published: 2016-01-18T00:00:00-05:00
Rated

5

out of

5
by
Dchorney
from
Works great
I get dual monitor on both computers, the audio also switches to the computer I'm working on.
Date published: 2017-03-04T00:00:00-05:00
Rated

5

out of

5
by
jbeck
from
Product as described. Works good.
I would recommend this to anyone with dual monitors and two pc's. The only issue I had was that Windows 7 kept adjusting the displays when I switched between computers. It was a real annoyance to find all my windows, icons and screen resolutions messed up every time I switched. I finally after about a week of annoyances found a setting in my catalyst control center to disable display polling which fixed the problem for me.
Date published: 2017-07-17T00:00:00-04:00
Rated

5

out of

5
by
fleebness
from
Frustrating to use, bad keyboard passthrough
After installing this, I noticed serious problems typing at normal speeds. This KVM will either drop or transpose characters as you type them, for some peculiar reason. As a consequence, I find myself plugging my keyboard into the machine I wish to use manually, almost defeating the point of having this.Switching between machines will work, but perhaps because they do not feed any information between the machine from which you've switch and the now-missing displays, something seems to get reset, and you find yourself having to fiddle with settings when you return.It does maintain good video quality (otherwise), and not a problem with the mouse.The keyboard issue is serious enough to warrant a 2 star rating instead of the 4 stars I would otherwise give this.
Date published: 2016-08-07T00:00:00-04:00
Rated

5

out of

5
by
Pedalvet
from
Perfect
Does exactly what I need it to. No muss, no fuss. Took 5 minutes to hook up, and it's worked perfectly ever since.
Date published: 2017-02-11T00:00:00-05:00