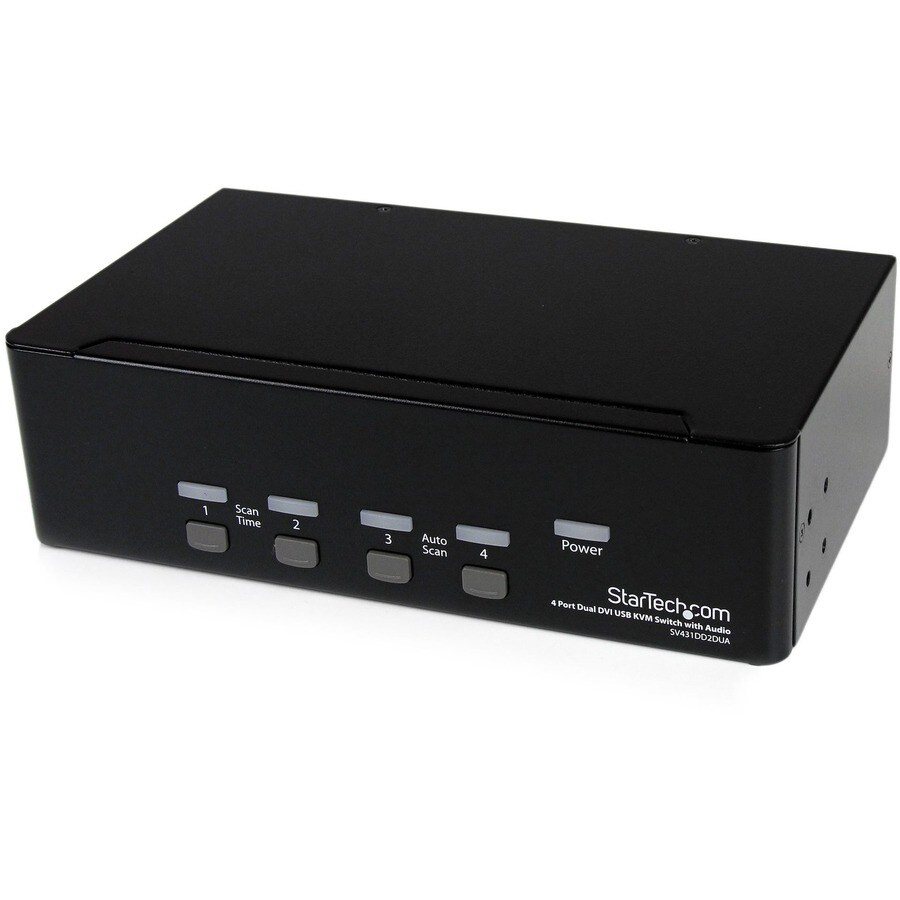 Quick tech specs
Share a keyboard,mouse and dual DVI displays/monitors between 4 multimedia computers
Dual Monitor KVM Switch/Dual Display KVM/Dual DVI KVM/Multi-Monitor KVM
USB 2.0 hub and Mic/Audio ports
Quad system control for a single user workstation with dual monitors,increasing productivity in the office or at home
Compatible with the Thinkpad Pro Dock
Supports resolutions up to 2048x1536 (analog)/1920x1200 (digital)
Control 4 dual display computers with a single set of peripherals
View All
Know your gear
The SV431DD2DUA 4-port Dual DVI USB KVM Switch allows up to four PCs, each with dual DVI video outputs, to share two monitors, one microphone and set of speakers, one keyboard and one mouse as well as two other USB peripherals.

An ideal solution for graphic designers, CAD/CAM designers or educational and financial institutions, the dual view KVM Switch allows you to instantly switch back and forth between dual DVI display PCs at the touch of a button, while maintaining professional level video quality on both monitors. The dual DVI switch also features an integrated USB hub port that allows USB 2.0 peripherals such as thumb drives, external hard drives or web cams to be shared between attached systems - eliminating duplicate peripheral costs.

While both DVI-I (analog mode) and DVI-D (digital only) are supported by the KVM, both source PCs should output the same signal type for proper switching. It is recommended wherever possible to use DVI-D cables across all PC to KVM and KVM to Console connections.


StarTech.com 4 Port Dual DVI USB KVM Switch w/ Audio & USB Hub
is rated
4.00
out of
5
by
2
.
Rated

5

out of

5
by
hpJA
from
Love it
Had previous experience with a dual port DVI and VGA StarTech KVM and this one is just as good. Yes, the hot keys don't work with a wireless keyboard but I suspect that is more a function of the keyboard driver than the KVM switch, since the last unit I had also had a wireless keyboard and mouse and was flawless in its operations. It would be nice if the DVI connectors were just a smidgen (metric) further apart from one another, but these are minor issues that have nothing to do with the quality or the operation of the unit itself.I love the fact that this is a metal housing; makes it stay put and feels high quality.
Date published: 2017-02-07T00:00:00-05:00
Rated

5

out of

5
by
bdaboy22
from
Good but one main flaw
This is a good dual monitor DVI switch but with one main flaw. The DVI ports are very close to each other. If you have existing cables, you will more than likely need to take a knife to them and trim down so they will fit next to each other.To the engineers:Since this device is too small for a 1U rack, why not make it 10mm wider so the ports can have some room between them?
Date published: 2014-11-08T00:00:00-05:00
Rated

5

out of

5
by
Richii
from
Mostly Happy with this unit
Works like it should for the most part. Can have USB keyboard and mouse installed and two other USB devices such as Headphones, usb drives, etc. and toggle them with or leave them when switching computers. This does work on both PC and Apple. Con 1 VGA signal converters (non-powered) do not work on the DVI ports on this. Con 2 I also bought a Kinesis keyboard FreeStyle2 for Mac (Model# KB800HMBUS) that has a split keyboard. It works horribly with this. When ever plugged into the keyboard port. If I use one of the non keyboard and mouse ports it works 100% fine but I cannot use the keyboard hotkeys to switch between computers. Also when using it on the keyboard port I have to type very, very, slowly or I get duplicate letters by pressing only 1 time and it will occasionally just stop working and I have to unplug it and plug it back in. Using a standard non split keyboard worked fine so must be some issue with the split keyboard (maybe not enough power or something). Sometimes swapping devices with my Logitech USB head phones does not pick up or swap 100% of the time.
Date published: 2015-01-05T00:00:00-05:00