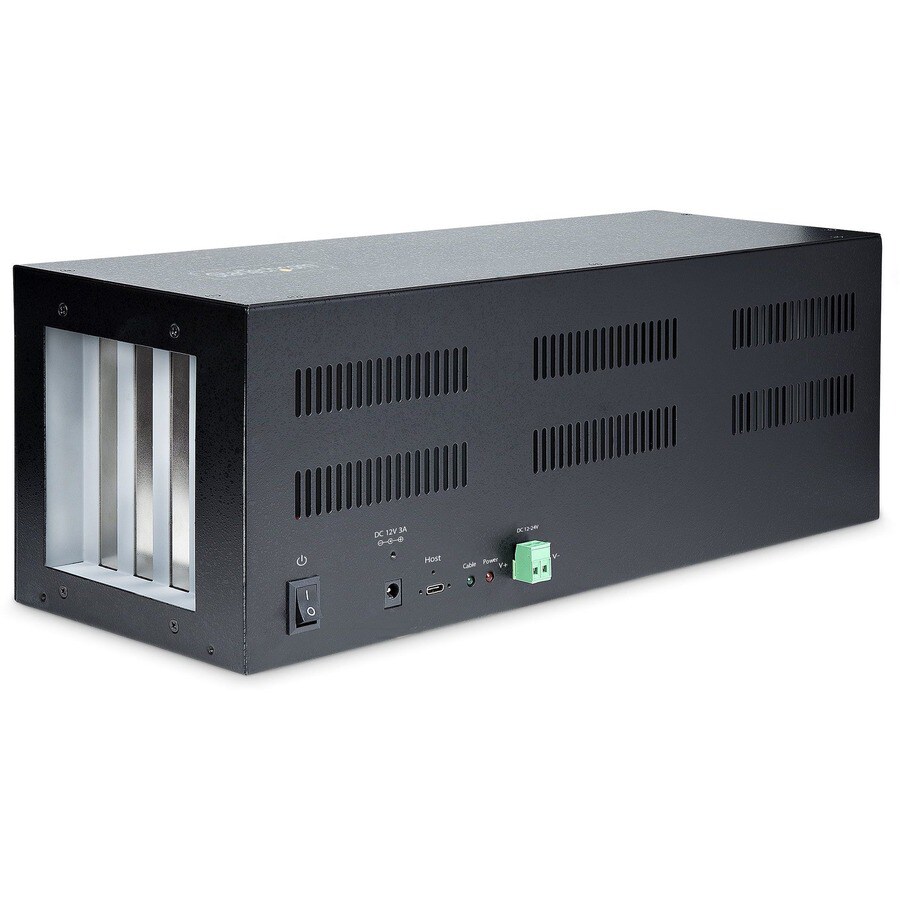 Quick tech specs
Slot PCIe Expansion Chassis with PCIe x2 Host Card
10Gbps
PCI Express Expansion Box/Adapter
System bus extender
PCIe 2.0
External PCIe Slots for Desktops/Servers
4 PCIe x1 Slots
View All
Know your gear
The robust expansion chassis supports 4 PCIe x1 add-on cards and features up to 10Gbps of total bandwidth. The expansion chassis connects to the host using a proprietary USB-C PCIe x2 adapter card and a locking USB Type-C cable. Take advantage of features such as Wake-on-LAN (WoL), support for PCI Express Advanced Error Reporting (AER), backwards compatibility, and multiple power capabilities.
External PCIe Expansion Box
The chassis communicates with the desktop computer or server using a host card (PCIe 2.0 x2) in combination with the 5.9ft (1.8m) USB Type-C (USB-C) cable with screw-locks. The included low-profile bracket widens the compatibility as you can install the host card in small form factor (SFF) systems. Features support for PCI-E Advanced Error Reporting (AER) and EndPoint Cyclic Redundancy Check (ECRC). Both of these PCIe features to aid in establishing and maintaining PCIe connections between devices.
The PCI Express expansion box does not require drivers to be installed. It is operating system independent and compatible with Windows, Linux, or macOS. Note: the expansion cards installed in the chassis may require drivers.
Robust Construction
The expansion chassis is built with SECC galvanized steel, enabling it to operate in harsh environments. It features an operating temperature range of 32° to 140°F (0° to 60°C). The vented design of the chassis allows for passive cooling and quiet operation. Secure the enclosure to the desired location using the mounting brackets and included hardware.
Power Options
Power the expansion chassis via the PCIe Host Adapter Card with 5 or 12VDC delivered through the USB Type-C cable, the DC power adapter 12V 3A, or the terminal block port that supports 12 to 24VDC and 3A.
Applications
There are multiple application scenarios:
Upgrade or swap cards with ease.
Test hardware between multiple computers, operating systems, or with different devices/peripherals.
Maximize the I/O capabilities of the host system by installing Ethernet or fiber, USB, serial, or parallel PCIe cards.
Avoid costly computer/server upgrades when more expansion slots are unavailable.
The external PCIe slots for desktop is backed for two years, including free lifetime 24/5 multi-lingual technical assistance.