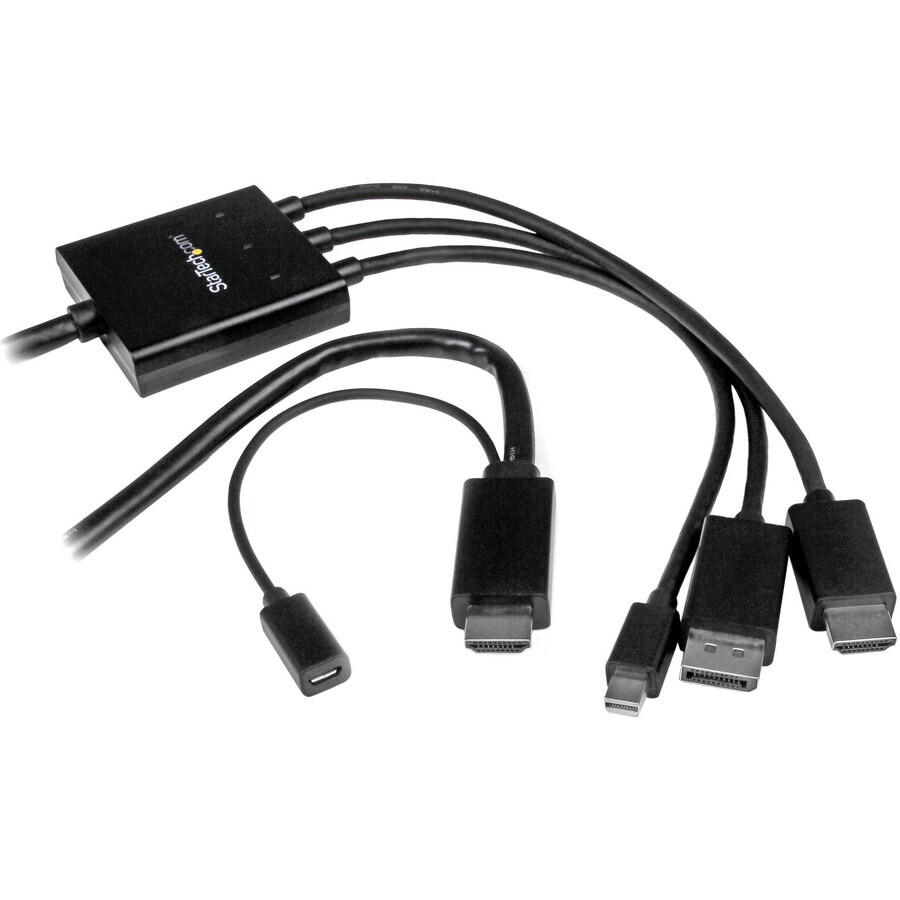 Quick tech specs
Connect your HDMI or DisplayPort or Mini DisplayPort laptop to an HDMI display or projector
Replace multiple boardroom adapters with a single adapter that can support three video inputs
Avoid the hassle of using multiple adapters in a single boardroom
2m Mini DisplayPort to HDMI Adapter/DisplayPort to HDMI Adapter/6 ft Mini DP or DP to HDMI Converter/6' HDMI or DP or Mini DP to HDMI Converter Cable
Be prepared for all your presentation and different user needs
View All
Know your gear
Connect your HDMI, DisplayPort, or Mini DisplayPort laptop to an HDMI display or projector. This unique adapter cable lets you connect almost any laptop or desktop computer to an HDMI display or projector. It supports the HDMI, DisplayPort and Mini DisplayPort output from your computer and video resolutions up to Ultra HD 4K.

This versatile adapter cable is also Thunderbolt compatible, when connected directly to a supporting DisplayPort over a Thunderbolt I/O port.

This adapter cable is ideal for your boardroom's HDMI display or projector. You can reduce clutter and eliminate the need for multiple adapters on your boardroom table by providing a single adapter cable that can support a variety of signals.

The adapter cable supports multiple input signal types, so you'll be able to accommodate a variety of user needs. Employees and guests can plug in their HDMI, DP or mDP laptops and deliver their presentations using your boardroom's HDMI display, without having to carry their own adapters.

This adapter cable ensures you can maintain an astonishing picture quality with four times the resolution of 1080p. The adapter is also backward compatible with lower resolution displays and video sources. With support for high-definition resolutions of 1080p and 720p, you can future-proof your existing setup for 4K video.

The adapter can be powered through the provided Micro-USB cable by connecting the cable from the adapter to a USB port on the user's laptop or to a USB port on the HDMI display. The user can then connect their laptop to either input on the adapter cable and share their presentations.