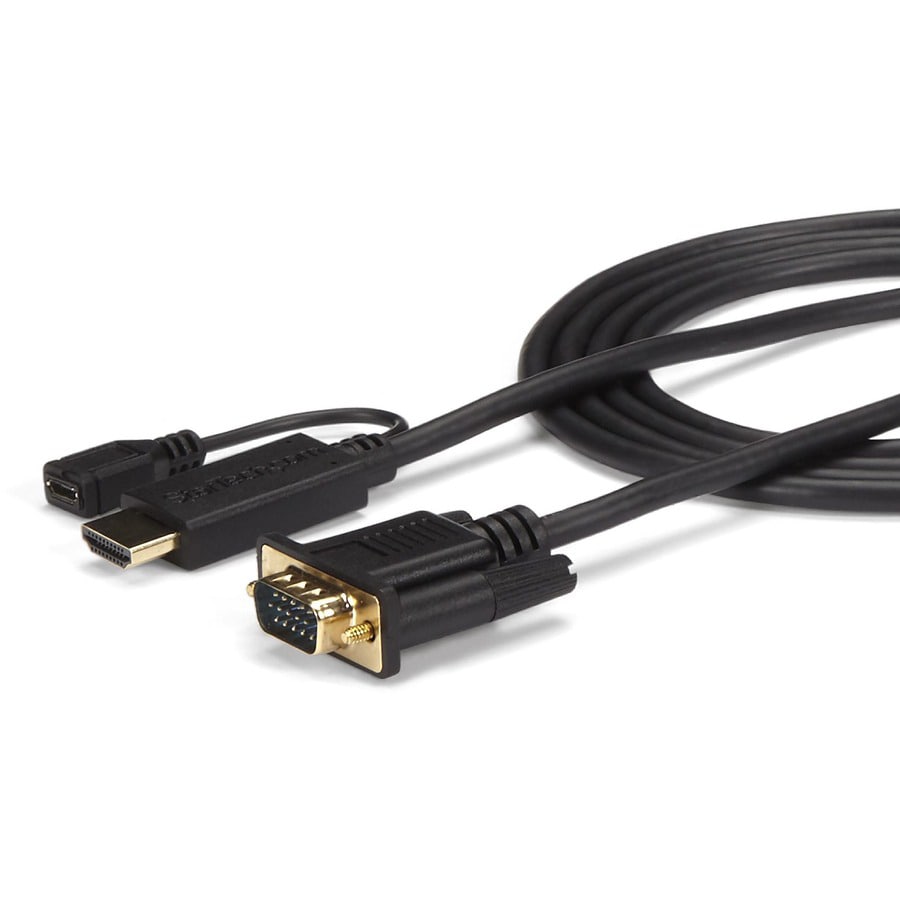 Quick tech specs
Eliminate adapters by connecting your HDMI source directly to a VGA monitor/projector using this 6ft adapter cable
HDMI to VGA adapter/HDMI to VGA cable/Converter HDMI to VGA/HDMI to VGA adapter cable
Compatible with HDMI equipped computer systems such as Lenovo Y50 and Dell Chromebook 11 and VGA monitors and projectors
Connect your VGA display directly to your HDMI computer without a single cable that requires no converters or additional cabling
View All
Know your gear
Eliminate adapters, by connecting your HDMI source directly to a VGA monitor/projector using this 6ft adapter cable. The HD2VGAMM6 6ft HDMI to VGA converter cable lets you connect your HDMI equipped Chromebook, laptop or desktop to a VGA monitor or projector, with no additional adapters or cables required.

The converter cable saves you the hassle of combining an HDMI to VGA adapter with a bulky VGA cable by providing an end-to-end solution for connecting your digital HDMI computer to your VGA monitor or projector.

Unlike most HDMI to VGA adapters which require a power outlet to convert the video signal, the HD2VGAMM6 doesn't need external power in most installations. To work with Mac computers where extra power is needed, the HD2VGAMM6 features an optional integrated USB power source (USB cable not included), which makes connecting a display to your desktop or workstation that much easier, if additional power is required.

In the past, converting digital HDMI to analog VGA was a difficult and expensive task. Now, you can avoid upgrade costs by connecting your HDMI video source to your existing VGA monitor or projector using the HD2VGAMM6. Plus, because the adapter cable supports video resolutions up to 1920x1200 or 1080p, you can rest assured you can use your existing VGA display while maintaining high-definition video quality.

The HD2VGAMM6 converter cable delivers a precise 6ft connection that eliminates the clutter of excess cable length and ensures a tidy, professional installation.


StarTech.com 6ft HDMI to VGA active converter cable HDMI to VGA adapter - v
is rated
3.50
out of
5
by
8
.
Rated

5

out of

5
by
TCMi
from
6 ft HDMI to VGA Active Converter Cable
Sadly, we could not get it to function. The computer saw the TV device, but we could not send the signal. Not sure it the issue was the PC, TV or the cable. Note: the cable comes with little/no instructions and does not explain to USB connector well. Normally, Startech items function as spec'd and come with excellent documentation.
Date published: 2015-08-02T00:00:00-04:00
Rated

5

out of

5
by
Starr
from
HDMI to VGA Cable
A good quality cable with really good picture resolution. StarTech seems to have paid attention to detail with this cable by using high quality components. Like any cable it is plug and play. The only let down I had with using this cable was trying to connect a laptop via VGA port to a monitors HDMI port. This did not work. This is only an HDMI source to VGA conversion cable. It will not convert VGA source to HDMI.
Date published: 2017-01-20T00:00:00-05:00
Rated

5

out of

5
by
Benjamin
from
Failed within the first 24 hours of usage
I ordered the cable on December 27th, and it arrived on December 31st. I installed it the afternoon that I got it and it worked almost flawlessly. (The only glitch was that when the computer went to sleep, hibernation or shutoff the Dell monitor (let's call it Monitor 6) that HDMI/VGA cable was attached to would stay ON displaying Dell's Self Test Feature Check while the other 5 monitors would power down. On any normal VGA cable, Monitor 6 will power down with the rest of the monitors.) Aside from the above-mentioned glitch, the HDMI/VGA cable performed correctly... Until this afternoon. This morning the HDMI/VGA cable performed as it had yesterday (glitch included). But, when I woke my computer from Sleep mode this afternoon the computer no longer recognized there being a 6th monitor and Monitor 6 continued displaying Dell's Self Test Feature Check as it had when the computer was asleep. I've tested the HDMI/VGA cable on other monitors that I know work, but with the HDMI/VGA cable, the monitor and computer fail to recognize each other's existence.
Date published: 2019-01-01T00:00:00-05:00
Rated

5

out of

5
by
Jessica S
from
Works as intended!
The cable itself is thick and seems like it was built to last. It's a perfect length for connecting an monitor on a desk to a computer on the floor perhaps. Hooking it up, it worked just as I expected. I did not have any problems playing the games I typically play on the computer, and the same holds true for streaming. It's a solid cable that does what it is supposed to do. Please note I received this cable for free for purposes of reviewing it.
Date published: 2017-01-02T00:00:00-05:00
Rated

5

out of

5
by
ScottG416
from
Works as it should - plug and play!
While in the midst of a PC refresh at work I was given the task of adding a second monitor to a work station. Having only one VGA port (already in use) and a free HDMI port I decided to check StarTech.com's connectivity guide and they indeed have a solution for VGA to HDMI. The cable works as it should by plugging it in and I also saved money by not having to buy another video card. Thank you StarTech.com. I received this product in exchange for an unbiased review.
Date published: 2017-01-14T00:00:00-05:00
Rated

5

out of

5
by
NickD_CA1
from
Quality cable works well.
I have been using this product for a few weeks now to send HDMI signal to VGA devices. I have used this device with several different laptops, screens and projectors. The cable comes in a bag with plastic protectors on the ends and no instructions. This is ok as it's very simple and strait forward. The cable is good quality and thickness. It does not get tangled easily and I don't feel like it's going to break near the ends. I have tried other HDMI to VGA cable and they have had bad output where colours are not correct and screen cuts in and out. No issues with this cable so far. I have not needed to use the Micro-USB for added power so far, but I like that I have the option if the situation ever came up. So far I am happy with this product and will continue to use it often. I received this product in exchange for an unbiased review.
Date published: 2017-02-05T00:00:00-05:00
Rated

5

out of

5
by
saraj
from
great product
I received a free sample of the HDMI to VGA Converter Cable to try out and it worked great. The signal was clear, the speed was fast, and I the length of the cord was perfect. I would definitely recommend this product to other and buy another one in the future if needed!
Date published: 2016-12-14T00:00:00-05:00
Rated

5

out of

5
by
Dwardo
from
Works as intended
Have a laptop that I like to watch movies on but the screen is too small for the family. The only output I have on it is HDMI. I have a big monitor that takes a VGA input so I got this cable to use to watch movies from my laptop to my big computer monitor. Picture was clear and sharp and the connection was easy. The cable seems well built and made of good quality. The cable is thick and has some good weight to it. Would definitely recommend this cable to anyone. I received this product in exchange for an unbiased review.
Date published: 2017-01-25T00:00:00-05:00