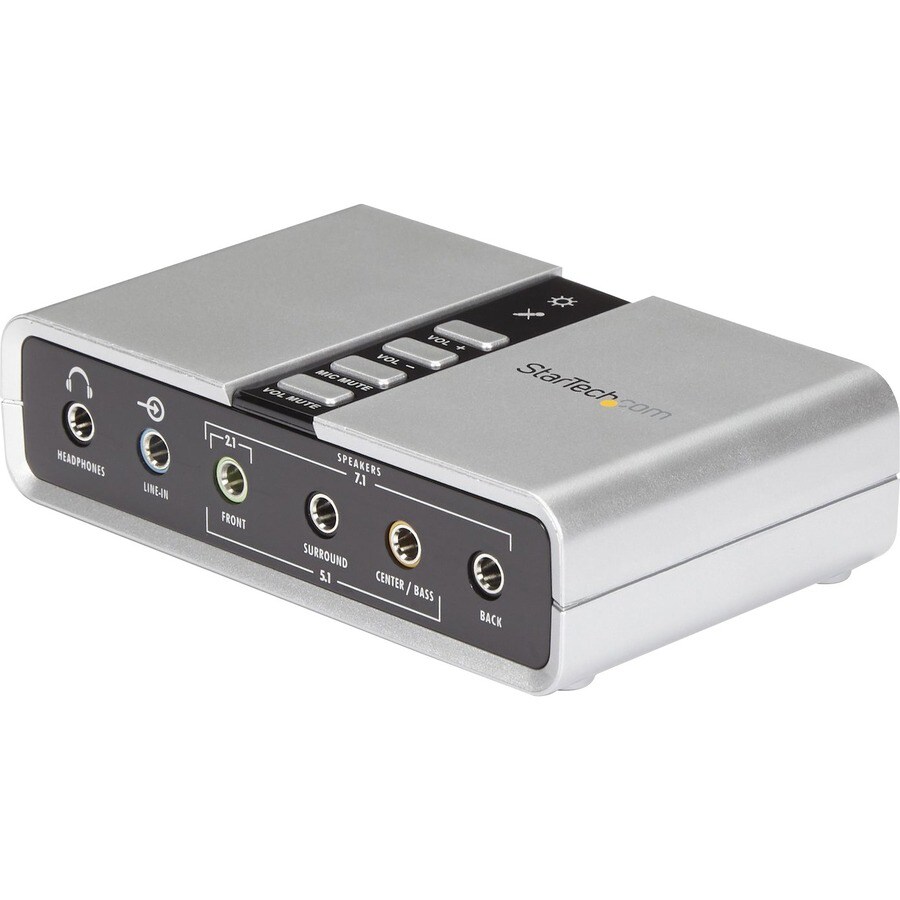 Quick tech specs
Turn your laptop or desktop computer into a 7.1-channel home theater-ready sound system
USB External Sound Card
USB Sound Adapter
USB Sound Card
Laptop Sound Card
USB 7.1
View All
Know your gear
Turn your laptop or desktop computer into a 7.1-channel home theater-ready sound system. This versatile External USB Sound Card/Audio Adapter offers a high quality solution for upgrading desktop or laptop sound.

Providing a robust USB audio experience, the USB sound card connects to a host computer through a single USB 2.0 connection, to deliver impressive external audio capability that can instantly be swapped between systems, without having to open the computer case for installation.

Supporting analog and digital audio for 2 to 7.1 channel audio applications, the external USB sound card provides a cost-saving upgrade from built-in/on-board sound that turns desktop/laptop sound into a home theater-ready audio solution.

The external USB sound card features easy-to-use volume control and two external microphone inputs - a convenient solution for any audio application requiring high quality sound with multi-input capability with support for 44.1 KHz and 48 KHz sampling rates for analog playback and recording or 48 KHz for SPDIF.

A more than suitable solution for home theater, gaming or multi-media presentations, the External USB Sound Card is easy to install with plug and play support in Windows XP and Windows Vista operating systems.

Note: The audio adapter's SPDIF optical pass-through port supports two-channel audio, this port does not support 5.1 or 7.1 audio.


StarTech.com 7.1 USB Audio Adapter Sound Card with SPDIF Digital Audio
is rated
5.00
out of
5
by
6
.
Rated

5

out of

5
by
j_j_
from
Win 10 keeps messing up this device
I have used this device since Feb 2016. It works great when the drivers are correct. However Microsoft updates keep messing up the drivers and it's next to impossible to restore the driver settings. Until a better driver install is available, I suggest avoiding this product or be ready to waste hours upon hours installing drivers.
Date published: 2019-05-11T00:00:00-04:00
Rated

5

out of

5
by
michael9
from
buzzing sound and only stereo is working
I bought this external card to be able to use my Logitech Digital Audio controller for my 5.1 speakers and my new Dell Optiplex 7060, which apparently offers no internal sound card option with a digital audio connection. No problem, except that I get an annoying buzzing sound at any volume, and it's only working in stereo mode and pretty low quality from what I can tell, Something isn't right, but I can't figure out what to do to fix it.
Date published: 2019-01-28T00:00:00-05:00
Rated

5

out of

5
by
ErnieA
from
Works as promised!
This is an excellent audio addition with a 5.1 or 7.1 speaker set. I can work much longer when listening to music through this unit.
Date published: 2014-04-30T00:00:00-04:00
Rated

5

out of

5
by
Seth
from
Better than any internal audio card
I have had one of these for over a year now. Best thing about this card is the ability to have more than one input working at the same time. Windows DRM since Vista has disabled the ability to have Line in and Microphone working at the same time. Since I have two computers, one connected to line in on this and a microphone for talking to friends it does exactly what I need. I have purchased several audio cards and spent hundreds on some that couldn't perform as well as this one.
Date published: 2014-05-26T00:00:00-04:00
Rated

5

out of

5
by
gloway
from
Perfect First Time
I lost all sound to my computer a week ago. Saw this item on you tube.Set it up today.Didn't need any instructions at all.Though I might need a new internal sound card replacement or motherboard.Up and running perfectly in 10 minutes.Thanks guys.Saved me service call that would or could have cost hundreds.Highly recommended.Purchased at Future ShopThanks AgainWayne
Date published: 2014-04-17T00:00:00-04:00
Rated

5

out of

5
by
PhilsComputerLab
from
Average product with hidden limitations
I purchased this unit because I use a Small Form Factor PC with limited upgrade options. On the photos I could see it has a lot of connections. I wasn't interested in the 7.1 features, but more for recording purposes, especially the optical input.The C-Media Audio chip in this device is quite basic, limited to 16 Bit and 48 KHz. So it won't do 24 Bit or 96 KHz or any of that.The specifications and manual mention that the S/PDIF optical input is only pass-through, yet it shows up as an input in Windows 10 and you can record just fine with software such as Audacity.The specifications mention dual microphone inputs. Yes there are 2 ports, and you would assume that you can connect two microphones, but this is not the case. Windows audio properties show only a single microphone input. The way this USB audio device is setup is that the left mic port is for the left channel, and the right port for the right channel. Rather than have a single mic port that does Stereo. Very strange and means if you have standard Stereo Mic you need to get a Y-cable.Finally the device has optical-in, line-in and mic-in. On a standard sound card you can use all the inputs simultaneously. For example receiving music from the line-in, while doing a voice over through the microphone. But this device only supports on of these at a time! So it's either optical in, either line-in or either mic in. But you cannot use two or three inputs at the same time. I'm amazed at this limitation and that this is not mentioned.The driver seems to be quite old and mixer has just two sliders for volume and CD, which makes no sense. There are no sliders for the other ports. The software and driver doesn't seem to add much compared to the built-in functions that Windows 10 provides.On the positive side the build quality seems solid. The buttons on the unit as handy, but most keyboard have the same volume and mute button. The mic mute button though can be very useful.The power LED blinks all the time which is a bit strange.All in all the product didn't meet my expectations, especially that you can only use one input source at a time and that this wasn't mentioned anywhere.
Date published: 2018-11-22T00:00:00-05:00
Rated

5

out of

5
by
Schwarz2503
from
Really good upgrade
Bought this card to take advantage of my Logitech Z506 5.1 Surround audio, however the drivers have not been necessary in my case since windows handles this device so far without problems
Date published: 2019-07-07T00:00:00-04:00
Rated

5

out of

5
by
204Z
from
for the audiophile
turns your laptop into a sound studio. am able to control so much
Date published: 2015-10-11T00:00:00-04:00
Rated

5

out of

5
by
Hap Hazzard
from
Bought for the wrong reason, but supprised.
I have an old Klipsh computer sound speaker system (whose sub is also an amp.) that was paired to a (at that time) high end gaming computer's sound card. Computer long gone now. Found a convoluted way to hook up these speakers to a retired HK receiver using only the pre-amp functions as the amp portion was dead. HK amp fully died. Needed solution to use speakers system. PS: this is still a very good sounding system for my bedroom. Found your 7.1 USB Audio Adaptor. Hoped I could just use it without the computer. No go. Disappointed. Used my notebook. Worked, sort of. Only 2.1 and no headphones. Hmmm. Drivers down loaded automatically were generic. Try the disc, not compatable with Win 10. Went to you web site, got Win 8/10 drivers. WOW. Impressed for such an inexpensive item. Everything works,. Controls the amount of speakers to use and can even use other audio players via the input. Still checking it out, but happy now. Can't run it without the notebook, but for the price, that's OK.
Date published: 2018-11-15T00:00:00-05:00
Rated

5

out of

5
by
Dj Brian Summers
from
powerful and simple
I broke my headphone jack on my laptop and this product fixed all my problems quickly with no effort other than to plug it in and change a couple of settings in the sound options. Very happy customer right here!
Date published: 2015-05-27T00:00:00-04:00