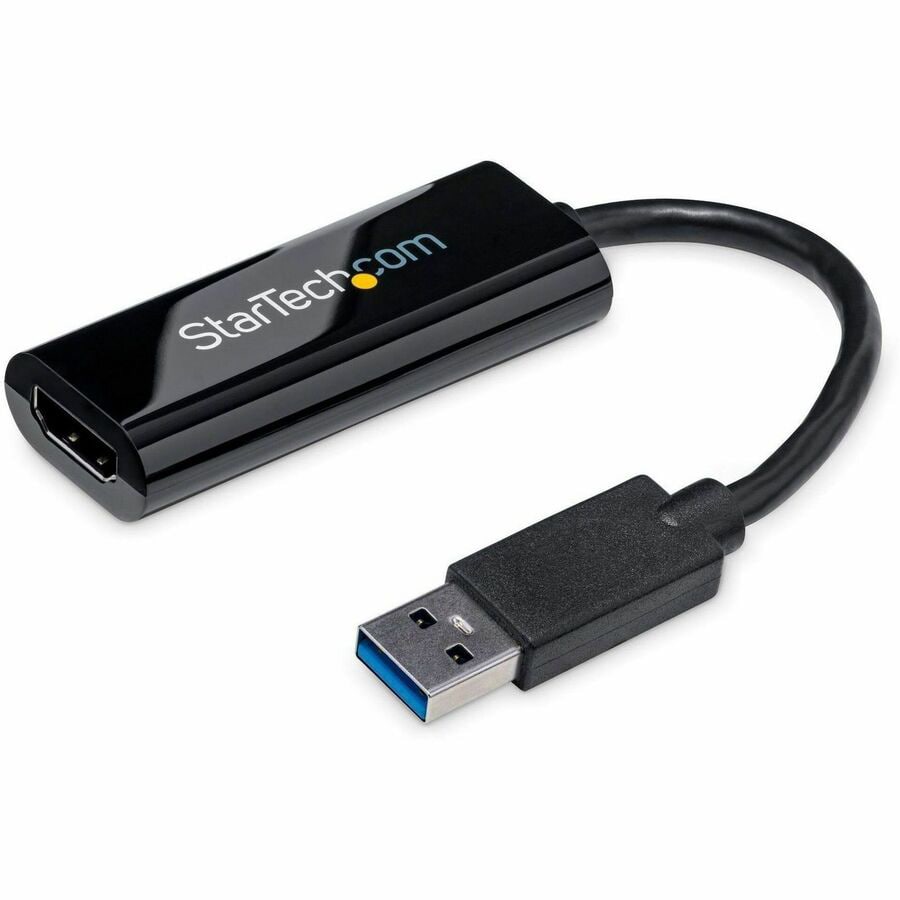 Quick tech specs
USB 3.0 to HDMI adapter connects your USB Type-A computer to an HDMI monitor/projector | 1920x1200 (1080p) | 2ch audio | 2.4in (6cm) cable
Bus-powered external USB 3.0 video graphics card is only compatible w/Windows
Plug and play Auto-driver install
Extend your desktop by adding an additional HDMI display to your workstation | Create dual/multiple-monitor workspace w/ each available USB-A port
USB bus-powered | Portable Ultra slim design | USB to HDMI adapter converter for laptop/PC
View All
Know your gear
The USB32HDES Slim USB 3.0 to HDMI Adapter turns a USB 3.0 port into an HDMI output with 1920x1200/1080p video support. The adapter minimizes clutter with a slim design that seamlessly blends with your video cable - an ideal space-saving solution for multi-monitor applications on Ultrabook, laptop, or desktop computers.

Functioning as an external graphics card, this USB to HDMI adapter provides a convenient way to add multi-monitor capability to a USB 3.0-enabled desktop or laptop computer (optimal performance from USB 3.0, backward compatible with USB 2.0).

To save space while travelling, this ultra-portable USB to HDMI adapter features a lightweight, small footprint design that fits easily in a laptop carrying bag.

Leveraging the high-bandwidth (5 Gbps) SuperSpeed USB 3.0 interface, the adapter delivers smooth, high-definition content to your HDMI display/projector. The adapter can be used to mirror your primary desktop, showing the same image on each display, or to extend your desktop to double your workspace and increase your productivity.


StarTech.com Slim USB 3.0 to HDMI External Video Card Multi Monitor Adapter
is rated
4.44
out of
5
by
9
.
Rated

5

out of

5
by
JOHN R.
from
Works Great
Works great, easy install, download the latest driver/software install the software and then plugged in adaptor. Had a 65 inch monitor setup as a third monitor in less than 5 minutes
Date published: 2020-12-10T07:36:28-05:00
Rated

5

out of

5
by
Newjupiter
from
Excellent HDMI Adapter
I got this for those that needed to connect to our conference room big screen and didn't have an HDMI port. Have had no issues.
Date published: 2017-10-25T00:00:00-04:00
Rated

5

out of

5
by
engRik
from
Does exactly what I needed! This is excellent
I have a laptop with just VGA and HDMI. I have two external monitors, one has DVI and DisplayPort, but no HDMI (it's a 1200 res unit), and my other unit has HDMI and displayport but no DVI. Basically didn't have a way to light them both up (can't use the vga and the HDMI from the laptop at the same time (aarrgghh). So, saw this and PRESTO - two monitors both running at 1200 res, it even (by pure fluke I guess) set itself up as my right hand monitor - exactly what I needed. It's brilliant.
Date published: 2017-04-28T00:00:00-04:00
Rated

5

out of

5
by
Coarse
from
Macbook Pro
I bought this to add a second display to my Startech Thunderbolt dock. However, I didn't realize until I tried to install it that Startech doesn't provide an OSX driver for this device. I was pretty bummed out until I found this article:https://discussions.apple.com/message/19185308#19185308This did the trick for me. I installed the driver recommended in this article and the adapter now works great. I have this device plugged into one of the USB3.0 ports on a Startech Thunderbolt dock. I now have two HDMI displays connected through my Thunderbolt dock. One connected with a thunderbolt to HDMI adapter cable and the other with this adapter.Not sure why Startech doesn't just support and provide this driver directly.I have a Macbook Pro running Mavericks.
Date published: 2014-05-05T00:00:00-04:00
Rated

5

out of

5
by
humberto
from
null
It works fine obviously if drivers are always update. I have had this adapter since three years ago. The only problem sometimes are the updates but works fine. StarTech is definitely an excellent brand for me.
Date published: 2019-01-18T00:00:00-05:00
Rated

5

out of

5
by
Brabus
from
Upgraded from the older VGA version
Well what can I say about this product? Simply that Startech have once again delivered a great device that gives the ability to easily add extra monitors to a laptop or desktop. I had previously been running the older VGA versions for a number of years and I have to say they worked flawlessly.My reason for buying the newer ones is that I upgraded my monitors so thought that I would take the time to upgrade the cards as well. I have been using these now for over a year with no issues. I have 4 of these cards connected to my personal laptop. I can also unplug them and plug them into my work laptop with no issues either.Simply if you want an easy way to add more monitors then buy these. I know next time I swap my monitors in a year or so I will also be upgrading the video cards to the 4K ones as the Startech USB video cards have not let me down over the last 7 years I have been using these and their predecessors.
Date published: 2018-07-12T00:00:00-04:00
Rated

5

out of

5
by
JAs0n
from
Works Good
I've been using the adapter for a few months now and it's been working fine. I wish it had support for Linux/Ubuntu.
Date published: 2018-12-07T00:00:00-05:00
Rated

5

out of

5
by
DannyB
from
Excellent product
I bought this several months ago and so far it has worked very well. Customer support is fantastic for any issues experienced.
Date published: 2019-09-11T00:00:00-04:00
Rated

5

out of

5
by
Bryan
from
Doesn't work on some monitors
Doesn't give enough signal for some monitors. They never come out of sleep.
Date published: 2019-06-20T00:00:00-04:00