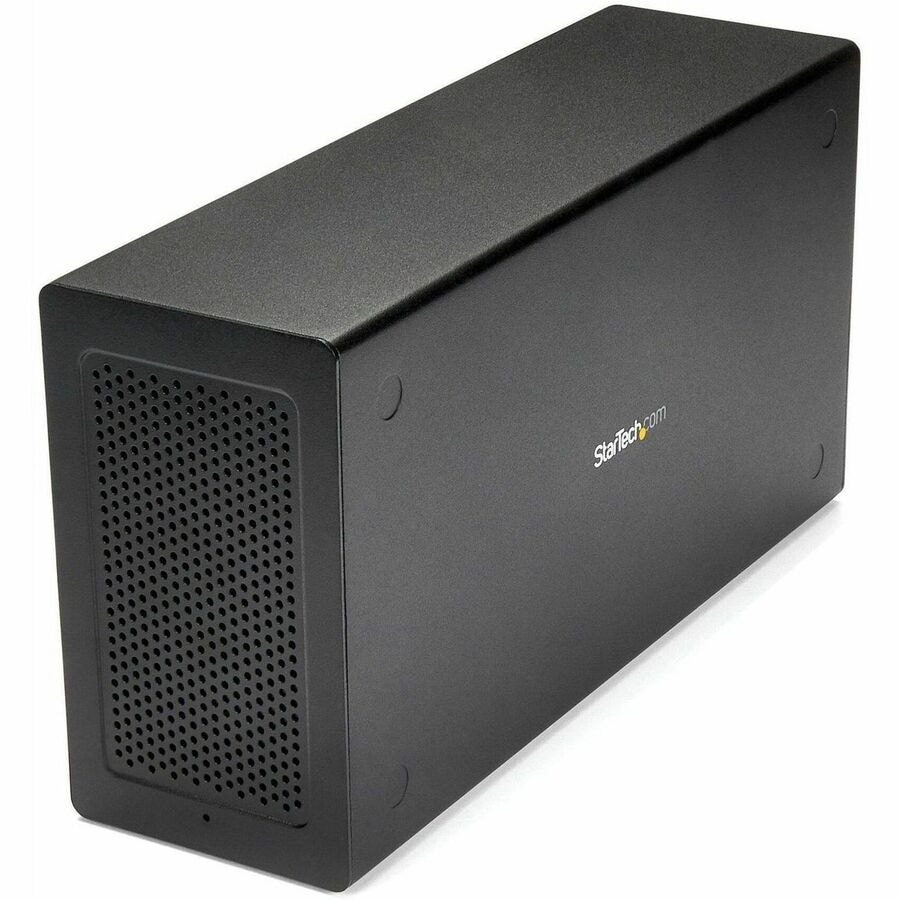 Quick tech specs
Add an external PCI Express 3.0 x16 slot and a 4K DisplayPort connection to your Thunderbolt 3 MacBook or laptop
Add an additional PCIe card to a Thunderbolt 3 computer
Thunderbolt 3 to PCIe / Thunderbolt 3 PCIe Enclosure / Thunderbolt 3 Expansion Chassis / Thunderbolt 3 PCIe Box
Add PCIe cards such as an SSD / Ethernet or Fiber / Video Capture / USB / FireWire or eSata cards to your Thunderbolt 3 laptop
Increased productivity with Thunderbolt 3 and up to 40Gbps bandwidth
View All
Know your gear
Add an external PCIe (PCI Express 3.0) x16 slot and a DisplayPort connection to your Thunderbolt 3 equipped MacBook or laptop. This Thunderbolt 3 PCIe expansion chassis lets you add a PCI Express card to your laptop or desktop computer, through an external Thunderbolt 3 connection. The chassis also features a DisplayPort video output, so you can connect an additional monitor to your laptop, and supports Thunderbolt 3 daisy chaining, so you can expand your workstation even further.

The Thunderbolt 3 PCIe chassis makes it easy to expand your system with the capabilities you need to work at peak productivity. You can add many types of PCI Express cards, such as a PCIe USB 3.1/3.0/2.0 and USB-C, SSD, network, eSATA, FireWire or video capture cards. And, with the speed and bandwidth support of Thunderbolt 3 and PCIe 3.0, you can enjoy many of the same port additions you would from the PCI Express expansion slots of a desktop system.

The external PCIe enclosure features a dedicated DisplayPort output that lets you add an additional display to your laptop or desktop computer. The enclosure features a second Thunderbolt 3 (USB-C) port, that you can use to connect a secondary display (a USB-C video adapter may be required). With multiple extended displays, you can work more efficiently by multitasking faster, and avoid the hassle of continually repositioning several open windows or programs.

You can also use the second Thunderbolt 3 port to connect additional Thunderbolt, USB and DisplayPort devices to your system. You can daisy chain up to six Thunderbolt 3 devices and expand your workstation to suit your specific requirements.

Thunderbolt 3 is the fastest connection available, which means you don't have to deal with the performance bottlenecks of a slower connection, and can accomplish more in the same amount of time.

At up to 40Gbps this Thunderbolt 3 expansion chassis gives you the throughput to add displays to your laptop, access files quickly, and work without disruptions. It's easy to access and edit large uncompressed files such as videos and images on the fly, making it ideal for dynamic on-site production.