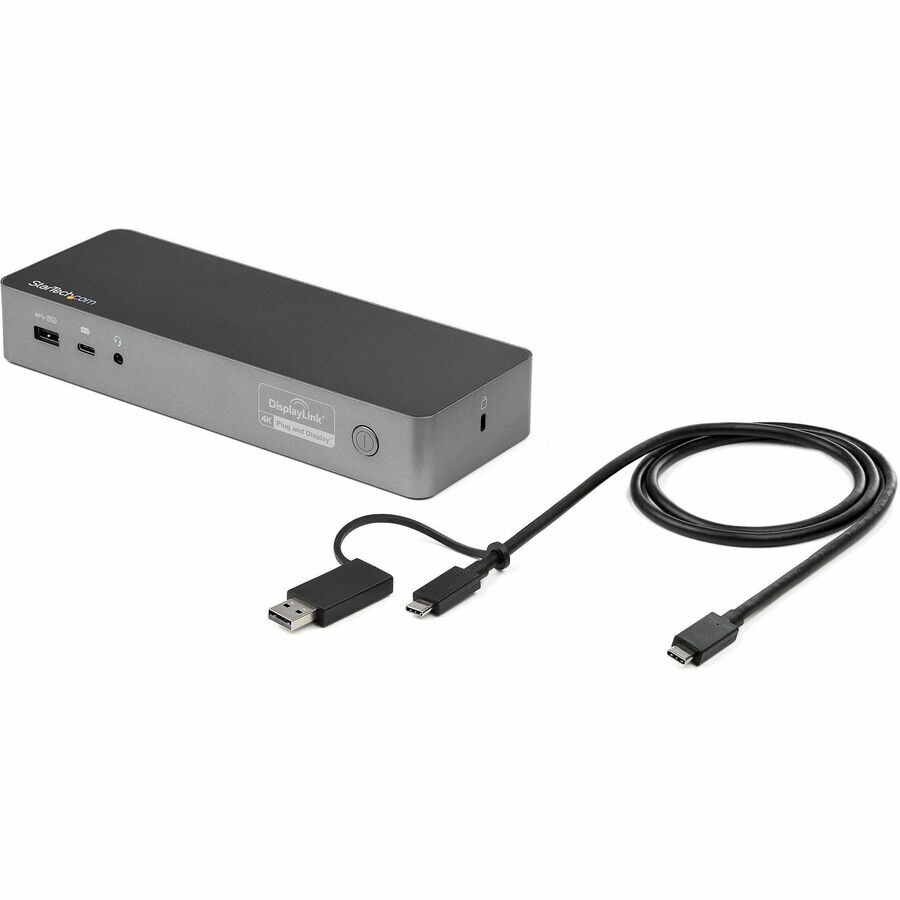 Quick tech specs
USB-C/USB-A universal hybrid docking station works w/ USB-C/USB-A/Thunderbolt 3 laptops w/ 2-in-1 USB host cable
Dual 4K60Hz DisplayPort or HDMI; DisplayLink dock supports 2 extended displays on Macbook Pro/Air w/ Intel or Apple M1/M2 chip -Windows/macOS/Chrome OS -1 USB-C/3 USB-A ports/GbE/audio/k-slot/m- ount options
MAC address changer
USB-IF/VESA/DisplayLink certified
60W Power Delivery for laptops/ultrabooks like Thinkpad T Series X1 Carbon Surface Pro 7 USB-C Chromebooks
View All
Know your gear
Dual 4K60 DisplayPort and/or HDMI USB-IF Certified 3x USB-A 1x USB-C Mac, Windows and Chrome OS Lock Slot. Create adual-4K 60Hz workstation with thiscertifieduniversal laptop docking stationforUSB-C andUSB-Alaptops.The USB-C dock features 60WPower Delivery 3.0,dualHDMI and/orDisplayPort monitors,fast-charge, and both USB-C and USB-A peripheral ports.

The Uniquely Universal Host Cable

TheUSB-C dock comeswith auniversal host cablethatis designed with an attached USB-C to USB-A adapterto accommodateUSB-A laptops. The cablealso features anextended lengthof 1 meter (3.3 ft.)to support a wide variety of workstation setups.

Flexible MonitorConnections

This isa dual4K60Hzvideo docking station with support forbothUltra HD DisplayPortand/or HDMI monitorsthat lets you configure yourvideo connectionsto best suit your needs.

Dual4KDisplayPort |Up to 4096 x 2160p @ 60Hz

Dual4KHDMI Up to 4096 x 2160p @ 60Hz

Single4KDisplayPort + Single4KHDMI Up to 4096 x 2160p @ 60Hz

Single 5KDisplayPort* Up to5120 × 2880

*Requires monitorsupport for 5K using two DP ports

Certified for Universal Compatibility and Reliability

This docking station is fully certified to meet top industry standards for USB-IF (USB 3.1 Gen 1, USB Type-C and Power Delivery), VESA DisplayPort andDisplayLink(video connections) certification to guarantee the highest quality, reliability, and compatibility.

60WPower Delivery

Using a single cable, the dock powersand chargesyour laptopas you workwith 60W PDfor faster charging, using the 135W power adapter.

Easy and Convenient Setup

For fast setup right out of the box, the combo cable (USB-C with attached USB-A adapter) lets you connect any laptop. The dock has mounting holes for workstation mounting (bracket not included).

The Connections You Need

Connectyourdeviceswith four USB 3.1ports: 1x USB-C and 3x USB-A. Fast-charge your USB-C or USB-Asmartphone. The dock provides aGbEport (PXE Boot supportand Wake-on-LAN)and3.5 mm 4-positionheadset audiojack.It alsoincludes asecurity lock slot(K-slot)to protect againsttheft.

Formoreinstallationflexibility,you canuseStarTech.commountingbrackets (SSPMSUDWMandSSPMSVESA)that arespecifically designed for our docks and hubs,to mountyour docktoadesk, wall,orother surfacesto give you thecustomizedsetupyou need.

The IT Pro'sChoice Since 1985

StarTech.com conducts thorough compatibility and performance testing on all our products to ensure we are meeting or exceeding industry standards and providing high-quality products to IT Professionals. Our local StarTech.com Technical Advisors have broad product expertise and work directly with our StarTech.com Engineers to provide support for our customers both pre and post-sales.

DK30C2DPPDis backed by a StarTech.com 3-year warranty and free lifetime technical support.