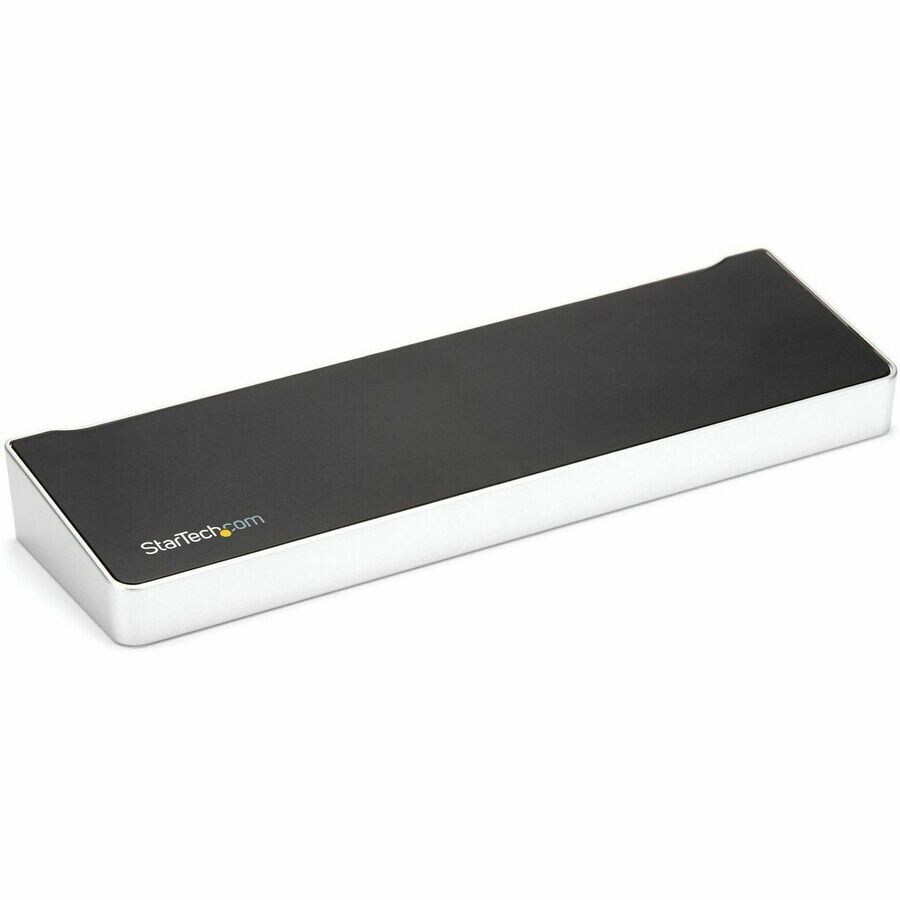 Quick tech specs
USB-C dock connects your USB-C laptop to triple 4K monitors: 2x DisplayPort (DisplayLink) 1x HDMI (DP Alt Mode)
5x downstream USB 3.0 ports (1x USB-C and 4x USB-A) plus 60W Power Delivery and Ethernet
Supports up to 3 extended displays on Macbook Pro/Air w/ Intel processor or Apple M1 chip
Triple 4K monitor USB Type C dock for Dell XPS and other USBC laptops
Windows/Chrome OS/macOS
Connects to USB 3.0 laptops with a USB-A port using a USB-C to A cable (sold separately)
View All
Know your gear
"This TAA compliant USB-C™ dock for Windows laptops takes productivity to a whole new level, with support for triple 4K monitors - a first in the market. The 4K USB-C Dock provides 60W charging power and 5x USB 3.0 ports to connect your peripheral devices. It's ideal for Dell™ XPS or other USB-C enabled laptop.
Enhance Productivity
The 4K USB-C Dock lets you create a three-monitor Ultra HD workstation. Connect:
-2x 4K DisplayPort (DisplayLink) at 4096 x 2160 resolution / 3840 x 2160 @ 60Hz and
-1x 4K HDMI (DP Alt Mode) at 4096 x 2160 resolution @ 24Hz / 3840 x 2160 @ 30Hz
For high-resolution applications, the universal laptop docking station connects to a 5K display (5120 x 2880 resolution) at 60Hz, by connecting the two DisplayPort ports to a single 5K display.
Powerful Connections
This triple-monitor docking station lets you connect your peripherals to transform your laptop into a full-sized workstation. It gives you five USB 3.0 ports (1x USB Type-C and 4x USB Type-A incl 1x Fast-Charge port), a Gigabit Ethernet port, headset jack and separate 3.5 mm audio and microphone ports.
60W Power Delivery
Using a single cable, the USB-C docking station with Power Delivery (up to 60W) will power and charge your laptop, and power your peripherals with its 120W power adapter. The DK30CH2DPPD is backed by a StarTech.com 3-year warranty and free lifetime technical support.
StarTech.com 4K USB-C Dock - Triple Monitor - Mac & Windows - 60W USB PD
is rated
3.40
out of
5
by
5
.
Rated

5

out of

5
by
RaymondS
from
Great... except for hissing
Had this dock for a while and I like almost everything about it. Right after I got it, Apple broke DisplayLink, but that was fixed eventually. But, right from the beginning, my MacBook Pro would hiss when it was connected to the dock. Internal speakers or external. it's related to the USB-C connection between the dock and the laptop though. As soon as I plug in the regular Apple USB-C charger, while leaving the dock connected at well, the hissing starts. Not a huge deal, but it would be nice not to have to plug in two USB-C cables (one to dock and one to stop the hissing).
Date published: 2019-08-06T00:00:00-04:00
Rated

5

out of

5
by
jp75
from
Only 2 of 3
Using latest 8.5 drivers @ may 2018If I plug HDMI monitor, it worksAs soon as I plug any extra Display Port monitors, the HDMI port stops working.If I unplug both Display Port monitors, HDMI monitor works again
Date published: 2018-05-12T00:00:00-04:00
Rated

5

out of

5
by
Andrew11
from
Amazing!
If you are someone who needs a lot of monitors, this is an excellent docking station. All this new technology makes setting these up very quick, and in my case, completely automatic. I planned all my cables and monitor placement in advance, and after plugged in everything and turning it on, my laptop screen blinked once and all the monitors came to life. A few minutes of (Windows) setup and I was up-and-running. Video quality is superb; I can't believe this is all accomplished by a single cable! The dock itself is thin enough to sit on the base of my left-most monitor and looks amazing. The included Thunderbolt3 cable is only 50cm long, so take that into account during setup, or have a longer cable handy. I received this product in exchange for an unbiased review
Date published: 2017-11-10T00:00:00-05:00
Rated

5

out of

5
by
optyks
from
Not a plug and play solution for OS X
Got this for my Macbook Pro on OS X 10.13.2.Expected this to be plug and play compatible like the OCW Thunderbolt 3 dock I was borrowing before. Ended up needing to download a driver from here:https://sgcdn.startech.com/005329/media/sets/displaylink_mac_drivers/[DisplayLink]%20Mac%20USB%20Display%20Adapter.zipDownloaded, installed, rebooted my machine... The USB C > Displayport cable I plugged into it did not register with my Dell monitor. I had to use a separate displayport cable to get it to work with my monitor.The secondary monitor is laggy as h*ll, and I believe the dock is making my entire machine laggy since I had n o noticeable lag using the previous OCW dock.My secondary display is also blacking out a few times per minute.Additionally, I'm using a Logitech Unifying receiver for my Logitech MX Master 2S mouse. The mouse works with the USB receiver plugged into my Corsair K70 keyboard, but stops working if the receiver is plugged into any of the USB ports on the dock...Not sure if this is a lemon or what, but it's not great.
Date published: 2018-06-07T00:00:00-04:00
Rated

5

out of

5
by
JHR86475
from
A Great USB-C Docking Station that has Everything
I have been in the AV/IT Integration space for over 30 years. I found this unit easy to setup and use on my Dell, HP and Toshiba Laptops. The unit installs quickly and is compatible with a variety of operating systems, which I tested. There was no tearing of the video or audio sync issues during my testing. It was easy to set up two DisplayPort monitors, and on one HDMI monitor .  Utilizing a single USB Type-C cable, the dock also provides access to a wired network and five USB ports. Overall, I found the unit to be reliable, easy to use and of high quality.What is Included:1- Docking Station1- USB-C Cable1- Universal Power Adapter1- Instruction ManualNote: "I received this product in exchange for an unbiased review."
Date published: 2017-10-26T00:00:00-04:00
Rated

5

out of

5
by
morty
from
Amazing, has all the ports you'd ever need.
This dock has been fantastic for me. It's lightweight and easily portable. I have two monitors hooked up to it, one is a 4k screen and the other a 1080p and both work great. This dock actually works better than my unstable Dell TB16 dock.Make sure when you first plug it in to let it sit plugged into your computer for 5 minutes or so because Windows has to go out and look for drivers to install for the different ports. I thought I had a defective unit at first because I couldn't get the Ethernet port to work right away but then after waiting for a little bit it started working and I realized Windows had to install the drivers first. I've tested all the ports and they all work now.One more thing to keep in mind is that the USB-C power delivery is only 60W. Therefore in my case I still needed to have the power adapter plugged into my laptop for the battery to charge as my laptop uses a 120W power adapter. I have a pretty beefy laptop so I won't knock the rating down for that as I'm sure it'll be fine for many laptops out there and in worst case scenario, you just plug in your power adapter too.I received this product in exchange for an unbiased review.
Date published: 2017-11-15T00:00:00-05:00
Rated

5

out of

5
by
Djana
from
Two screens and power
It's not a docking station, but I only have one cable connected to my laptop, so it is practically just as convenient as a docking station. I suspect I am not taxing this port replicator enough, but It is driving two 2k screens without issue. My laptop (Dell Latitude 5480) requires a 65-watt power supply, this only supplies 60 Watts. The laptop complained once, but I told it to just ignore it. No issue with charging that I can see, and no more warnings from the laptop.
Date published: 2018-09-19T00:00:00-04:00
Rated

5

out of

5
by
Starr
from
Triple-4K Monitor Docking Station
I have been waiting on this device to hit the market all year and it did not disappoint. I purchased the new MacBook Pro with the USB-C ports earlier this year and have been waiting for a docking station that could handle my extra 2 monitors and could utilitize the USB-C cable to charge my laptop while also passing the data, sound, video, etc. It is simple to hook up and works great with awesome video display ports. It has allowed me to hook up one cable into my laptop each morning. This device would get a 10 out of 10 rating.
Date published: 2017-10-20T00:00:00-04:00
Rated

5

out of

5
by
Richie
from
Works Perfectly
I bought this dock for a new Lenovo Yoga 910. It worked perfectly out of the box, runs a 4K LG monitor and numerous peripherals, was essentially plug and play. Very pleased, my experience with OEM docks has been mixed at best in the past. Good work, StarTech.
Date published: 2017-11-06T00:00:00-05:00
Rated

5

out of

5
by
fhjashmore
from
Working excellent
I contacted customer support about various compatibility questions and they go above and beyond helping me out. I have this dock and I'm loving it.
Date published: 2019-01-08T00:00:00-05:00