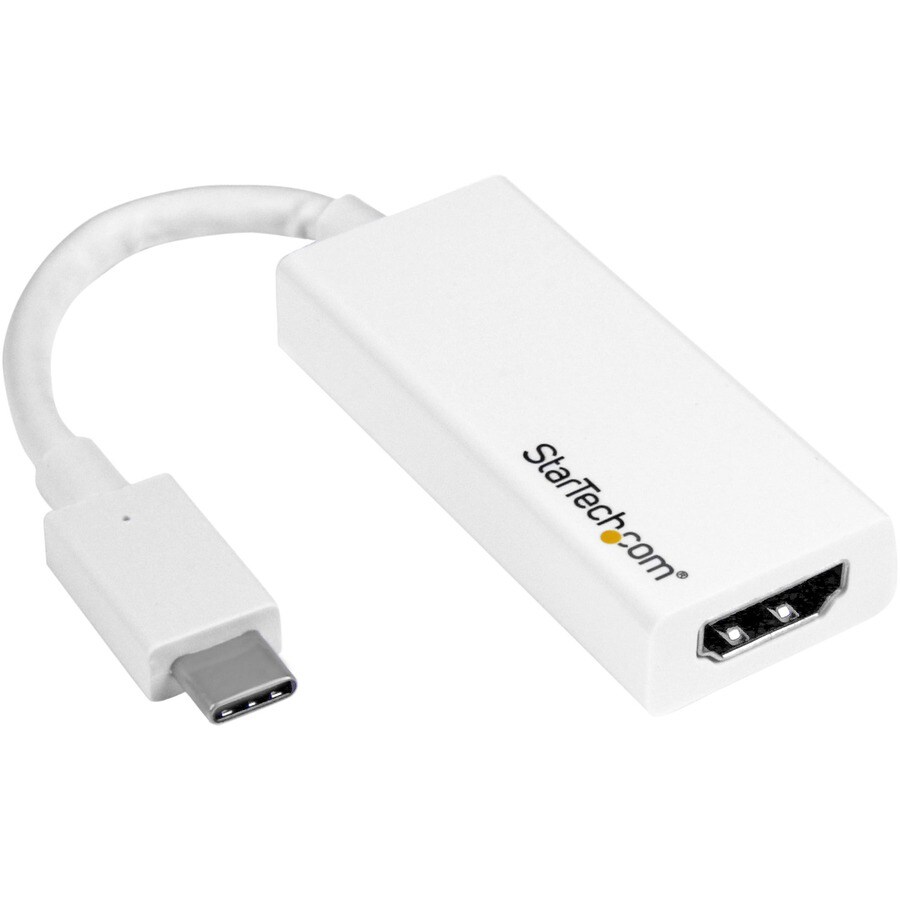 Quick tech specs
This USB C to HDMI video adapter delivers astonishing UHD picture quality with resolutions up to 4K at 60Hz to your monitor projector or display
For Mac users: This product may experience display detection issues with certain models of Mac If you're experiencing issues please contact our technical support. For hassle-free compatibility with Mac we recommend CDP2HD4K60H
The reversible USB 3.1 Type C connector on the 4K HDMI converter offers an easy connection to your USB-C computer
View All
Know your gear
Connect your USB Type-C laptop to an Ultra HD 60Hz display or projector. This USB-C to HDMI adapter lets you output HDMI video and audio from a USB Type-C device, with support for Ultra HD 4K at 60Hz. The adapter works with USB-C devices that pass a DisplayPort video signal, and it's also compatible with Thunderbolt 3 ports. The USB-C video adapter features a sleek white design that looks great with your USB Type-C enabled MacBook or HP ENVY 13.

The adapter lets you harness the video capabilities that are built into your USB Type-C connection, to deliver the astonishing quality of UHD to your 4K 60Hz display. This makes it easier for you to multitask, while working on the most resource-demanding applications imaginable. With this adapter, you can achieve an output resolution of up to 3840 x 2160p at 60Hz, which is perfect for performing high-resolution tasks such as viewing and editing 4K video.

The adapter is backward compatible with 1080p displays, which makes it a great accessory for home, office or other workspace applications.

With its all-white design, this USB-C video adapter is the perfect accessory for your MacBook with USB-C. The adapter is compact and lightweight so it fits easily into your MacBook bag or carrying case, which is great for BYOD (Bring Your Own Device) applications at the office. While the adapter looks great next your Mac and HP ENVY, it also works with any USB-C computer that supports DisplayPort ALT mode, such as your Windows laptop.

This adapter lets you utilize the versatile USB Type-C port on your portable device. USB Type-C is a reversible connector, so it doesn't matter which way you plug it in. The reversible connector means you will always plug it in correctly on your first try. It saves you the hassle and distraction of repeatedly attempting to connect your laptop to a display or projector, while you're delivering a presentation or speaking to a group.

Your USB-C equipped device must support video to work with this adapter. This product may experience display detection issues with certain models of Mac. For hassle-free compatibility with Mac StarTech.com recommends CDP2HD4K60H.


StarTech.com USB C to HDMI Adapter - USB Type-C to HDMI Converter - 4K 60Hz
is rated
3.40
out of
5
by
5
.
Rated

5

out of

5
by
ABThompsons
from
Plug and Play.... What can I say
Plug and Play. What can I say, this product has one function and it performs that function well. I didn't have a 4k display to test it with but it worked great with my 1080p TV and a 1080p Monitor both audio and video. I received this product in exchange for an unbiased review.
Date published: 2017-05-16T00:00:00-04:00
Rated

5

out of

5
by
jackie278
from
Dissapointed
I present from my MacBook Pro 2016 every day. Like most people I am connecting my laptop to a large TV via HDMI. This adapter does not work. I have tried several different displays with no luck.
Date published: 2017-03-23T00:00:00-04:00
Rated

5

out of

5
by
scottgosse416
from
Display from phone to tv!
With new phones on market that support USB-C and MHL you can now display to a tv or monitor by using the CDP2HD4K60W. Having tested this I and getting it to work seamlessly am now even more excited for the possibilities of USB-C to "pick your technology"! This adapter could eliminate the need for a tablet for presentations! * I received this product for free in exchange for an honest and unbiased review.
Date published: 2017-05-17T00:00:00-04:00
Rated

5

out of

5
by
Luisc1
from
Great image
I got and test on my XPS 13 and the image is great. I play videos and also do power point presentations without a problem. I didn't test it on MAC as I'm a Windows guy. great product with a great price. "I received this product in exchange for an unbiased review."
Date published: 2017-07-19T00:00:00-04:00
Rated

5

out of

5
by
pwjone1
from
Not working reliably on MacBook Pro 2016
I bought the CDP2HD4K60W to work on a MacBook Pro 2016 15" (4-USB-C Ports). Mostly driving 1080P screens, but figured would be nice to eventually have 4k@60Hz. But unfortunately, it does not seem to work reliably. The MacBook is seeing the dongle, it is sensing the screen size, but the screen remains blank (black). If I put the dongle in, and reboot the box, it sometimes will work. Just does not work as you would normally use them.
Date published: 2018-09-04T00:00:00-04:00