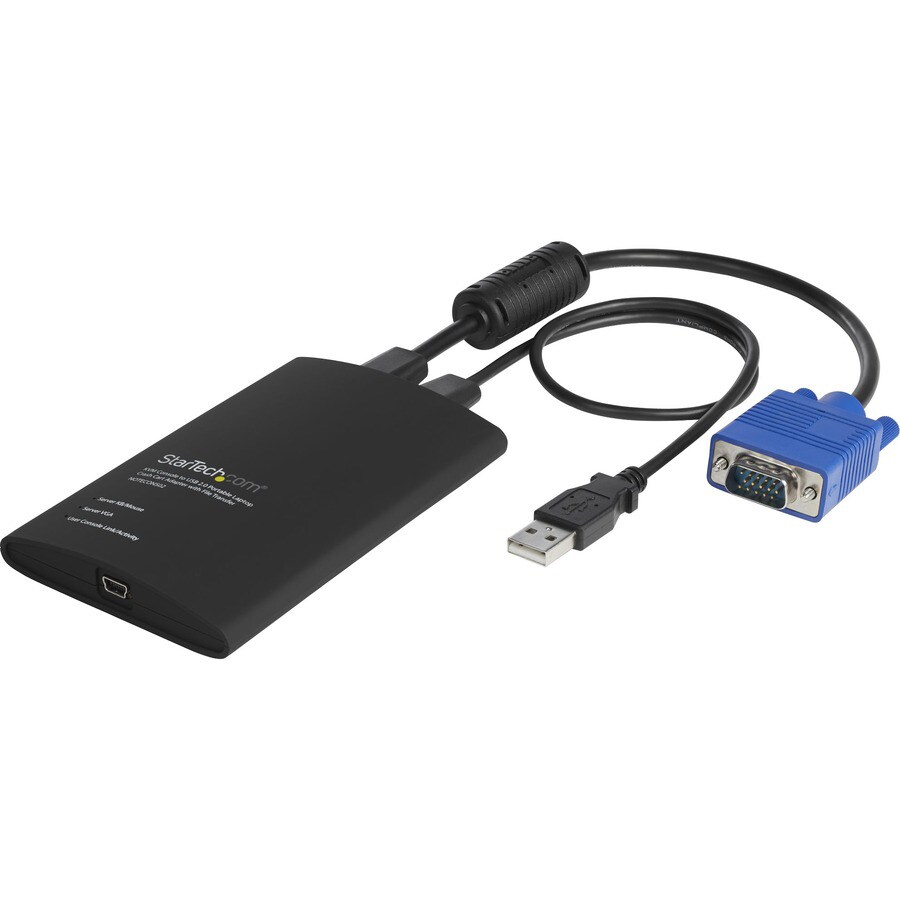 Quick tech specs
Compact portable KVM crash cart adapter with integrated KVM cables
Laptop crash cart adapter provides instant BIOS-Level
File and video sharing from laptop to connected server
No scroll bars
Self-powered USB connection
Turns your laptop into an instant crash cart
Screenshot and video capture at resolutions up to 1920x1200 60 Hz
Auto video scaling when re-sizing view pane
Auto centering for 4x3 images on a wide screen display
Adapter works with legacy and industrial devices
View All
Know your gear
"Instant System Access
Simply connect the laptop crash cart adapter to your computer using the included USB cable, then connect the integrated USB and VGA cables to your server, for instant BIOS-level control. With no server-side software required, you can be up and running instantly.

Troubleshoot More Efficiently
The flexible software interface makes it easy to transfer files from your laptop to the server, capture videos for records or instructional purposes, take screenshots. You can scale the display window to full screen mode or smaller without having to scroll, which helps you troubleshoot faster.

Self-Powered Reliability
Powered from the server-side USB connection, the KVM adapter doesn't require an AC outlet so you can connect to any PC or device that has a VGA and USB port, without having to find an available power outlet.

Take It Anywhere
This pocket-sized adapter features a rugged design that fits easily inside your laptop bag and requires no additional accessories to connect. It is a compact and convenient alternative to the large traditional crash carts.

StarTech.com offers a wide selection of high-quality KVM-related products to help you access your systems more efficiently without the expense and clutter of extra keyboards, mice and monitors. This USB KVM crash cart adapter is backed by a StarTech.com 2-year warranty and free lifetime technical support.
StarTech.com USB Crash Cart Adapter with File Transfer & Video Capture
is rated
3.75
out of
5
by
4
.
Rated

5

out of

5
by
DakotaDave
from
Good device, but can't copy and paste!
I can't copy text from the host PC and place on the remote PC. Very useful feature that you need to add!
Date published: 2019-02-23T00:00:00-05:00
Rated

5

out of

5
by
jamestalmage
from
Very good, could be great.
This does work on Max OSX 10.12. Install was fairly painless. In general, it does the job, but there are issues.On the hardware side, my only gripe is the dongles. Those seem liable prone to damage. I would have preferred a female vga and USB jacks and extension coords. I recommend buying a protective case for this investment.The software works, but there are annoyances. My biggest complaint is the tendency of the keyboard emulator to frequently type multiple characters. It happens randomly. Sometimes even with the very quickest of button presses. Worst, it can happen when you hit the return key - so you might accidentally accept multiple dialog window defaults during operating system setup. This issue is the only one that really bothers me. As is, I wouldn't want to use this for very long. Just enough to get things to the point where I can remote in via SSH or Remote Desktop. I wouldn't want to use it to do a full OS install/reinstall.The screen scaling could be better for retina displays. You can't really get it to scale to fill the screen (vertically or horizontally). What scaling options there are, are not intuitive.In general, the whole toolbar at the top feels unintuitive. The icon choices often reinvent the wheel, instead of using standard icons ("settings" icon should be a gear, "drive control" should look like a CD, etc). Disappointing, but not a deal breaker.There also seems to be some sort of jitter on the display. It's constantly shifting up and down. It's just a few pixels worth of movement, so it's usable, but it's another thing that would discourage me from using it any longer than I had to.On a positive note, the file transfer appears to work awesome. You can even connect bootable ISO's, so installing an OS, or running a recovery CD should work great. I am very happy about this.In all, it's a great concept, and it definitely "just works". They could do a lot to make the experience better. There are other cheaper products that do the same thing. I spent the money mainly because this is the only Mac compatible one, but I was hoping the extra money would also mean a more polished user experience. I will definitely be keeping mine, but I hope they can improve some of these things (especially the keyboard issue) in a software update.
Date published: 2018-06-09T00:00:00-04:00
Rated

5

out of

5
by
DatacenterAdmin
from
Linux client works well
I have used this adapter quite a few times now and it is far more convenient than lugging around a monitor and keyboard! I am extremely pleased that there is a client for Linux and can confirm that it works. This was one of the reasons we chose this particular model over the competition.
Date published: 2019-04-14T00:00:00-04:00
Rated

5

out of

5
by
shareef777
from
Poorly made software
Very sporadic. Video cuts in/out making this completely useless.
Date published: 2017-12-20T00:00:00-05:00
Rated

5

out of

5
by
RyanR
from
Amazing Product
This probably one of my favorite products I have ever owned. The convenience along of carrying this with my notebook is a great time saver. The moment my previous generation product dies I will be purchasing another.
Date published: 2014-07-16T00:00:00-04:00
Rated

5

out of

5
by
jackie27555
from
Great product until now. No OSX 10.14 support
I am using this product for a while now and I was always very happy about it. However since the OSX 10.14 update the software is no longer working. Program crashes after inserting USB cable
Date published: 2018-11-02T00:00:00-04:00