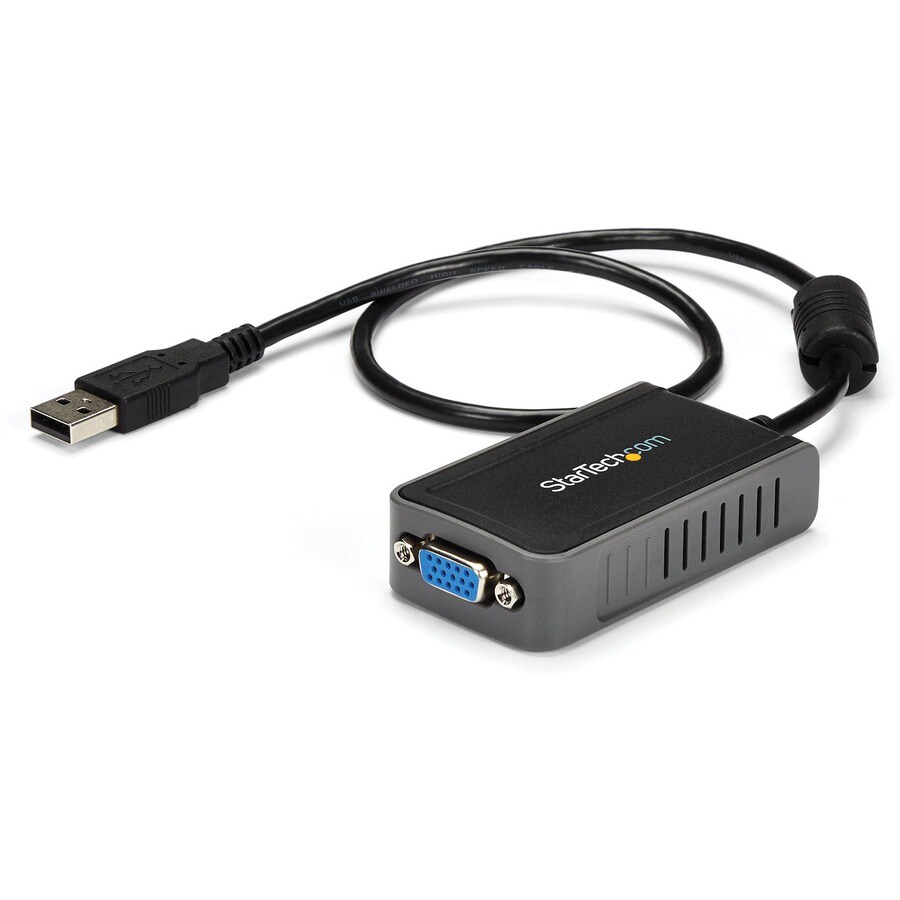 Quick tech specs
Connect a VGA monitor for an extended desktop multi-monitor USB solution
USB Video/Multi Monitor Adapter/USB Video Card/USB to VGA
View documents,spreadsheets and web pages on multiple monitors
Compatible with Windows 8/7/Vista/XP computers and VGA equipped monitors and projectors
Increased productivity with multiple applications on different screens
replaced by USB32VGAES
View All
Know your gear
The USB2VGAE2 USB to VGA external video adapter is the perfect multi-monitor VGA solution for office applications and Internet browsing.

The USB video adapter features a small form factor and enables a USB 2.0 port to be used with a VGA port. A cost-saving multi-monitor or dual display option that can be used as an external graphics card for either laptop or desktop applications.

The USB video adapter can be used with up to four additional (five total) USB2VGAE2 USB video adapters, creating multiple VGA connections that can be used to further extend or mirror the desktop shown on the existing display - all without having to open the computer case to add extra video cards.

StarTech.com USB to VGA Multi Monitor External Video Adapter - 1680x1050
is rated
4.10
out of
5
by
15
.
Rated

5

out of

5
by
plumbus
from
decent ol thing
its okay for secondary stuff. don't expect video or anything beyond that to work. good for a chat service or to google things while remaining in game.
Date published: 2021-02-02T00:00:00-05:00
Rated

5

out of

5
by
goodguy
from
Solid Product
I have used these for many businesses to get them on dual monitors. It is easy to install and works well with minimal effort. I have used this on old and new computers, windows XP, 7, and 8.
Date published: 2014-02-27T00:00:00-05:00
Rated

5

out of

5
by
LarryD
from
Just the item needed!
I needed a USB2-VGA adapter and your sales staff got me the exact item needed. It enabled me to project the PowerPoint presentation without any problem! Thanks
Date published: 2014-10-28T00:00:00-04:00
Rated

5

out of

5
by
ThomasSte
from
It works!
My computer tech guy said it couldn't be done, said you could not connect a second monitor to my USB 2.0 port, after trying one purchased online from China. Well, this StarTech adapter proved him wrong! Setup was simple, and my second monitor works great! It was very easy to shop for it on the StarTech website...excellent descriptions of your items and their capabilities.
Date published: 2017-12-11T00:00:00-05:00
Rated

5

out of

5
by
hey man
from
Issue
Have windows 7 enterprise, now using office 365 through citrix. any of the office 365 programs like outlook, excel and word will expand but looks messed up and is unusable on the USB monitor. is semi useable minimized. It seemed to run ok with an earlier version of office.
Date published: 2017-09-07T00:00:00-04:00
Rated

5

out of

5
by
Jack
from
Great Support Team
i have had this product of a while now upgraded to window 8.1 from window 7 and had problems with it. Thanks to Star Tech Quick support service i revived an email from then about an hour later said they where getting there technicians to email then in that hour i revived a VERY HELPFUL Services from Star Tech Support team and was Back up and running in no time Great Guys Thanks
Date published: 2014-03-07T00:00:00-05:00
Rated

5

out of

5
by
CASP
from
Works Great!
This works better than anything I've tried to extend screens on multiple monitors from a laptop. Easy install, no monitor freezing, great with excel sheets! So glad a spent a little more $, so worth it!!!
Date published: 2018-03-16T00:00:00-04:00
Rated

5

out of

5
by
Professor
from
Life made easy
Since I connected a second monitor, thanks to Startech USB2VGAE2, I tripled my poductivity. I am a professor, and it was so easy reviewing student papers on one screen and posting my comments and grades on another screen. Now, I do not have to open and close windows, like before.
Date published: 2015-04-09T00:00:00-04:00
Rated

5

out of

5
by
MultimonitorUser
from
Excellent value for multi-monitor users
Bought three to have triple screens on my laptop.Does EXACTLY what I needed it to! Easy to use once set up. Plug and play ease...
Date published: 2012-06-28T00:00:00-04:00
Rated

5

out of

5
by
SoftwareTailor
from
It doesn't work with Windows 7
I only tested this with Windows 7 SP1. My laptop is an HP HDX. After I installed the driver, the Gadgets utility, Windows Live Mail 2011 and IE 9 would not run. Office 2010 ran fine. The screen resolution would only give 1650x850. When I (normally) connect my external monitor directly to my computer's VGA port, I can get 1920x1200 on my 27" external monitor.
Date published: 2011-10-09T00:00:00-04:00
Rated

5

out of

5
by
seawind30
from
Fair for the price
Easy installation but because it is hooked up to the USB ports you cannot utilize your monitor's full resolution. So I have two 27" monitors connected to the computer that are at high resolution and the other two 27" monitors hooked up thru the USB ports using these adapters are at their highest resolution available which is about 1/4" inch difference in my charts alignment. This is the only drawback, you cannot get the highest resolution available on your monitor using this adapter.
Date published: 2011-12-03T00:00:00-05:00
Rated

5

out of

5
by
KelliF
from
Works as expected
Needed a cable so I could use my LCD with my new HP EliteBook (no VGA). Works as expected and was easy to connect.
Date published: 2019-04-23T00:00:00-04:00
Rated

5

out of

5
by
Vadim
from
Product works great for my needs.
The business I work for does not use a typical PC setup, so this product is excellent for my dual monitor configuration.
Date published: 2018-03-21T00:00:00-04:00
Rated

5

out of

5
by
Manufacturing
from
Great easy solution
We purchase this to add a third monitor for a worker, very easy setup.
Date published: 2017-11-07T00:00:00-05:00
Rated

5

out of

5
by
DontCallMeSir
from
It *could* work...
The item by itself works good enough, provided you aren't using any other USB Graphics drivers. As it happens we use Lenovo laptops that ship with two different USB Graphics drivers preinstalled, and use a Startech USB docking station which also has a USB Graphics driver installed. These all play nice together until the driver for this USB-VGA adapter is installed. It just kind of takes over and makes it so you can't even uninstall the others, let alone use them. I tried uninstalling everything, installing this one first, then the others but no go. I bought these for our team so they would have something in the bag for road days, but I can have them jumping through hoops to use it every time.
Date published: 2016-01-07T00:00:00-05:00