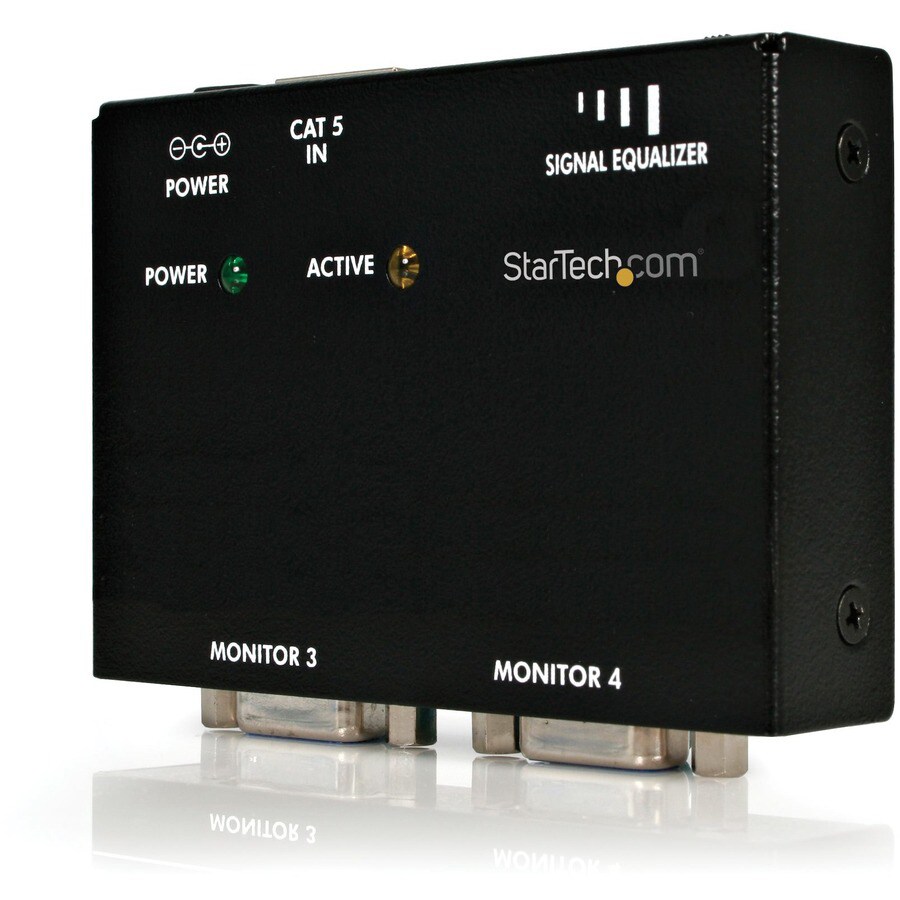 Quick tech specs
Extend and distribute a VGA signal to up to 4 displays over Cat5 cable
Supports resolutions up to 1920x1200
Ideal for digital signage applications in financial,educational,an- d business sectors
works with the ST1212T,ST1214T and ST1218T CAT5 extenders to receive a VGA video signal and distribute to the monitor
VGA receiver / VGA over Cat5 receiver / VGA to Cat5 receiver / VGA over CAT 5 extender
Cat5 extension design allows you to make use of existing Cat 5 infrastructure
View All
Know your gear
The ST121R VGA over Cat5 Video Extender Receiver is specifically designed for use as the receiver unit to the StarTech.com ST1218T 8 Port VGA over Cat5 UTP Extender transmitter units, allowing you to split and extend a single VGA source to up to four remote displays.
From the transmitter device, the VGA video signal is sent over standard 4 pair Category 5 or better UTP cable to remote monitors, each connected to an ST121R Cat 5 VGA receiver - supporting distances of up to 150 meters (500 feet).
A cost-effective video extension solution, this receiver is ideal for a wide range of environments including airports, bus depots, retail, or any large buildings where VGA video needs to be extended to long connection distances.
This product is TAA compliant and backed by a Startech.com 2-year warranty with free lifetime technical support.