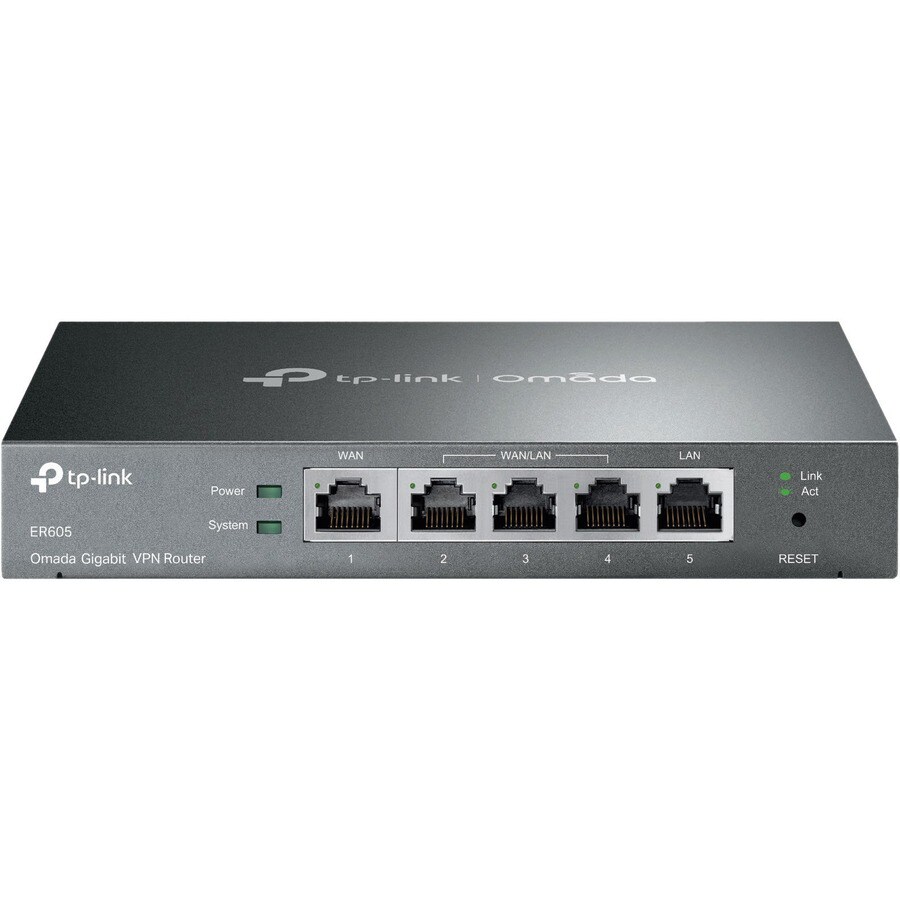 Quick tech specs
Five Gigabit Ports
Integrated into Omada SDN
access points & switches with multiple control options offered
Cloud Access
1 Gigabit WAN Port + 3 Gigabit WAN/LAN Ports +1 Gigabit LAN Port. Up to four WAN ports optimize bandwidth usage through one device.
Omada's Software Defined Networking (SDN) platform integrates network devices including gateways
Omada Hardware controller or Omada Software Controller. Standalone mode also applies.
Remote Cloud access and Omada app brings cent
View All
Know your gear
Professional, Secure, and Reliable Gigabit VPN Router

ER605

Centralized Management
Omada App
Gigabit Ports
Up to 4 WAN Ports
Load Balance
IPSec/OpenVPN/ PPTP/L2TP
Powerful Firewall
VLAN

Omada SDN-The Smarter Cloud Solution for Business Networking
As the gateway that seamlessly integrates into the Omada Software Defined Networking (SDN) platform, ER605 allows for remote and centralized management, anywhere, anytime. Standalone management via the Web UI or app is also available to maximize convenience.
Hassle-Free Centralized Cloud Management:
100% centralized cloud management of whole network from different sites-all controlled from a single interface anywhere, anytime.
Up to Four WAN Gigabit Ports to Optimize Bandwidth Usage
Three freely interchangeable ports that can be set to either WAN or LAN allow the router to support up to four WAN ports to satisfy various internet access requirements through one device. The multi-WAN Load Balancing function distributes data streams according to the bandwidth proportion of every WAN port to raise the utilization rate of multi-line broadband.
Highly Secure VPN
ER605 supports IPSec/PPTP/L2TP VPN over IPSec/SSL protocols. With a powerful hardware design, the router supports and manages up to 20× LAN-to-LAN IPSec, 16× OpenVPN, 16× L2TP, and 16× PPTP VPN connections. One-click auto IPSec VPN* greatly simplifies VPN configuration and facilitates network management and deployment while also securing and encrypting private site-to-site data communications traveling over the internet.

Abundant Security Features | Powerful Firewall

Advanced firewall policies protect your network and data.
Convenient VLAN Support

Create virtual network segments for enhanced security and simplified network management.

DoS Defense

Automatically detects and blocks Denial of Service (DoS) attacks such as TCP/UDP/ICMP Flooding, Ping of Death, and other related threats.
IP/MAC/URL Filtering
Forcefully prevent viruses and attacks from intruders.
IP-MAC Binding
Reserves static IP assignment for clients to defend against ARP attacks and spoofing.
One-Click ALG Activation
One-Click ALG Activation for applications such as FTP, H323, SIP, IPSec and PPTP.
Internet Access Management Strategy
Standardize users' online behavior and easily specify the internet access rights and strategies of employee via IP/MAC/URL Filtering and Access Control List (ACL). Captive Portal authentication facilitates network resource control by capturing, authenticating, and classifying user access. Appropriate network resources can also be allocated for particular users or guests.