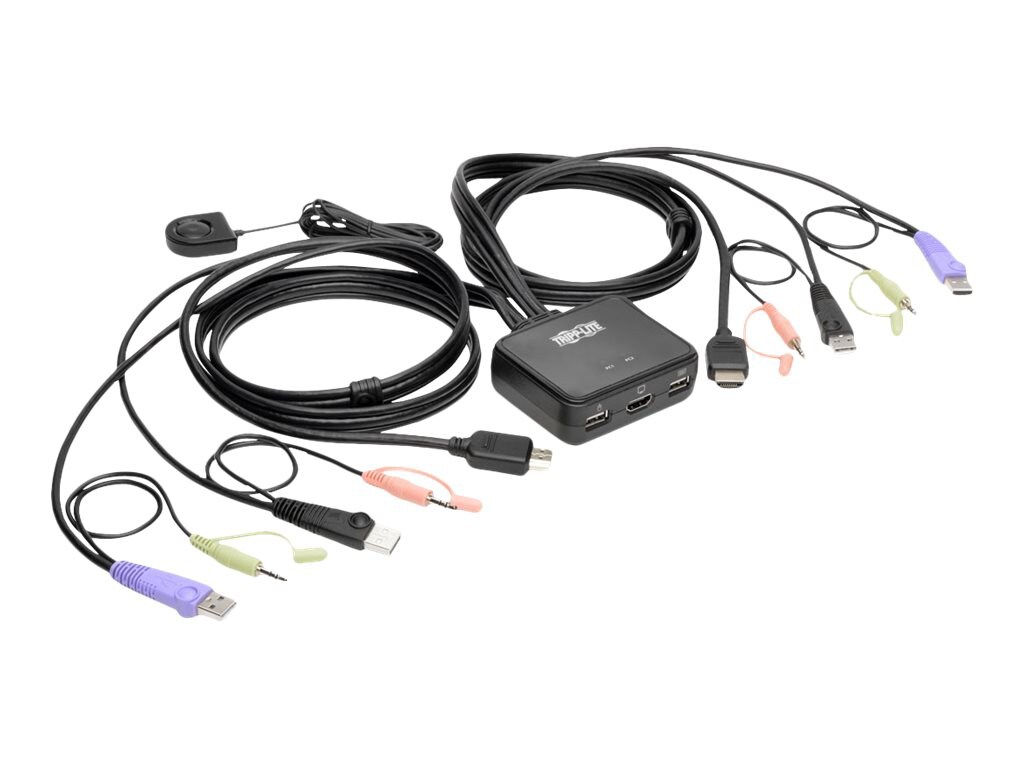 Quick tech specs
Control 2 computers using one HDMI monitor USB keyboard and USB mouse
Built-in 4ft HDMI USB and audio cables
Supports 2.1-channel surround sound with full bass
Compatible with Windows® Mac® and Linux®
2 port usb hdmi cable kvm switch/ hdmi kvm switch/ kvm switch HDMI/ 2-port cable kvm switch with hdmi connectors/ kvm hdmi usb/ dual monitor kvm switch/ hdmi usb kvm switch 2 port
Supports video resolutions up to 1920x1200 (1080p)
Remote hotkey and mouse port switching
View All
Know your gear
The compact B032-HUA2 2-Port USB/HD Cable KVM Switch lets you access, control, boot and reboot two desktop or laptop computers using one HDMI monitor, USB keyboard and USB mouse. HDMI, USB and audio cables are built into the unit.

Just connect your keyboard, mouse and monitor to the KVM switch's console ports, and connect the switch's built-in cables to their respective ports on both computers. Or you can connect a powered USB 2.0 hub (such as Tripp Lite's U222-004-R, sold separately) to the USB console mouse port to allow USB peripherals - such as printers, hard drives, scanners, webcams and thumb drives - to be shared between computers.

Switching between computers is quick and simple using the connected remote port selector, keyboard hotkeys or mouse scroll wheel. Because audio and the B032-HUA2 can be switched independently of each other, you can access one computer while listening to audio from the other.

The B032-HUA2 supports video resolutions up to 1920 x 1200 (1080p), 2.1-channel surround sound (with full bass), EDID and HDCP. It is easy to set up with no software, drivers or external power supply to install. It's compatible with Windows, Mac and Linux and supports Mac keyboard emulation. Upgradable firmware allows the KVM switch to keep up with changing technology.
Tripp Lite 2-Port USB/HD Cable KVM Switch with Audio/Video, Cables and USB
is rated
4.33
out of
5
by
3
.
Rated

5

out of

5
by
CIO Techie
from
Works like a charm
I had bought a dual port KVM switch from another company and had the issue that about every other time you switch from one system to another the monitor resolution would downgrade to 1024 x 768. The only way to fix it would be to disconnect the monitor cable from the system and plug it back in. After doing this a couple dozen times one of the pins on VGA connector bent over and then broke off. because it was the KVM system side cable, I had to replace the KVM. I switched to the Tripp Lite HDMI dual port KVM and I have switched over a hundred times already and the monitor resolution has never changed.
Date published: 2018-12-07T00:00:00-05:00
Rated

5

out of

5
by
Crazy Joe
from
The only way to live with 2 PCs
I have my personal laptop and work laptop connected now with Tripp-Lite. The 10 minute installation was plug and play. It cut the clutter on my desk by 80%. It woks as advertised and OBTW...its compatible with a wireless keyboard/mouse set up. No more wires at all. I love it.
Date published: 2018-04-29T00:00:00-04:00
Rated

5

out of

5
by
Jerry
from
More complex than I was looking for
I was looking for a simple means to be able to switch back and forth between my graphics computer and my flight simulator computer with internet access on both. I have yet to find a way to use my headphones with the HDMI connections. It appears the audio cannot be separated from the integral speakers in my monitor. I have had difficulty being able to figure out how to use the hot keys based on the information in the owners manual. There may be solutions that I have not found yet. Ultimately it appears the switch will do the basic functions that I need.
Date published: 2019-03-30T00:00:00-04:00
Rated

5

out of

5
by
Clinton
from
Easy to install and use !!!
Almost everything went well with installation, with one small exception. I first checked that each PC worked correctly with the peripherals I intended to use in combination. CHECK. I then connected the two systems together through the KVM. CHECK. I tried the first PC system. OKAY. I tried the second PC system. NOT OKAY. Long story short, the first system was connected to USB 2.0, as that is as high as it goes. The second system was connected to USB 3.0. I reconnected the second PC system using USB 2.0 ports and everything worked as advertised. It seems that the USB versions must match on each connected system. Still, it was a minor glitch, easily remedied. I am happy. Switching systems is easy and quick.
Date published: 2018-07-22T00:00:00-04:00
Rated

5

out of

5
by
Dschamus
from
Very good basic 2-port KVM
I had this puppy up in running in no time and I like the fact you can either use the little remote switch and/or keyboard commands to switch between systems
Date published: 2019-06-11T00:00:00-04:00