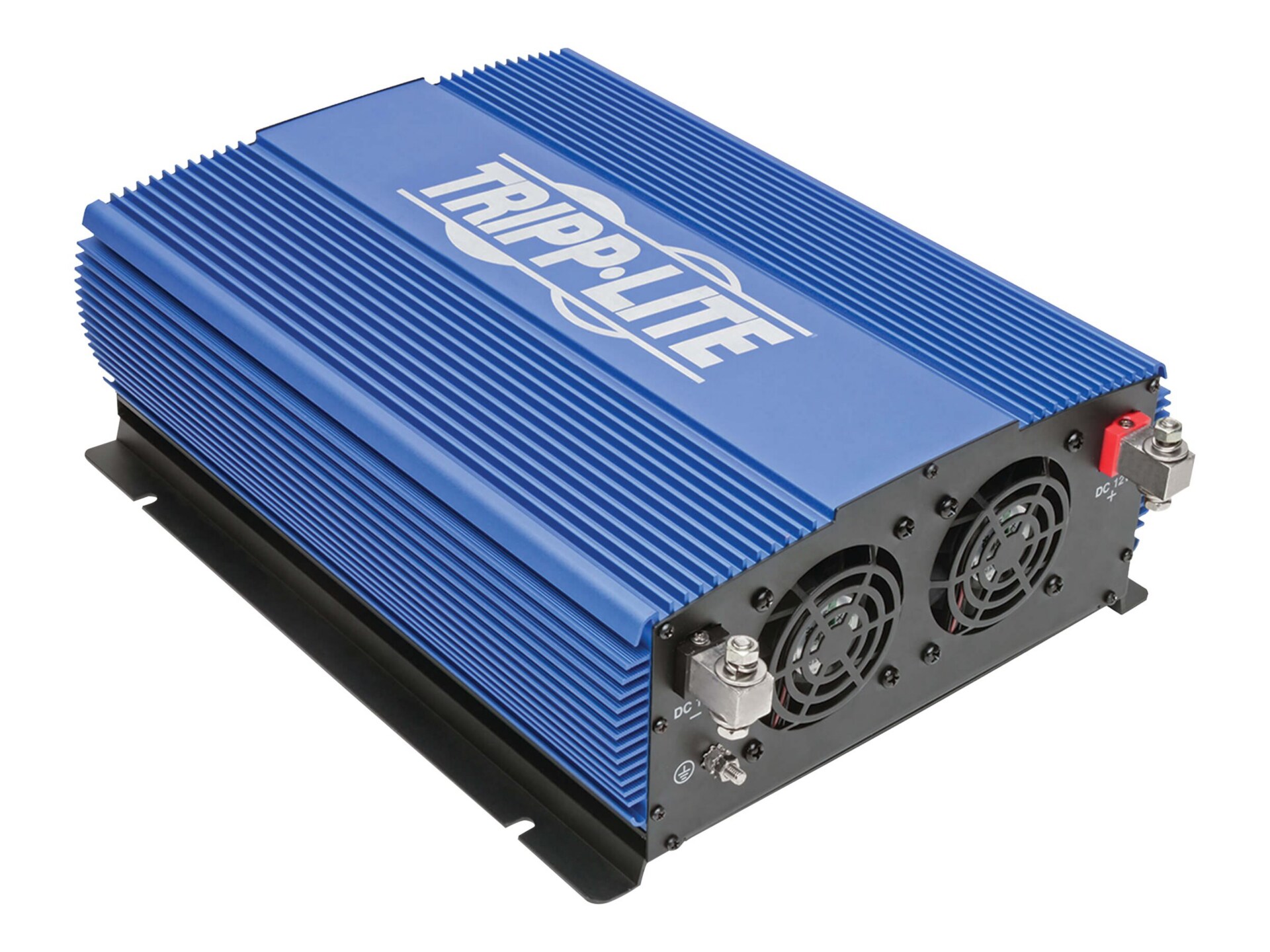 Quick tech specs
Converts 12V DC power from your vehicle's battery into 120V AC and 5V DC power to operate and charge electronics while on the road
Ideal for areas without regular power outlets,such as campsites or construction sites
2A USB charging ports keep smartphones,tablets and laptops at full capacity
Provides portable power for mobile devices,phones and laptops
Four 5-15/20R GFCI outlets deliver continuous output of 2000W for powering devices
electrical power inverter/power converter
View All
Know your gear
You don't have to be near your computer or an AC power source to keep your mobile devices fully charged and your power tools and small appliances operating. This 2000W mobile inverter converts 12V DC power from your car, truck, fleet vehicle, boat or RV's battery into standard 120V AC power. Just connect the included battery cables between the inverter's DC input terminals and the positive and negative terminals on your vehicle's battery.

This power inverter provides a modified sine wave for use at remote locations, such as campgrounds, construction sites and mobile offices. Four NEMA 5-15/20R outlets deliver a continuous output of 2000 watts, a High Surge Mode that supports up to 3000 watts for one hour, and a peak surge output of 4000 watts. That's plenty to operate a variety of appliances and power tools, such as low-power lights, camping accessories, battery chargers for small battery-operated power tools, and mobile office equipment. All outlets have OSHA-compliant GFCI (Ground-Fault Circuit Interrupter) protection to shield you from electrical hazards due to excessive fault current.

Two USB-A charging ports share 2 amps of charging capacity and remain active even when the inverter's on/off switch is set to Off. This allows you to charge your smartphone, tablet, laptop, MP3 player or GPS unit without draining too much power from the vehicle's battery.

An on/off switch offers one-touch control over all AC outlets. If the power input from the vehicle's battery drops below 10 volts or exceeds 16 volts, the mobile power inverter will automatically shut down. Green and red LEDs indicate normal and improper operation. The temperature controlled fans begin cooling automatically when the internal temperature rises to a certain level during extended use. An audible alarm sounds during excessively high or low voltage conditions.

A remote panel is included to extend on/off control over AC power output from a remote location. The wired panel connects to the PINV2000HS's RJ11 port and can be permanently installed inside your vehicle with user-supplied hardware. This allows you to mount the inverter somewhere out of sight, like inside a glove compartment or cabinet, and be able to operate it from your vehicle's dashboard. The panel's green LED confirms the inverter is powered on.

The heavy-duty Industrial Grade Mobile power inverter's durable aluminum housing is designed to withstand the rigors of road trips, campouts, business trips and family vacations. Use the built-in mounting brackets and your own hardware to install the inverter permanently in a horizontal position.