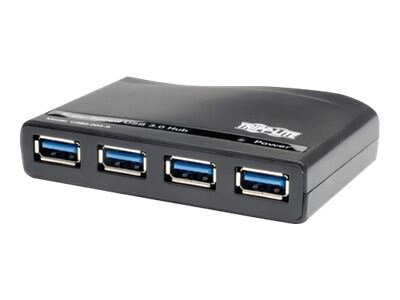 Quick tech specs
Add four external SuperSpeed USB 3.0 ports to your laptop Ultrabook or desktop from a single USB 3.0 connection
10X as fast as USB 2.0
Works with virtually any USB 3.0 equipped computer
Compact form factor/ Includes optional power adapter
5Gbps Transfer Speed
All 4 ports provide up to 1.5A for charging mobile devices
Ideal for Ultrabook and MacBook users with limited USB ports
4 Port USB 3.0 Hub/ Notebook and Laptop USB 3.0 Hub/ Desktop USB3 Hub/ External USB Hub
View All
Know your gear
Tripp Lites U360-004-R USB 3.0 SuperSpeed 4-port hub carries your data from a USB3.0 enabled computer at a blazing 5Gbps transfer rate. Connect to a variety of USB enabled devices such as USB external hard drives, cameras, printers and more. Backward compatible to previous USB generations. Bus powered for use with devices that require minimal power. For more power hungry devices, an external power supply is included. Sleek, compact design is perfect for USB port expansion.
Contact Sales Assistance
(800) 972-3922
,
Monday-Friday 8am-6pm ET
Tripp Lite 4-Port USB 3.0 SuperSpeed Compact Hub 5Gbps Bus Powered - hub -
is rated
4.14
out of
5
by
7
.
Rated

5

out of

5
by
rrosthal
from
Just what I wanted.
I plugged it in to my iMac, the system recognized it and what was plugged into it.
Date published: 2012-04-06T00:00:00-04:00
Rated

5

out of

5
by
Sue the "tech for Dummies" user
from
I really like this product!
I have several USB connections that I need to utilize everyday and this product helps me keep them all going at one time. I love that it is so small and not a flimsy "freebie" that I have had in the past.
Date published: 2019-06-12T00:00:00-04:00
Rated

5

out of

5
by
cbiegen
from
Nice Hub!
This hub is compact, installed easily and works fine. It came witha few extras like a power adapter and a longer usb cable connector. Great product!
Date published: 2012-11-15T00:00:00-05:00
Rated

5

out of

5
by
Mudog
from
Only works with a 3.0 UBS port on your system
You will only get the faster 3.0 speeds if this is plugged into a 3.0 USB port on your system. Your system will also need to be able to recognize the 3.0 driver. I had problems getting the hub to be recognized as Windows 7 Pro kept getting updated by Microsoft.
Date published: 2014-10-08T00:00:00-04:00
Rated

5

out of

5
by
Master K
from
Great Product
I got this for my Mac because the old one I had was causing constant USB crisises. Plug and play the Tripp Lite Super Speed USB Hub and USB stopped having issues. Love it.
Date published: 2013-04-03T00:00:00-04:00
Rated

5

out of

5
by
Chucks
from
Excellent Hub
Leave it to Tripp to make another fine product. I have bought Tripp products for the past 15 years. All are still in service.
Date published: 2013-09-08T00:00:00-04:00
Rated

5

out of

5
by
Clarence
from
Fine HUB for Price
I have been using this USB 3.0 for a little over a year. I first used it on my Windows 7 64bit OS. Just plugged it in and drivers auto installed. All of my USB drives were immediately recognized and data transferred extraordinarily fast. However, I did away with my Windows 7 and went to Windows 8 and encountered driver issues. Wrong drivers installed, for a long while drivers would install and disappear. Sometime the HUB wasn't usable, sometimes it was. A few months ago, I installed the Windows 8.1 upgrade and the correct drivers installed right away and the HUB is back working just fine. For a while, I doubted TRIPP-LITE's product, even called to see if there was something that could be done, but was told drivers should install automatically. Well, they do install automatically on my Windows 8.1 (Preview version) and I am satisfied. Just hope the final release of Windows 8.1 installs the right drivers when I install the HUB again. Clarence
Date published: 2013-09-05T00:00:00-04:00
Rated

5

out of

5
by
Amanda
from
Small & Efficient
Easy to use & perfect for single users.
Date published: 2019-01-02T00:00:00-05:00
Rated

5

out of

5
by
SkOrPn
from
Great Hub AFTER Firmware Update!
This hub is one of the more aesthetically pleasing hubs on the market imo. However, it did not work so good until AFTER I downloaded the firmware update from Via Labs website. After the update to firmware 9.50, (latest as of this writing) it seems to run as good as any Hubs I have ever used. It pays to do research lol... One thing I wish is that it had the newer generation chips, however it does not. Its based on the original VL810 first generation USB 3.0 hub chip which is fine after 2+ years of firmware maturing. If you get one of these Hubs please do yourself a favor and make sure your on mature firmware dated in 2012 minimum to avoid any of the early problems with these devices. Best Regards, Rod
Date published: 2012-06-09T00:00:00-04:00
Rated

5

out of

5
by
ted
from
tripplite does not support Macintosh
my usb hub required a firmware update. Image my surprise when I found out that the update requires that you purchase a windows machine. No Macintosh support. Good luck!!!
Date published: 2013-12-16T00:00:00-05:00