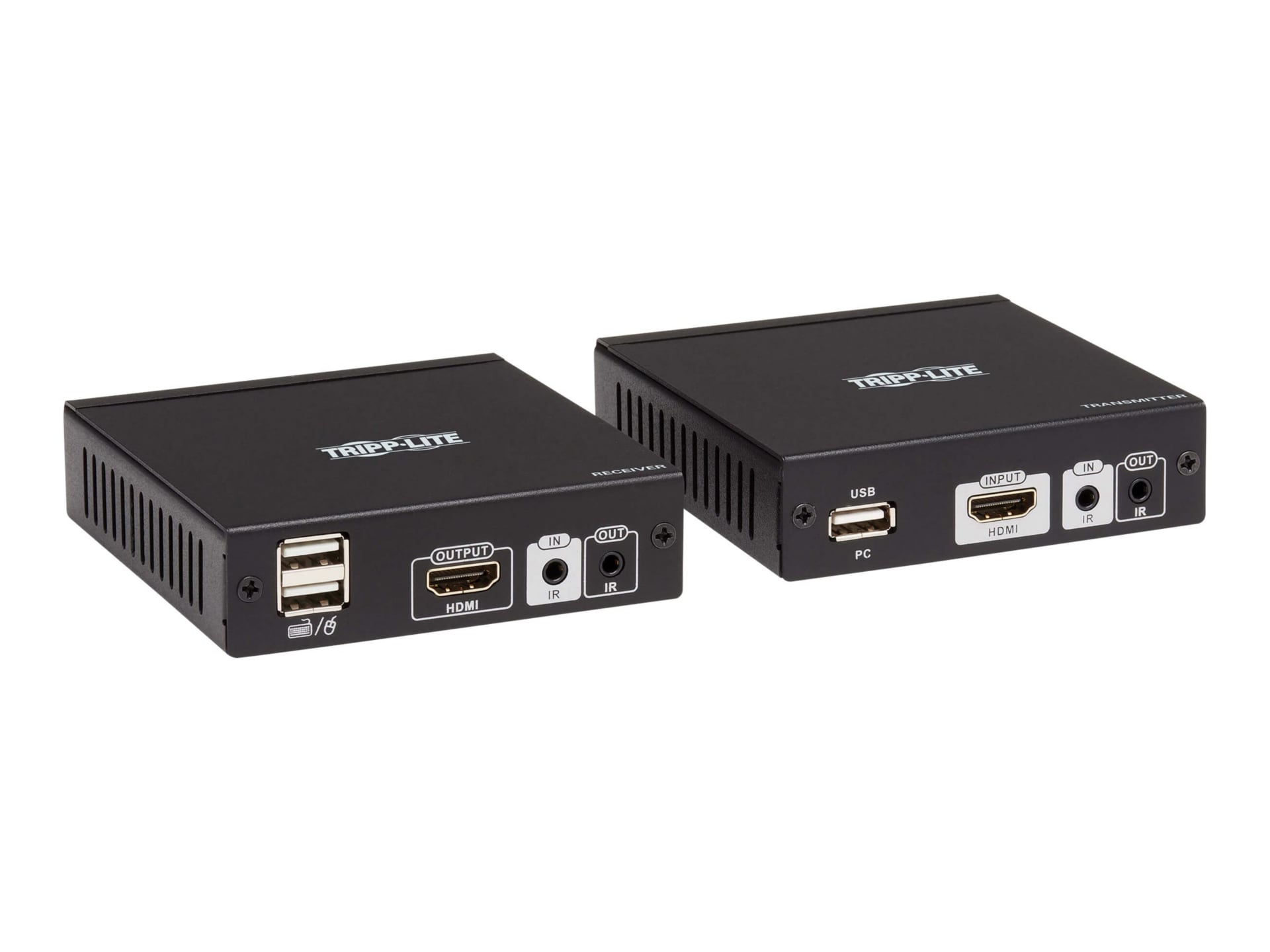 Quick tech specs
Controls a media player from up to 130ft away (230ft for 1080p) and extends 4K HDMI video/ USB/ IR signals
Supports DTS-HD/ Dolby TrueHD and uncompressed LPCM digital audio w/ no latency
HDMI extender/ media extender/ USB KVM extender/ 4K HD Uncompressed Video Extender/ plug/play extender
Delivers 4K picture quality at Ultra HD resolutions up to 3840x2160 @ 30 Hz
IR pass-through feature allows you to control the source while standing in another room
3 Year Tripp Lite Warranty
View All
Know your gear
This extender kit includes a transmitter (local unit) and a receiver (remote unit) that work in tandem to extend and distribute HDMI audio/video, USB and IR (infrared) remote signals. Using Cat6 cabling (sold separately), the B013-HU-4K transmits 1080p video from a computer, Blu-ray player or other media center to an HDMI display or interactive whiteboard located up to 230 feet away. By connecting a keyboard and mouse to the receiver's dual USB ports, you can also control the source device from that same distance.

Especially useful in control or security applications, the B013-HU-4K is ideal for command centers, data control centers, banks, governments, enterprise applications and especially any harsh environments, such as factories and warehouses. By extending audio/video signals, you can safely store your source computer in a cabinet or other enclosure, keeping it free of dust and blocking noise created by its fans, while watching the display in a different room or even a warehouse or factory floor.

This HDBaseT kit extends 1080p video resolutions up to 230 feet, as well as 4K video (3840 x 2160 at 30 Hz) up to 130 feet with 24-bit Deep Color (8 bits per channel). It also supports uncompressed LPCM, compressed DTS-HD and compressed Dolby TrueHD audio with no signal loss or added latency.

Full bi-directional IR extension lets you control the source device with its remote (play, pause, fast forward, etc.), while you're standing near the receiver in another room. Video and audio will play without stalling or delayed data transmission. Make sure the transmitter's IR bulb is within sight of the source and the receiver's IR bulb is in range of the source's remote.

The included transmitter and receiver units work right out of the box with no software required. Because they connect using existing network infrastructure, you avoid the hassle and expense of running new Cat5e/6 cables. LED indicators alert you of power and connection status of both units at a glance.