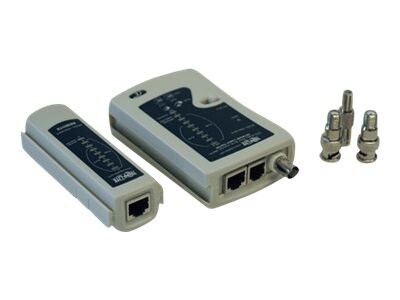 Quick tech specs
Multi-Functional Network Cable Tester allows you to test wiring continuity for Cat5 Cat6 Phone and Coax cable assemblies
Two piece test unit with RJ45 and RJ12 (6P6C) jacks and coax jack
Includes vinyl handy storage pouch when not in use
Identifies mis-wires short circuits and open circuits
Features two piece transmitter and receiver two BNC-F coax converters and coax terminator
Lifetime Tripp Lite Warranty
View All
Know your gear
Tripp Lite's Multi-Functional Network Cable Tester allows you to test wiring continuity for Cat5, Cat6, phone and coax cable assemblies. Identifies mis-wires, short circuits and open circuits. Features two-piece transmitter and receiver, two BNC-F coax converters and a coax terminator.


Tripp Lite Multi-Functional Cat5, Cat5e, Cat6, BNC Network Cable Tester
is rated
5.00
out of
5
by
4
.
Rated

5

out of

5
by
jjthejetplane
from
gets the job done
We use this to test cable ends that we terminate.
Date published: 2018-11-06T00:00:00-05:00
Rated

5

out of

5
by
Anna
from
N046-000 -- Wasn't Listed. (Cable punch tool)
This tool is good for punching down network cables to a patch panel or to a wall.
Date published: 2019-05-14T00:00:00-04:00
Rated

5

out of

5
by
Ron the hack
from
Quite the time saver
This was the first time I assembled RJ-45 Ethernet cables and I made a number of mistakes. This tester quickly showed errors in my connections. Without this tester I would have wasted hours trying to debug connections.
Date published: 2019-09-14T00:00:00-04:00
Rated

5

out of

5
by
Jason the IT man
from
Highly Recommend this product!
Very Reliable and Easy to use. A must have for any technician.
Date published: 2019-01-10T00:00:00-05:00
Rated

5

out of

5
by
Jrneman
from
No network guy should be without it.
Great for testing cables on the fly. Simple and easy to use to solve issues quickly.
Date published: 2018-10-05T00:00:00-04:00
Rated

5

out of

5
by
Kevin22
from
Very good product
Being able to check various cables with one tool comes in handy. It takes a lot less time to troubleshoot when you can pinpoint the problem early with this tool. You can't beat the price either.
Date published: 2014-09-18T00:00:00-04:00
Rated

5

out of

5
by
Juice
from
I recommend this network cable tester, anyday.
I make Network and BNC cables and I always test them with The Network Cable Tester
Date published: 2019-04-19T00:00:00-04:00
Rated

5

out of

5
by
Barry
from
Very Powerfull little tool
The Network Cable Tester does the job and saves a lot of guess work
Date published: 2014-02-20T00:00:00-05:00
Rated

5

out of

5
by
Wayne
from
This product makes my life easier!
We use these to set up Bingo equipment for charities. Making cables to run to flashboards. This tester makes my job easier by knowing my connections are correct before running long lengths of cables. Great quality product.
Date published: 2019-05-14T00:00:00-04:00
Rated

5

out of

5
by
Bob
from
The N044-000R Cable Tester - a low cost solution
The N0044-000R is a great little cable analyzer which indicates short and open conditions in both coax and CAT cables. A series of green blinking lights identifies which conductors are good with no-light signalling an open conductor. For CAT cables, these lights sequence through the conductors, and a provided receiver-end module shows if all wires are connected in the proper order (though there is no way to know which end is at fault). These lights have to be watched carefully and sequence fairly rapidly. A slow mode is provided but it can still be difficult to catch bad wiring issues. It would be most helpful if a single step button were provided that would allow conductors to be tested one-by-one.The transmitter and receiver modules dovetail together for testing at a single location, but can be separated to allow remote testing of a cable end. Power is provided by a single 9V battery in the transmitter module.Shorts can also be evaluated as well as faults in two conductor coax for which three adapters are provided.A small case is provided, but it would be nice if it had a separate compartment for adapters since placing these in with the tester can be tight and could scratch the tester.All-in-all, the tester is a handy piece of equipment to carry and works well for its intended purpose with the previously mentioned caveats.
Date published: 2018-12-20T00:00:00-05:00