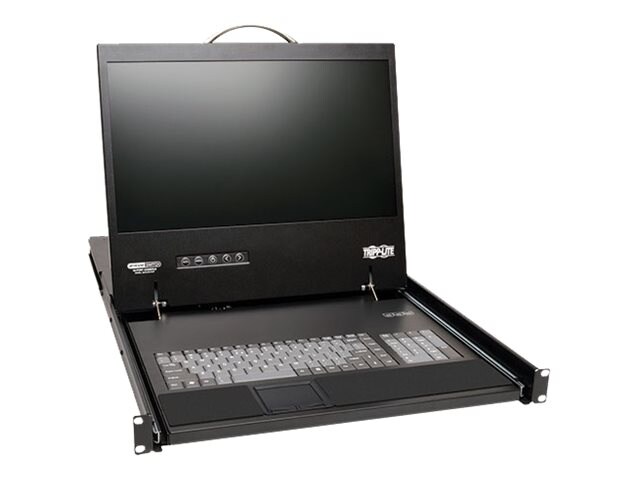 Quick tech specs
NetCommander 16-Port Cat5 1U Rack-Mount 1+1 User Console KVM Switch gives you a full keyboard 19in. LCD touchpad and IP Remote Access in a single console
Simultaneous support for 2 users-1 local and 1 remote
Low-cost cables lets you locate servers up to 100 ft. from the switch
Tripp Lite 1-year Warranty
Control up to 16 computers/servers locally or via LAN WAN or Internet
Eliminates need to buy costly monitors keyboards and mice for each computer/server
TAA Compliant for GSA
View All
Know your gear
Tripp Lite's B070-016-19-IP KVM Switch gives you a rack-mountable full keyboard, LCD and touchpad in a single console that occupies only 1U of rack space. Easy to install and use, it's the optimal solution for controlling up to 16 computers/servers locally, from across the room, down the street or halfway around the globe on a LAN, WAN or Internet.

The B070-016-19-IP uses inexpensive, user-supplied Cat5e/6/6a cabling with Server Interface Units so you can control computers/servers located up to 100 ft. away from the switch. This switch features two 10/100 Mbps LAN ports, so if one fails, the other takes over, keeping remote access uninterrupted. Users can switch easily between the 16 ports using an on-screen display (OSD). Multi-level password protection prohibits unauthorized users from accessing the connected computers, and a local user and a remote user can be logged on simultaneously. The built-in 19" LCD screen supports video resolutions up to 1366 x 768.

Two serial ports allow control of serial-manageable devices such as IP PDUs, firewalls and routers; you can assign individual ports to an IP PDU port to power on/off the server connected to that port. The B070-016-19-IP stores neatly in a rack drawer and pulls out when needed. This KVM console is compatible with both Windows and Linux operating systems, and provides remote access using a Windows computer. Heavy-duty steel housing stands up to frequent use. Complies with the Federal Trade Agreements Act (TAA) for GSA Schedule purchases.

Free NetCommander-AXS Management Software is available for access and control of all of your Tripp Lite NetCommander IP KVM switches (B070 and B072 series). From a single interface, you can access server ports on any of your KVM switches, power cycle or power on/off outlets of IP PDU's, and manage KVM settings. This software can be found on the model support page of the B070-016-19-IP, or via searching NetCommander-AXS on www.tripplite.com.
Tripp Lite 16-Port IP Rack Console Cat5 KVM Switch 19" LCD 1+1 User 1URM -
is rated
4.83
out of
5
by
6
.
Rated

5

out of

5
by
Arul the ruler
from
I would buy this product again
Easy to setup and I like using CAT cable which is sleek and neat. I also like the fact that we can remote into the server's console. So far I did not experience any issues.
Date published: 2017-01-12T00:00:00-05:00
Rated

5

out of

5
by
ricechan
from
Display Issues
I have had this kvm installed for 2+ years but now have a display issue which prevents us from utilizing the console. We still connect via the web app which is one of the primary reasons I chose that model so it is still functional. There are no repair options for non warranty unit other than buying a new one. The keyboard takes a bit to get used to due to the slide rails and the position of the trackpad but it is workable. If and when I do choose to replace it I will puchase a standalone rack mount kvm and keep the switch separate.
Date published: 2017-02-25T00:00:00-05:00
Rated

5

out of

5
by
DRJ361
from
Awsome device
This is a great device for your server room. Very easy to configure and use. Being able to remote it over the network is the best.
Date published: 2016-11-30T00:00:00-05:00
Rated

5

out of

5
by
WarLordEli
from
Nice all in one 1u IP KVM
Unlike our Dell and HP IPKVMs this unit takes up only 1u and works great with USB. Would be nice to have a passthrough USB port so took off one star for that.
Date published: 2013-08-08T00:00:00-04:00
Rated

5

out of

5
by
Nicola
from
Good product
It fits perfectly with any connected server
Date published: 2017-09-24T00:00:00-04:00
Rated

5

out of

5
by
Paul
from
Console resolution issues
We (and apparently other customers online) are having problems with getting the local console display to work. When the servers are set simple resolutions (like 1024x768), the video blinks in and out. We have yet to find a way to make it work on our Windows servers. ESXi consoles seem to work fine though. Remote access works well !
Date published: 2019-07-03T00:00:00-04:00
Rated

5

out of

5
by
StephenW
from
Easy to use and connect to
So far after 2 months of use, i am still loving my netcommander KVM switch. I was able to plug up all of my servers on two of these and two seperate racks and still have plenty of room to expand. The initial physical setup was easy to install and the programming up the IP address for the KVM over IP was easy enough. Setup was a breeze once i got on the device over IP and named everything. Be aware they do use java in IE only. So the thin client is stuck using IE. The thick client is nice, but still a separate download. Was hoping to use the web client more often, but i am going to the thick client more often so not to deal with IE or JAVA. Only other thing is the SSL Certificate setup is very vague and even with tech support, they couldn't figure it out. So I am not using a certificate for it at the moment. With both concerns, i still rate it 4 out of 5 stars as it was a big improvement over what i had and maybe one day a firmware update will come out and fix these two problems.
Date published: 2017-03-20T00:00:00-04:00
Rated

5

out of

5
by
Matt
from
Easy to setup, east to use
Easy to use, great to keep your racks organized since you can use any legnth ethernet cables for the connection back to the KVM. Ready to use out of the box.
Date published: 2019-07-23T00:00:00-04:00
Rated

5

out of

5
by
Corey
from
Love it!
We hooked it up and had it running in a matter of 20 minutes with all of our servers.
Date published: 2019-07-23T00:00:00-04:00
Rated

5

out of

5
by
Mike with CHF
from
Space and time saver in rack
This console is a life saver in a rack. If you are looking to replace or upgrade. Tis' a must get.
Date published: 2016-11-28T00:00:00-05:00