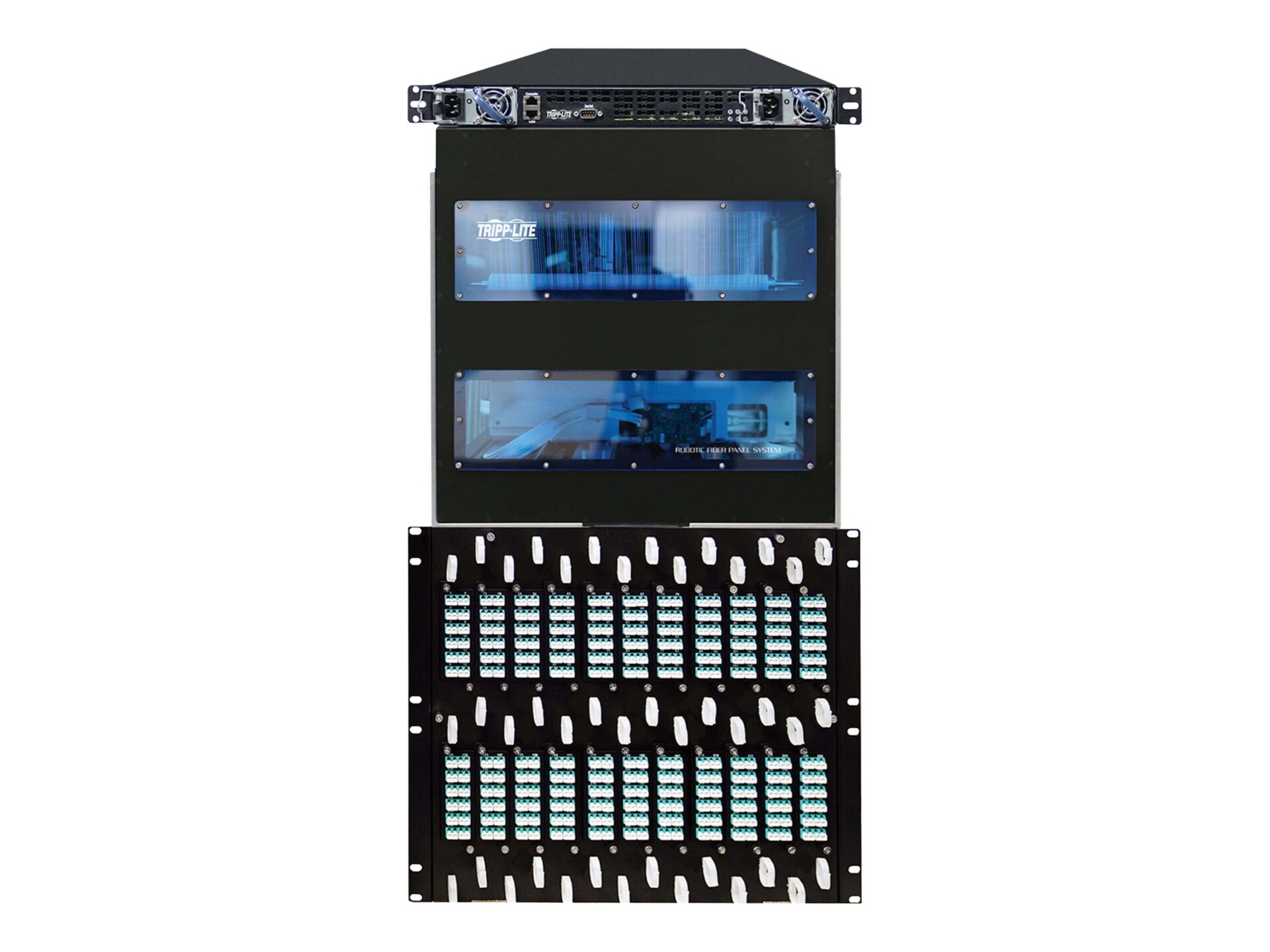 Quick tech specs
Employs robotic latching and remote management to optimally set fiber connections between network equipment in your data center
Recommended for data centers/ telco centers/ colocation facilities and tech test labs
512 ports can be configured to support nearly 500,000 ports with < 1 dB insertion loss
Uses robotic latching and remote management software to re-configure fiber connections in < 1 min
Helps prevent costly downtime and reduce data center congestion and cord clutter
View All
Know your gear
The NRFP-500MM-CP Robotic Fiber Panel System (RFPS) is a 10U rack-mounted cross-connect that integrates into data centers, telco centers, colocation facilities, enterprise IT infrastructure and large technology test labs. It employs robotic latching and remote management to establish physical fiber connections between switches and servers quickly and accurately without costly on-site manual intervention. Through the cutting-edge RFPS, your data center can create accurate layer 1 connections, faster responses to costly downtime, and simpler, more flexible fiber networks.

The RFPS can typically re-configure a connection in 50 seconds, as opposed to the hours or even days it often takes for on-site network engineering to arrive. Two robotic arms move cables into place with speed and precision. RFPS automation and network-integrated software will ensure the right cables are connected to the right ports. No longer will you have to wait for network engineers to handle your physical fiber connections manually.

RFPS speed and automation makes the newer "any-to-all port" mesh designs in data centers more manageable. Designs like these incorporate more fiber cabling, and are increasingly in use as the demand for more data and faster delivery grows. The NRFP-500MM-CP provides 512 ports out of the box and can be configured to support nearly 500,000 ports with less than 1 dB insertion loss. RFPS connections are passive and purely optical and unaffected by power outages.

The more hands-on switching that occurs, the more your infrastructure is at risk of error or physical damage. Manual fiber connections will damage equipment over time. The RFPS latch creates connections with robotic precision that will add longevity to your infrastructure. In addition, limiting on-site management and employing software that logs an audit trail of network connections boosts security and regulatory compliance.

Maximize your infrastructure's value by performing regular reconfiguration of under-utilized or over-utilized connections. Greater efficiency means less unused cabling cluttering your environment. Increasing the efficiency of your infrastructure means less capital expenses for equipment and less operating expenses to power and manage it. The RFPS supports all current and future optical signals, regardless of bitrate or wavelength.

Any organization that provides large-scale data services can take advantage of the flexibility the RFPS incorporates into their infrastructure. The NRFP-500MM-CP can be configured to accommodate almost 500,000 ports, singlemode and multimode fiber, all optical signals and all network protocols. This allows you to adapt to new technologies without equipment overhauls. You can plan automated network management tasks based on what fits your business needs, rather than what fits on-site engineering schedules.

Flexibility translates into cost savings as well. A more efficient infrastructure has less under-utilized equipment, which means less equipment to purchase, power and maintain.


Contact Sales Assistance
(800) 972-3922
,
Monday-Friday 8am-6pm ET